Your Prime Source for Remote Job Listings & Daily News
Brought to you by writers with over a decade of experience as remote workers, digital nomads, distributed leaders and worldwide recruiters.
HAND-PICKED
Featured Articles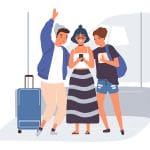 Latest News
Meet Our Team of Remote Work Specialists

Luis Magalhaes
Founder and CEO of ThinkRemote
Sharon Koifman
Author of "Surviving Remote Work" and Chairman of Thinkremote

Deniero Bartolini
Online entrepreneur with over a decade of experience in digital marketing and remote-team building
Alessandro Montalto
Author of the course: Remote Work Done Right
Gabriela Molina
Director of Content of ThinkRemote & Digital Nomad
Stephen Tiliki
Freelance Writer
Join us (We Have Cookies)
You're interested in news & tips about remote work? What luck! That's what we do! Better join our newsletter so we can hang out.