As time passes by, the need for remote hiring has become vital for most businesses. Before the pandemic, fully remote companies were relatively uncommon and remote workers were a minority. If you said you worked from home, you were a few of the lucky ones – like a Fruit Loop in a bowl of Cheerios.
Nowadays, companies have realized that having a remote workforce is no longer about surviving the pandemic but it's also about thriving in a world that is continually changing.
You've probably seen by now the vast quantity of companies that decided to go all-in for remote work. Big names such as Spotify, Twitter, Square, Atlassian, and Salesforce (among many others) have announced their working from home new policies.
The main reason why companies want their employees to work from home, or at least, to have the possibility is that they've seen the numbers. They now know (by experience) how providing their employees with flexibility has benefited both employees and employers.
According to Hubstaff's report, State of Remote Work After the Pandemic, only 15.5% of businesses intend to return to 100% office work. This means that the remaining 84.5% will either stay fully remote or with other flexible work options.
If you're looking to scale your team with the best remote workers, you've come to the right place. In this article, you'll find the ultimate remote hiring guide with everything you need to know about the process of hiring remote workers.
5 Benefits of Remote Hiring
Remote hiring directly impacts the way your team works and gives you the perfect scenario to build a diverse and inclusive company. Here are 5 advantages of hiring remote employees: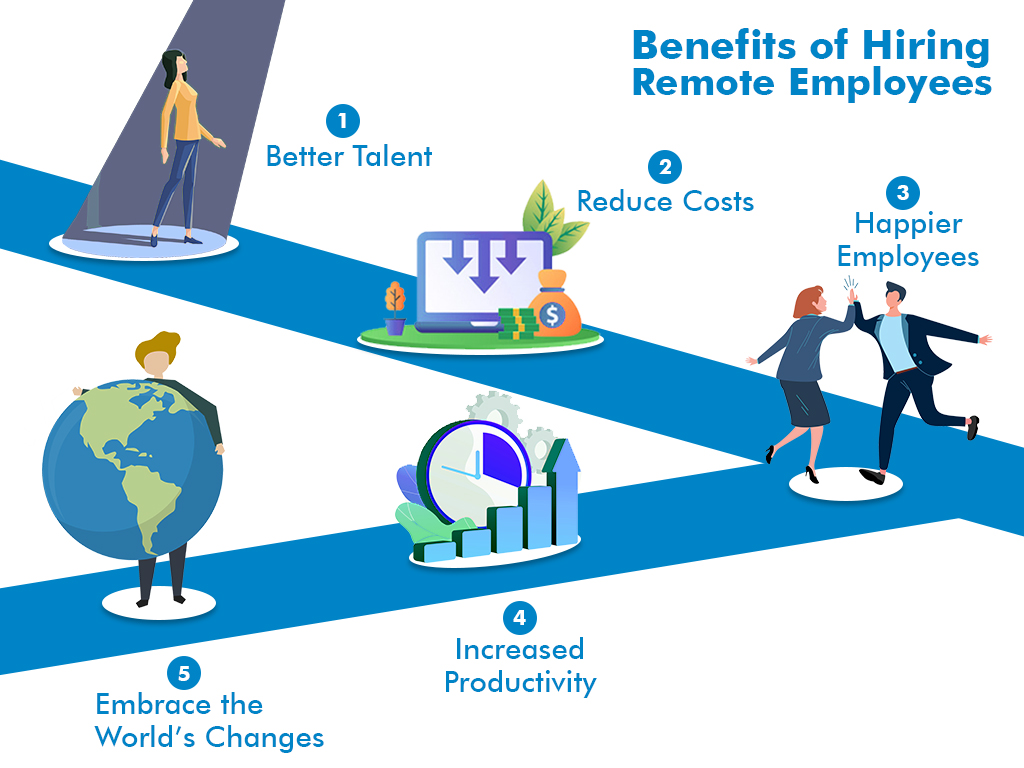 1. Better Talent
Hiring remote employees automatically gives you access to the world's top talent. When you only focus on local candidates, your hiring process is more frustrating because of the limited options you have. Maybe you're lucky to find the exact type of candidate you need fast enough, but what happens when you don't? You keep insisting on finding a talented candidate to later realize that you'll eventually need to conform with the least bad one because otherwise, you'll have that vacancy empty forever.
Yet, when you choose to look for candidates in a remote setting, it is as if you unlock the panorama option from your cell phone. You have a wide variety of angles, and you get to see the entire picture. The same happens with remote candidates; you get to see all your options and choose the best one, significantly benefiting your company.
2. Reduce Costs
One of the most attractive reasons business owners opt to hire remote workers is to save a lot of money. In a standard on-site setting, hiring employees not only means having to pay their salaries. Other side costs include the physical office space, supplies, snacks, coffee, water, electricity bills, and other essential payments that increase the total amount you spent. But what if you could save all that money?
Companies that hire employees that work from home reduce expenses up to $11,000 per employee annually!
3. Happier Employees
Going back in time, productivity was measured by the times spent in an office. If your manager saw you typing non-stop in your cubicle, they were satisfied that you were working, and that was enough for them.
Nowadays, the tables have turned, and productivity is no longer measured by time but by the quality of work you do. The output is what matters, which is one of the main reasons why remote work is a huge success.
Remote employees are happier because they are less stressed and work in their own zone. And statistically speaking, according to research, remote workers have a better work/life balance. The less time they spend in the office, the more progress they say they make.
4. Increased Productivity
Think about the days you were working in an office, and you had more than 10 interruptions by day from your coworkers. And not even a "Hey, could you please help me" interruption, but it was Jessica complaining for 30 minutes about a date she had last night or John showing you how his kid is the best football player. Not that chit-chatting is wrong, it's definitely healthy to take breaks, but being continuously interrupted with these types of conversation is a productivity killer.
Even if you were focused on your tasks, you still got distracted by hearing nearby people talking, others printing, like, a million pages, others making coffee, etc.
Remote workers get to choose the environment that works out best for them. They can be quiet in their own home office, or they rather go to a coffee shop nearby with excellent Wi-Fi. Either case, it lets them be conscious of what type of environment works best for them.
According to a FlexJobs survey, 95% of the respondents say their productivity increased or remained the same while working from home. And 51% reported being more productive while working from home.
5. Embrace the World's Changes
Remote hiring equals embracing the world's changes. If one thing covid-19 taught us was to expect the unexpected. Literally, who would have thought that a pandemic was going to happen, and most companies would have to close their doors and work from home? It still is crazy to put these telecommuting experiences into words, but the good news is that companies finally understood that remote work is the key to success.
The world is moving at a fast pace, and employees are no longer only seeking a good salary. They want more quality time to spend with their loved ones and want to achieve a good work-life balance. So, offering these types of benefits instantly makes you an attractive option for them. You get great talent, and they get an amazing job. It's a win-win!
Everything sounds like rainbows and butterflies, but how to attract and hire those talented remote candidates everyone talks about? Short answer: By having a remote hiring process.
Remote Hiring Guide: Main Steps
The first rule of remote hiring: Forget about replicating the same process you do with on-site hiring.
Hiring remotely is entirely different than hiring on-site employees. Your entire HR team will need to adapt to these new practices to be able to be successful. Here's a complete 8-step guide on how to hire remotely in 2021 with everything you need to know.
Step #1: Define What Remote Means to You
Before starting with the remote hiring process, you need to be clear on how you define 'remote work.'
Not in a philosophically profound type of definition where you go to the mountains and meditate on the pros and cons of remote working, but one where you understand where your business is standing from a remote work perspective.
Start by answering this question: What type of remote employee arrangement are you looking for? Part-time, full-time, hybrid?
If your company is fully remote, then this is not a crucial step. But if you're transitioning to remote work or you want to run an experiment, keep in mind how hiring a remote worker will impact your business in the long term.
This will also give you the scope of what type of employee you need. For example, if your team is planning to work remotely one day a week, hiring someone with remote work experience might not be crucial. But if your plan is to scale your team with fully remote employees, then that experience is a must..
Step #2: Do You Have What It Takes to Hire Remotely?
Usually, this question works the other way around; you ask candidates if they have what it takes to work remotely. But it's equally important to be conscious that you are ready to hire and manage remote workers.
It sounds basic, but before starting to look for candidates, you need to make sure that you have the necessary tools to manage a remote team. There are 3 main areas you need to cover when it comes to managing teams virtually:
1) Communication – How will your team be communicating? Keep in mind the time zones and then decide what tools will be best for either synchronous or asynchronous communication. This includes the best video applications, instant messaging apps, and documentation.
2) Project management – When you manage a remote team one of the challenges is to know how projects are moving forward. You can't go to your employee's cubicle to ask them about it, so you need a transparent method to keep track of your projects. Therefore, project management tools such as Basecamp, Trello, Asana, among others, are so valuable; they help you visualize if things are running smoothly or if there are any roadblocks.
3) HR – How is your remote team going to get paid? How will you be managing bonuses, vacation days, non-vacation days, sick days, etc.?
4) Documentation & cloud storage – When working remotely, you always need to keep everything documented. If someone needs a document or other type of relevant information, they have the tool for it instead of asking other team members. Google Office, Dropbox, and OneDrive are great cloud storage tools.
These tools are the most basic for remote work. It depends on the area you specialize in that you will need other types of tools. For example, if your business focuses on sales, likely you'll need a CRM tool.
Also, having what it takes to hire remotely, besides the tools, is about understanding that managing a remote team is entirely different from the standard office experience. Successful remote leaders are those who avoid micromanaging because they trust their teams and their capabilities.
Step #3: Write the Remote Job Description
When you have the two previous steps covered, it's time to write down the job description. Before starting to get excited overloading it with skills and requirements, or information about the organization, keep in mind that the job description is the bait that attracts talented candidates. If you write a boring, long, and wordy job ad, they likely continue looking for another job posting.
To write your job description, you'll first need to visualize your ideal candidate. This means, be certain of what skills they need to have, both hard and soft skills. Also, what requirements or experience are necessary for the role. When you have these aspects covered, you can start writing down your job ad. Here are some tips that can help you attract the perfect candidates:
Title: Don't go over the top with titles; a simple and concise title is much better than a title with too many weird words. And be clear that the position is for a remote job in the title as well.
Job description: Here, you need to keep it short and sweet. Be clear about what the job position is about, what is the expected role candidates need to fulfill. What will their daily tasks be about?
Skills and requirements: If you need a candidate with a lot of experience, be clear about it. Or if you are willing to accept candidates with zero experience, this is also the space to do it. Here you can add all the skills and requirements that will make an employee successful in the role.
Company description: Don't write everything about your company. This tends to be extremely boring, so also try to keep it short. Explain what your company does and appeal to the emotional part by saying a bit about what you believe and stand for.
Position details: If you have certain aspects applicants need to know beforehand, this is the space to add them. For example, if you only work with people under certain time zones, or if the job is not 100% remote, all of those essential details should also be covered in the job description.
Bonus tip: Try keeping your job description between 300-600 words.
Step #4: Attract your Ideal Remote Candidate
Attracting remote candidates consists of several strategies. Once you crafted your job description, you can start promoting it in different ways. But keep in mind that it's not only about posting the job ad on platforms, but it's also a mix of headhunting and recruitment that makes this process effective.
1) Job Boards
Unemployed people, or employees looking for better opportunities, are continually looking for job opportunities on job boards. So, if you are ready to start with the remote hiring process, you need to explore these platforms. In this case, where you are looking for a remote employee, the best thing you can do is promote the job opportunity in a remote job board. These are some of the most popular remote job boards:
FlexJobs
WeWorkRemotely
Remote.co
Remotive
These are other popular job boards for both remote and non-remote jobs that are worth exploring:
Indeed
Glassdoor
CareerBuilder
Monster
2) Recruit via Social Media
Most recruiters use LinkedIn as the first option to recruit and headhunt candidates. There are some positions that are harder than others to fill, so sometimes you need to bring up your best game and start headhunting candidates. Some of them might already have great jobs, but your 'royal flush' here is that you're offering the opportunity to work remotely, which is a game-changer for many.
This process, however, takes time, you need to screen people you think might be right for the job. You need an HR team that has the capabilities of taking these tasks and performing them efficiently.
Other social media options that are not so popular but still used for some recruiters are Facebook and Twitter.
3) Recruitment Agencies
If promoting and headhunting sounds like too much, you can always ask the help of the experts. Recruitment agencies have been playing this game for many years now, and they know what works and what doesn't, so if you don't have the time to select and find the right candidates, you can let them do the job for you.
With the remote work boom, there are recognized remote recruitment agencies that specialize in finding the right remote talent for your company. These are some of them:
DistantJob
Robert Half
Remotetalent.co
Professional Alternatives
Step #5: Screening of Potential Candidates
The best way of evaluating candidates is by conducting interviews. In this case, where we are talking about a remote setting, video calls are the best way to connect with them. However, initially, it's almost impossible to interview all candidates.
Imagine getting 200 applicants! It doesn't make sense to interview all of them because there's always someone who didn't even read the full job description (!!!) or who just applied thinking it would be worth trying even though they are less qualified for the position than a blind marmot is qualified to be an Uber Driver in New York City (sorry, visually-challenged furry friends).
To save time and energy, you should always have a screening process. Applicant Tracking Systems (ATS) are a great way to screen candidates that might be a great fit from those who directly shouldn't have even applied to the job.
ATS can handle recruitment and hiring needs by collecting and sorting resumes. They provide the full panorama of the applicants you receive because they compare remote work on resumes with the job descriptions. Therefore, instead of reviewing each application, you can focus on the ones the ATS has identified as a great match.
These are some of the most popular ATS used by companies:
Taleo
Workday
Greenhouse
BambooHR
SmartRecruiters
ATS are usually used by big companies that tend to receive thousands of applicants. But if you're a small company or startup, it might not be necessary for you to install an ATS. However, it's recommended to have a screening process to help you identify certain aspects of a CV as non-negotiable.
Step #6: Create a Solid Interview Process
Once you narrow your applicant list to a couple of potentially great employees, it's time to start with the interviews. There are two main things you need to keep in mind when it comes to remote interviews:
ALWAYS have them with the camera on.
They are different from the onsite interviews – don't try to replicate the same process.
Camera quality is important because, as you won't be communicating with your candidate face to face, it's the only way you can build a stronger connection. You can understand how a candidate communicates, as well as their facial expressions.
Before starting with the interviewing process, preparation is key. It's useful when you already have a system for it; that way, when in the future you need to do more interviews (as you probably will), you will already know what to do.
Start with the basics. Set up a schedule that works both for you and the candidate, be clear regarding what tool or platform you'll be using, and that having the camera on is mandatory.
Always prepare for interviews. You are looking for the next person to join your team, someone who will help you achieve goals and work hand in hand with your other team members. This person can't be just randomly picked; it has to be someone you know that will do a good job.
To be certain that a candidate is THE ONE, you will need to have more than one interview in most cases. An excellent strategy to make sure a candidate will be a great employee and culture fit is to have a group interview. Choose the team leaders and employees whose input you value. Interview with them, and then you can all decide whether hiring the candidate is a good idea or not.
Also, take notes. Right after you finish the interview, take some time to reflect and write down the good things and the potential red flags you identified in the candidate. This way you can later review the full panorama of all the candidates with their respective pros and cons.
Step #7: Remote Hiring & The Final Evaluation
It's time to make the final decision. You have had the interviews and have discussed them with other team members and/or leadership members, so it's time for you to answer this question: Who's your best bet?
It often happens that you have a hunch on a particular candidate, maybe because they are Pink Floyd fans as you are or because they love cats. But keep in mind that the unconscious bias we all have sometimes plays a bad game, so try to be as objective as possible.
When making this final evaluation, it's always helpful to review the notes you took after the interviews and decide which of those candidates has the characteristics and skills you want and need for your team.
During this stage of the process, you'll have the respective follow-up with the candidate who will start working with you, but it's always recommended that you also let all the other candidates know that, unfortunately, they didn't get the job.
Step #8: Onboarding Process
Remote employee onboarding is a crucial step. It's where new hires experience what it's like to work for your company. This means they get to understand how your company's culture is like, as well as your beliefs, goals, and values.
During this time, the idea is to show the employee the virtual office. This means the tools you use and how you use them.
You should also introduce them to the rest of the team and set up clear expectations regarding their role.
Ready to Start Hiring Remotely?
The key to successful remote hiring is preparation. If you want to succeed and hire talented remote workers that fit perfectly into your company and culture, you need a solid process. And this remote hiring guide gives you a brushstroke of the fundamental steps to keep into account when selecting, interviewing, and evaluating possible candidates.
Once you've taken them, and you have more experience with the remote work world and remote hiring, you'll be able to adjust them better to your company's needs.