Companies cannot run without employees, and their success depends on the selection and onboarding processes they use. That's why hiring cycles are so long and detailed and mainly focus on a new hire's success and happiness. The current COVID-19 crisis forced businesses to leave their traditional methods behind and integrate a remote onboarding process for those new candidates that stick around.
Do you remember your first days at a company with a flawed onboarding process? For me, it was terrible. A small company had hired me for a project manager role. It was my first time "managing" things, and I felt afraid and overwhelmed. Since they lacked an onboarding process, no one explained to me how things ran. I had no idea about the methods they use, and during the first days,, I didn't even get to meet the team.
For most businesses, a remote onboarding process suddenly became their biggest fear. Once mandatory lockdown began, employers could no longer be in the same physical space as their employees. Now, they couldn't ensure employees and new hires had a good experience at work.
Learn more about the Remote Hiring Process here.
What is Remote Employee Onboarding?
Employee onboarding is a series of activities for a company's new hires. These activities introduce them to the team and help them learn about its essential values, attitudes, methods, cultural beliefs, and tools. Remote employee onboarding is the same process.but exclusively for employees working from home.
A remote onboarding process can be formal or informal – though usually, companies use both. Formal onboarding would include theoretical and practical lessons for new hires – like workshops, training sessions, video calls, and exercises. In contrast, informal would refer to the social connections a new member of a company must form. These would be, meeting with the leadership, getting to know stakeholders, understanding the company's culture, and understanding practical examples of problem-solving (these are always better to practice accompanied by a manager).
An onboarding process is a perfect opportunity for employees to get used to a new environment, understanding the series of changes they'll have to face. While for employers, an onboarding program is a series of stages where they can share all the elements, tools, and methods to help new members succeed.
Nowadays, most leaders started to worry about their employees' extreme isolation. Mandatory quarantine forced everyone to isolate, keeping you away from your friends, teamwork, or even that random guy you don't know the name of but always saw at the office. Those relationships you grew every day fell apart in 2020, and employers worried this lack of connection could affect work results and general productivity.
First impressions are always important when it comes to new relationships. In this case, the remote onboarding process is the first taste employees have at a new company, so it should rock their world! It's the perfect opportunity for companies to create those relationships with their employees.
6 Remote Onboarding Steps To Build a Great Process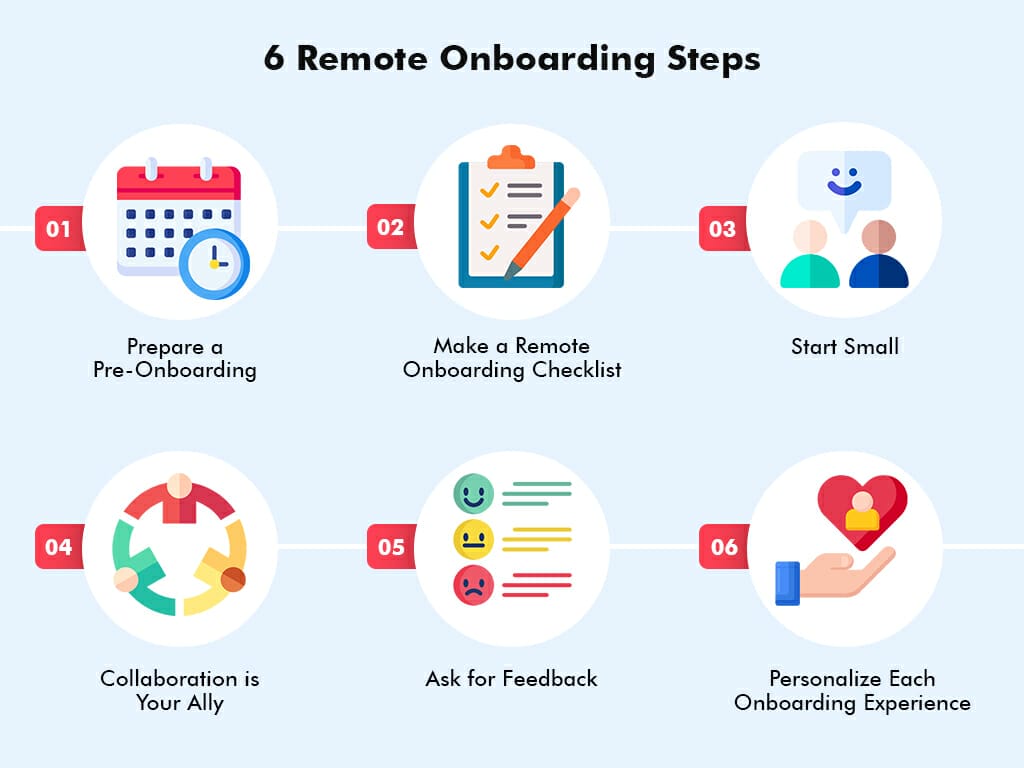 1. Prepare a Pre-Onboarding
For a successful onboarding process, the first step is to build a pre-onboarding plan. It will make the whole process of becoming a new member of the company solid and enduring for new hires. Pre-onboarding is everything that happens once the new hire is confirmed.
Imagine your first day at a new job—a new location crowded with new faces and new assignments you must fulfill. You probably felt disoriented, alert, and frustrated for most of the day. Well, picture how this might feel working remotely. You'll need to be completely willing to listen and learn!
Since most companies are going remote, onboarding processes need to adapt to a virtual environment, taking action. New hires need access to all of your systems:
Provide them an email account exclusively for work
Access to chatting and video conferencing tools – new employees should understand they must create their accounts on each instrument.
Project management tools: Remote companies use tools such as Basecamp and Asana, but there are several others you can use.
Time tracking instructions: teach them how you manage times and deliveries, and make sure they specify their working hours to all team members in a shared calendar – like Google calendar.
Learning modules: are they going to learn from videos, documents, or virtual meetings? Let them know the methodology you'll use to teach them.
Share with new hires what you expect from them: the goals for the first 30, 60, and 90 days.
Though pre-onboarding might seem like the basic rules human resource management should follow, it's worth mentioning its importance. Not knowing the necessary details for a new job can make an employee feel anxious and poor employee engagement.
Poor onboarding experiences lead to negative consequences. Employees feel disoriented and disconnected from their team and tasks and usually perform inefficient results since they lack motivation and engagement. According to an SHRM survey, 54% with onboarding programs reported higher employee engagement.
Any first day at a new remote position is stressful, but you'll save the employee and yourself tons of hours if you prepare a successful onboarding process.
2. Make a Remote Onboarding Checklist
Organization comes from checklists. So, start by creating a list of steps for the employee and yourself. As a leader, you're the new hire's role model, so you'll need to be prepared with the steps to follow before welcoming them.
Once you have your onboarding checklist ready, make one for the new hire. If new employees fulfill all the steps correctly, there won't be a reason to worry.
A remote onboarding checklist will help employees accomplish tasks during their first weeks without the need to reach out to you every five minutes. This checklist will contain a series of remote meetings, training sessions, and interviews they'll join during the week.
How to Create a Remote Onboarding Checklist?:
Present the team and its goals. Go through a list of tasks that determine the new hire's role and responsibilities.
Provide tutorials for the tools – most remote companies have security, HR, and communication tools they use every day – and help new hires create accounts in all of them.
Assign the task of preparing a presentation letter – a short note with their name, interests, and hobbies..
Set guidelines for the new hire to schedule one-on-one meetings with the company's leadership members and with you.
Promote connection. Prepare a special lunch or some out-work meeting where employees can get to know the new hire besides work.
Once you've decided what to include on your checklist, put it together in a template.
Remote Onboarding Checklist Template
Here's the HR paperwork you should send the new employee to complete.
A letter with employment agreements:
Confirm start date and salary
Offer letter sent and signed
Background check completed
Employment agreement signed
Complete drug screening file documentation
Employment details should include:
Employee contact information
Obtain an employer identification number
Tax Withholding Form
Employee's 1-9 form complete (confirms worker's eligibility to work on location)
Verification documents should include an unexpired passport or passport card, an unexpired temporary resident card, and an unexpired employment authorization card.
Direct deposit form
Employee benefits enrollment forms
Policy documents
Now you can prepare your new hire's meet and greet with crucial company team members and leaders.
3. Start Small
Now you've set the plan. Once you start assigning tasks to the new employees, avoid overwhelming them with too many things. Giving them significant responsibilities as the first task could ruin a new hire's expectations and motivation since they'll probably feel lost.
Start by giving them small projects to handle. Evaluate how it goes and create a schedule for the hire's first weeks, so you're both aligned on the expectations for the job. You can also select several dates on the calendar in which you'll evaluate their performance – like after 30, 60, and 90 days.
An excellent first task could be a cross-team collaboration to introduce them to other team members.
4. Collaboration is Your Ally
Collaboration helps remote teams accomplish positive results – whether at work or in personal relationships among colleagues. Remote jobs need permanent collaboration between team members. Once you make a new hire, collaboration should be the first thing you ensure is running successfully. But what does collaboration in remote teams look like?
The remote collaboration includes a discussion forum – this may be a chatting platform like Slack or a project management tool like Basecamp – where new hires can learn about how team projects develop, ask questions, and offer instant reactions to each new assignment. Collaboration tools would be like a shared to-do list between all members of the company or the team.
Collaboration tools help new team members understand processes better and create a sense of community. Moreover, remote employees tend to feel lonely, so these tools are fantastic for avoiding that situation and promoting communication.
5. Ask for Feedback
Ken Blanchard once said, "Feedback is the breakfast for champions."
Feedback is what helps your team and colleagues succeed at what they do. Feedback is what you should think about before you start each workday – for example, thinking about those weaknesses your colleagues pointed out and now you can improve. And since you're managing a remote team, feedback begins with you. Ask your team how they feel about your management, and if they tell you something you don't like, don't react negatively. Remember that building trust and creating a safe environment is about giving them this space to do so. If you don't act accordingly with what you say, your team won't trust you.
Every week, ask everyone on the team how they're doing with their tasks, especially those new hires. You'll be promoting general feedback with the whole team, as well as a feeling of empathy toward recent members. Feedback will allow you to improve the process for future hires continuously.
6. Personalize Each Onboarding Experience
Not everyone's situation will be the same, and your onboarding process needs to reflect that.
A remote onboarding process needs to be collaborative, empathetic, engaging, and tailored to the needs and expectations of each role. You must offer different learning paths that provide support, information, and tools for each job. You could explain to the new hire your plan during the interview process and the cover letter you send to new hires.
You can start by organizing the educational content for each new hire and giving them enough freedom and flexibility to progress at their own pace – but always scheduling a due date. Some may need more time, others more information, but as a remote manager, you should understand their needs and speed and create a remote onboarding program taking these into account. New learners need to know you care, and a tailored onboarding process reflects that.
Examples of Remote Onboarding Programs
Buffer: Buffer's onboarding program focuses on strengthening remote teams since the company is entirely remote. Therefore, they aim to maintain remote groups connected and engaged to their onboarding program.
Quora: they believe in mentorship's importance. Quora assigns a personal mentor to each new employee during their first weeks of employment.
Netflix: this platform has a solid cultural onboarding program focused on leadership growth. This company aims to make employees' work-life exciting and happy through their inclusiveness-driven onboarding program and introductions.
Twitter: their employee onboarding program aims to make the working period efficient and welcoming for all employees.
Digital Ocean: they prioritize the new candidate and employee participation in the company.
Why is a Remote Onboarding Process Important?
These facts will help you understand the importance of remote onboarding processes and how to manage new hires successfully.
Onboarding Doesn't Mean Orientation
People tend to assume onboarding means you'll orientate new hires to succeed, but that's false. Orientation is a one-time event when you'll welcome new employees to an organization and guide them to learn about the company's vision, culture, and history.
On the other hand, onboarding is a series of events happening over a long time and – usually – customized for a specific job. Remote onboarding processes include orientation, but they cover much more. For example, when you hire a new IT developer, you'll orientate them to meet and join the organization in the first week. Still, the onboarding process will last a more extended period until the new hire shapes to his IT developer role.
How Long Do Remote Onboarding Processes Take?
Usually, remote onboarding plans last for at least a month but could stretch to three months or more, depending on the complexity of the new hire's role and the results they achieve. The company's management and its maturity may also influence how long this process will take.
Some companies believe it's better to set the dates on a short schedule and train the new hire for weeks. Other organizations prefer to extend the onboarding period to improve employee retention and help new team members feel a part of the community.
Incorporate Metrics
Clear and specific metrics measure effectiveness in results – especially in your remote onboarding first weeks.
Metrics establish specific goals and their importance. Employers can focus on real numbers to evaluate the new hires' performance and evolution, while new hires can understand the aims clearly. You should consider a specific platform, a measurable number of results, and time-bound.
Your expectation could be something like this: for our new graphic designer, we expect them to perform new designs on Photoshop (specific platform) with a score from 8-10 (measurable) a week after his first month (time-bound).
Is Remote Onboarding Hard?
Some time ago, BCG reported that onboarding is among the most influential factors in employee experience. Organizations with effective onboarding programs achieve 2.5 times more positive results and 1.9 times the profit margin of organizations with poor onboarding processes.
Trust should be your number one priority when starting a new remote onboarding plan. Emotional connection can be hard to achieve, so the more effort you put into it, the better results your new hire will achieve – since new hires need to trust you and your company. Building virtual connections and trust can become challenging but not impossible.
Boost Your Remote Onboarding Process
Every remote onboarding process starts with planning. Create a plan for the new hire , pointing out your expectations as a leader. Mention the tasks and the tools employees should learn about once they start. Take time to specify the new hires' goals and future lessons to help them prepare.
Once you've finished the first two steps, go little by little. Prepare small projects for the new hire and evaluate their performance. Once they meet your expectations, you can go further. Remember that as a remote team, collaboration and feedback are fundamentals. It's all about creating a safe environment for everyone in the team.
Managing remote teams takes time and patience. It's not simple to guide, follow, and advise new employees living miles away. But an excellent remote onboarding process is the first step towards a successful team.