How many times have you heard that remote work is here to stay? Despite being forced to work from home due to the COVID crisis, Gallup's research shows that 59% of Americans would rather stay home after the pandemic. Looking at more numbers, Upwork says that 42% of Americans will remain remote, with 22% (36.2 million Americans) in a full-remote position by 2025. That's an 87% increase compared to pre-pandemic data!
Despite its challenges, the benefits of remote work for employees are mainstream. Virtual teams are more productive, and working from home helps employees and employers achieve a better work-life balance. A telework survey recorded that 80% of employees are willing to work remotely at least one day a week, even before this global crisis. Over a third would even negotiate a pay cut to keep working from home.
Remote work benefits for employees aren't a secret anymore. But, what about employers? How do companies benefit from a remote work business model?
10 Best Benefits of Remote Work for Employers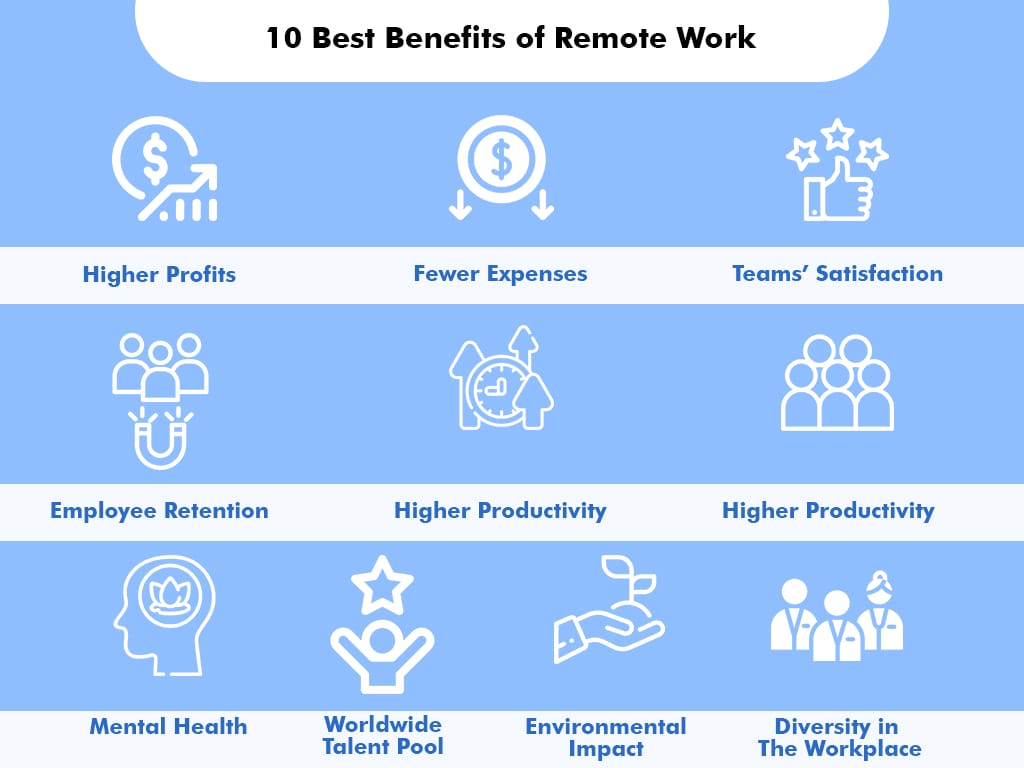 1. Higher Profits
Research shows that companies employing remote workforce earn more than those who don't. Data reveal that companies save around $11.000 yearly per remote worker – a 21% profit increase. Other studies on patent examiners record a drop of 4.4% and $38.2 million for hiring and office expenses. Thanks to remote work, surveyed companies' revenue recorded an increase of $132 million over the last period.
2. Fewer Expenses
Besides cutting off office space and traveling costs, remote workers can agree upon lower salaries. A Flexjobs survey shows that 21% of employees would give up some vacation time for more flexible working options. Furthermore, 28% would accept a 10-20% pay cut for remote jobs. For 20% of respondents, even retirement contribution is less valuable than a flexible schedule and the opportunity of working from home.
Remote work reduces expenses for everyone!
3. Teams' Satisfaction
Team satisfaction is the core goal of any company. An Owl Labs survey revealed that over 71% of virtual teams are more satisfied than on-site teams. And this data is accurate for both employees and employers. Only in the U.S., 18% of executives prefer to work remotely than on-site. Furthermore, senior executives work from home 34% more than those in lower positions. Remote team members tend to be more efficient and reduce absenteeism by staying longer in the company.
4. Higher Productivity
Recent research shows that 65% of workers are more productive at home than in traditional workplaces. Additionally, 85% of companies confirm that productivity increased with greater flexibility in remote positions.
Forbes highlights an increase in productivity by 35-40% of remote employees compared to on-site colleagues. As a result, companies record a 4.4% increase in outputs and around 40% fewer checks of products and quality.
Remote team members tend to take more breaks, but they are more focused during working hours. Besides, when working from home, virtual teams have fewer distractions than in-office teams.
5. Lack of Absenteeism
As we briefly mentioned, remote workers are more satisfied and more engaged with their team. Work from home employees tend to not call for sick days, increasing the company's productivity—data record 41% lower absenteeism for remote workers, which maximizes businesses' performance and improves teamwork.
6. Employee Retention
Remote work allows more flexibility and trust in the workplace, increasing employee retention. Owl Labs 2019 State of Remote Work reports that remote employees are 13% more likely to stay in the same company longer than office-based colleagues— as well as being more loyal to their employers.
7. Mental Health
Working from home enables a healthier work-life balance. Unlike office employees, remote workers are less stressed about their job. No commute, no micromanaging, a comfortable environment, and flexible schedules are just a few reasons why virtual teams are happier.
With reduced work-related stresses, remote employees are less likely to suffer mental health issues and burnouts.
8. Bigger Talent Pool
A wider talent pool is one of the core benefits for remote companies. Without geographical boundaries, companies can hire skilled professionals across the globe without VISA and moving costs. For example, Novartis CEO Vas Narasimhan recently announced that they will implement a remote work model for the upcoming years. Besides the higher productivity, the company sees remote work as an opportunity to recruit worldwide talent.
9. Environmental Impact
After a year of pandemic and endless quarantine, we all can see the positive impact of remote work on climate change. By eliminating the necessity to commute every day, remote companies reduce traffic and emissions.
10. Diversity in The Workplace
The recent survey Decoding Global Ways of Working shows that the global preference for remote positions doesn't depend only on flexibility. Over half of respondents said that diversity and climate are priorities when looking for a job, especially after protests like the Me too movement and Black Lives Matter.
Accessing different markets, remote companies rely on diversity to improve their team's performance and productivity.
Remote Teams Are The Best Option
Remote work is here to stay. More than a mainstream, distributed teams are becoming a global trend. Managers believe that 26.7% of the workforce will continue to work fully remotely. Furthermore, even with hybrid options, a significant proportion of workers will continue to work from home. By 2025, most managers (22.9%) expect to run a fully remote workforce—nearly two times the 12.3% recorded before the COVID-19 crisis.
The benefits of remote work aren't just for employees, but for everyone!