Do you ever have one of those days where the simple act of turning on the computer seems like a lot? Especially after the Christmas holidays, the idea of getting back to our work routine feels like a nightmare. No amount of coffee can make us feel energized. The good news is that the key for motivation and inspiration can come in the simplest forms: with work from home quotes.
These can feel like motivation pills for those days where you need a word of encouragement to get going. We selected 111 work from home quotes organized by different categories to power you up!
Quotes about Working from Home
1.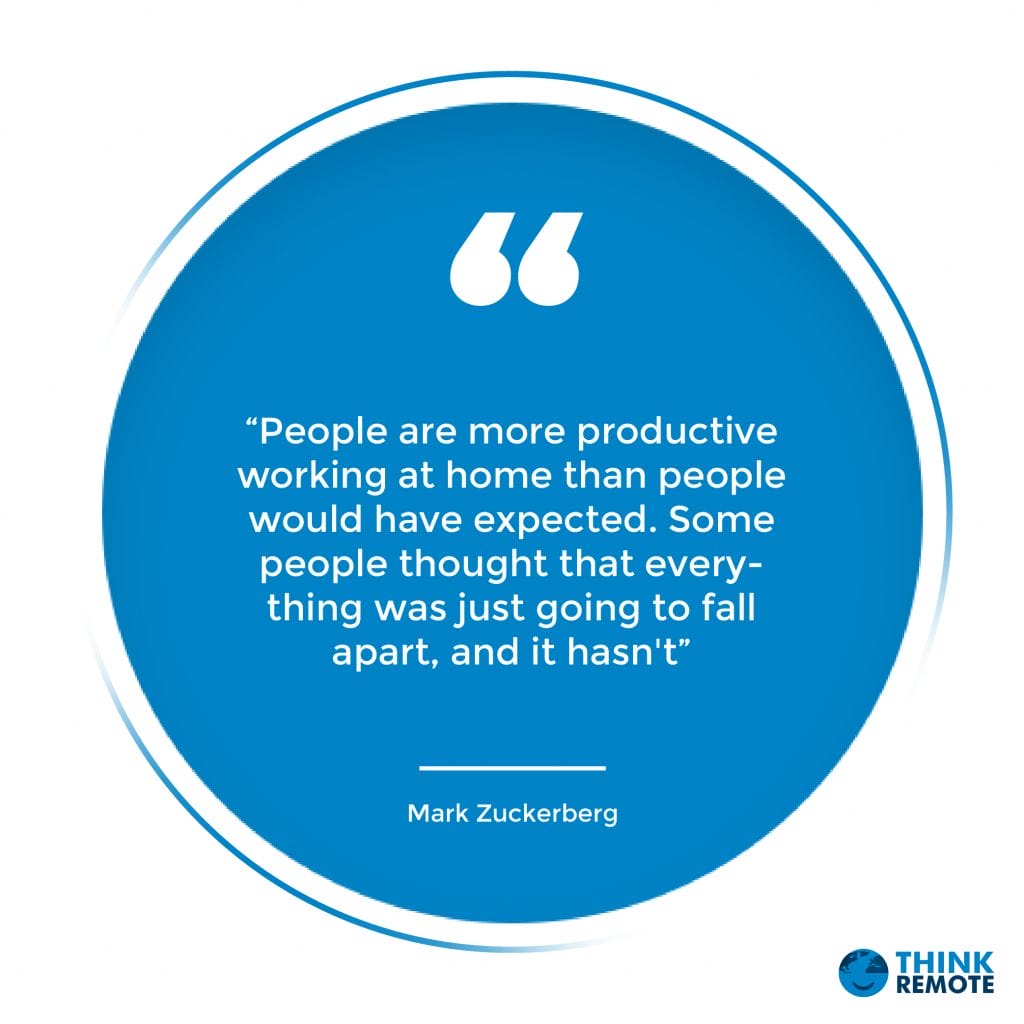 "People are more productive working at home than people would have expected. Some people thought that everything was just going to fall apart, and it hasn't" – Mark Zuckerberg
2.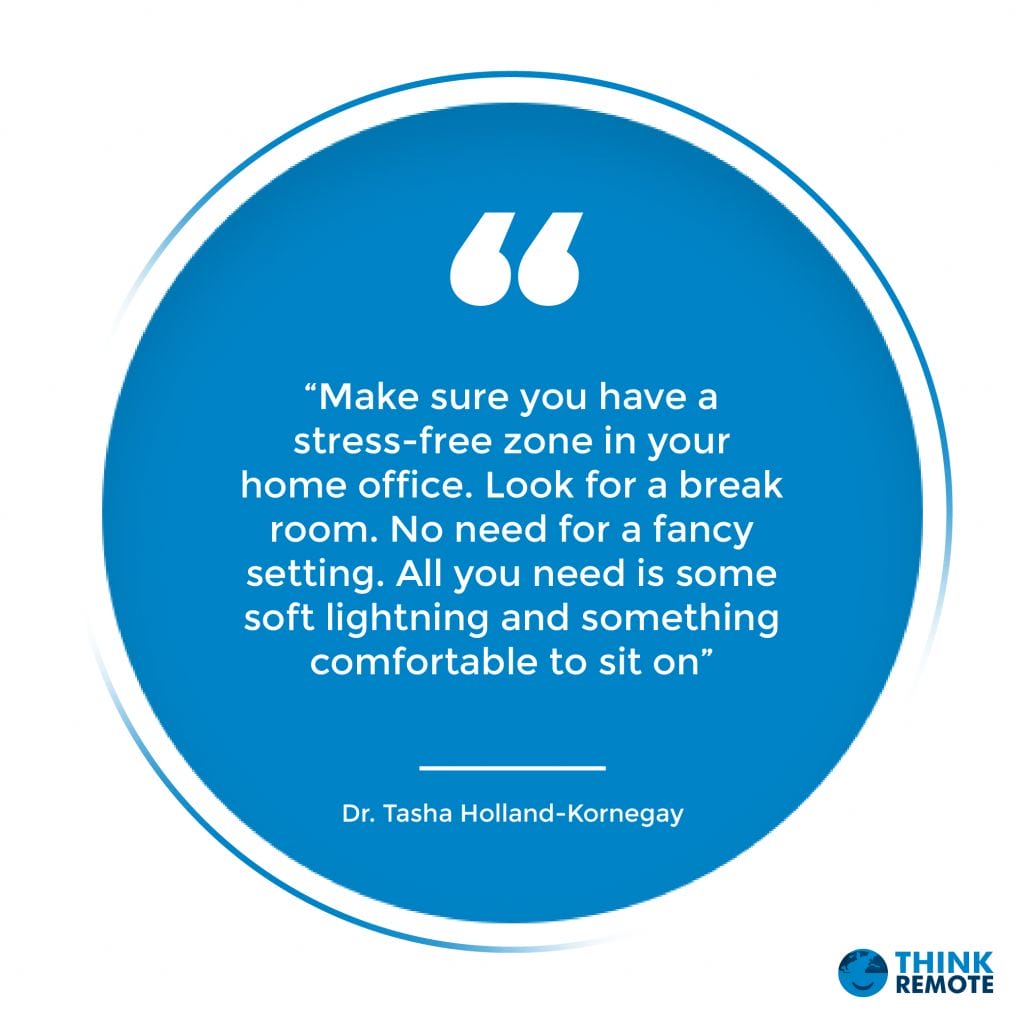 "Make sure you have a stress-free zone in your home office. Look for a break room. No need for a fancy setting. All you need is some soft lightning and something comfortable to sit on" – Dr. Tasha Holland-Kornegay
3.
"Remember to enjoy the freedom of being able to work from anywhere and the flexibility to adapt your work to your life rather than the other way around" – Alex Muench
4.
"Working from my home is worth a hundred thousand dollars just on its own – because of the freedom and because of the time saving." – Erik Allebest
5.
"Staying home can be very lonely. … Try and remain calm. Listen to music, play a funny movie in the background–in the early years of launching my own coaching practice, old episodes of Mystery Science Theater 3000, literally saved my life and allowed my business to thrive. But, do whatever it takes to create a warm environment." – Carlota Zimmerman
6.
"Establish a pre-work routine and an after-work routine. Working in the same place where you wake up, eat, and sleep can make anyone go crazy without proper boundaries in place." – Marissa Owens
7.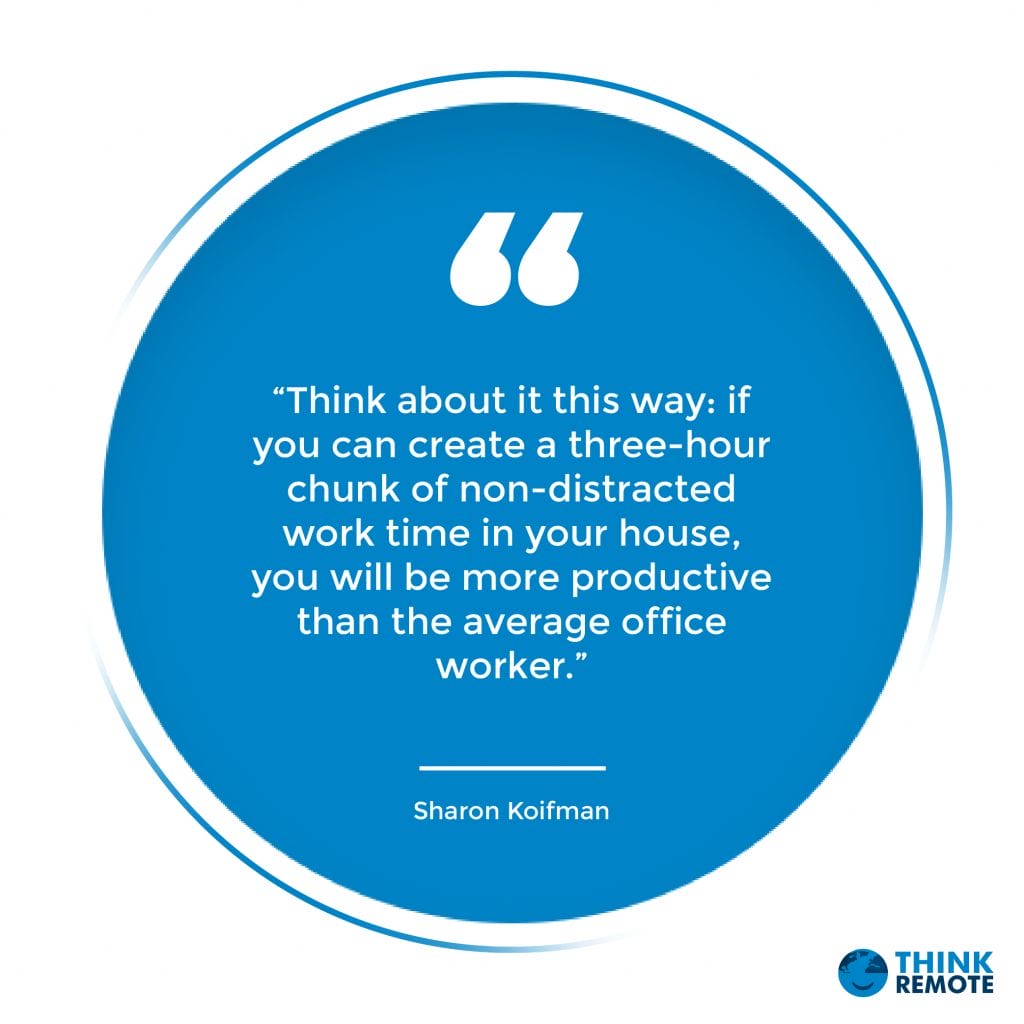 "Think about it this way: if you can create a three-hour chunk of non-distracted work time in your house, you will be more productive than the average office worker." – Sharon Koifman
8.
"Focus on being productive instead of being busy." – Tim Ferris
9.
"We're talking about your place of doing business. Your zone of control. Your signal to your supervisor and your peers and yourself about the level where you want to be. Get that: your home office is a signal to yourself." – Karen Mangia
10.
"I have found that sticking to a routine helps, but it's also great that the routine can be flexible. The trick is finding that balance, sticking to a stable routine each day, with added flexibility to deal with unexpected curve balls that life throws at you." – Michael Erasmus
11.
"If we could be somewhere, experiencing the world in a beautiful setting while working, challenging ourselves, growing professionally, enjoying a community of like-minded people and connecting locally, what's stopping us?" – Michael Youngblood
12.
"Part of the beauty of remote work is being able to work on a schedule that works best for you, but if you're online and working at all hours, you'll start burning out quickly. We'll need to build clear rules around how technology can be used to help us maintain those boundaries for work-life balance." – Ryan Bonnici
13.
"Instead of wondering when your next vacation is, maybe you should set up a life you don't need to escape from." – Seth Godin
14.
"Even when I worked in an office, I would often bring work home with me. When I started working remotely, it was just a recipe for disaster. Over time, I've found two things to be very important. This is a bit cliche and everybody says this but it's really true: Rest is very important. And time off is very important." – Gonçalo Silva
The fear of failure is something that we all experience in our jobs one way or another. But it doesn't have to be that way! Check out our post Strategies to Overcome Fear of Failure at a New Remote Job.
Work from Home Inspirational Quotes
15.
"The bad news is time flies. The good news is you're the pilot."
— Michael Altshuler
16.
"I want to be in the arena. I want to be brave with my life. And when we make the choice to dare greatly, we sign up to get our asses kicked. We can choose courage or we can choose comfort, but we can't have both. Not at the same time."
— Brene Brown
17.
"I've missed more than 9,000 shots in my career. I've lost almost 300 games. 26 times I've been trusted to take the game winning shot and missed. I've failed over and over and over again in my life and that is why I succeed." – Michael Jordan
18.
"The same boiling water that softens the potato hardens the egg. It's what you're made of. Not the circumstances." – Unknown
19.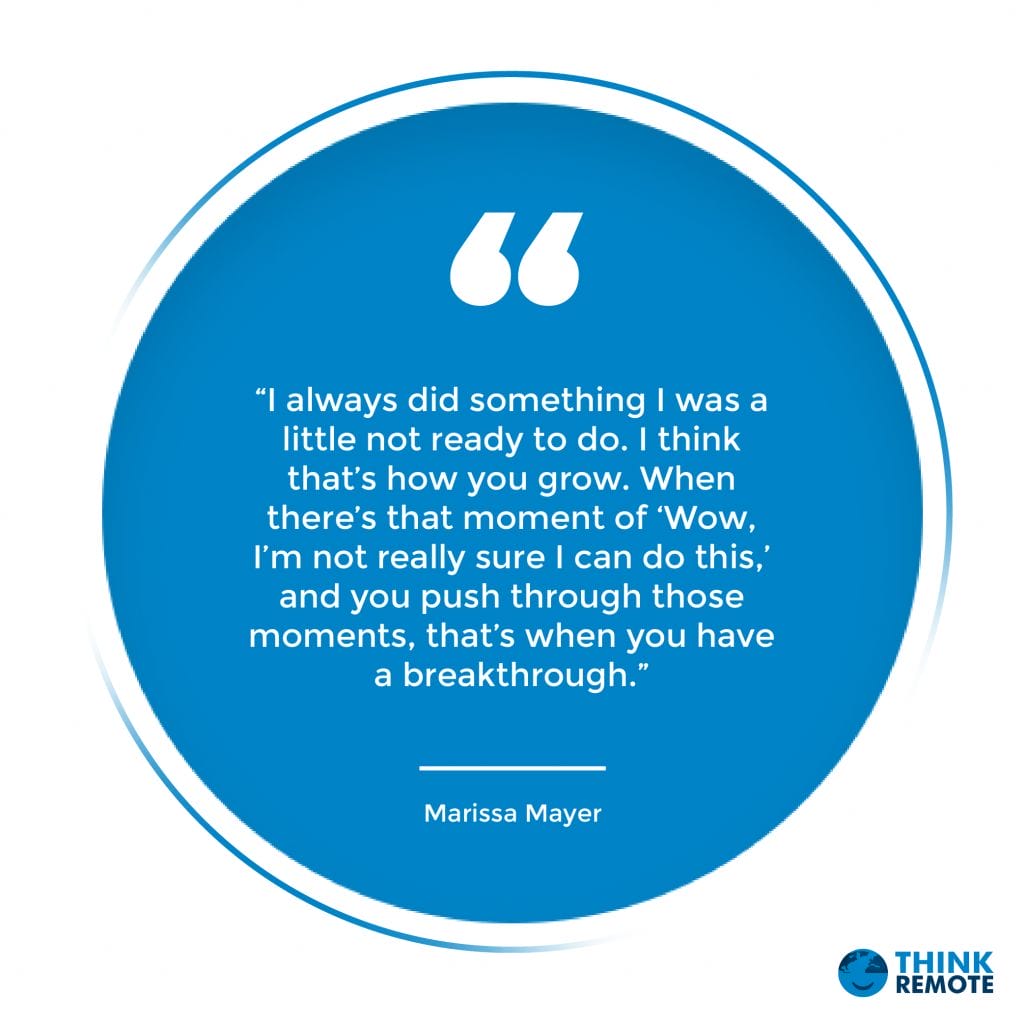 "I always did something I was a little not ready to do. I think that's how you grow. When there's that moment of 'Wow, I'm not really sure I can do this,' and you push through those moments, that's when you have a breakthrough." – Marissa Mayer
20.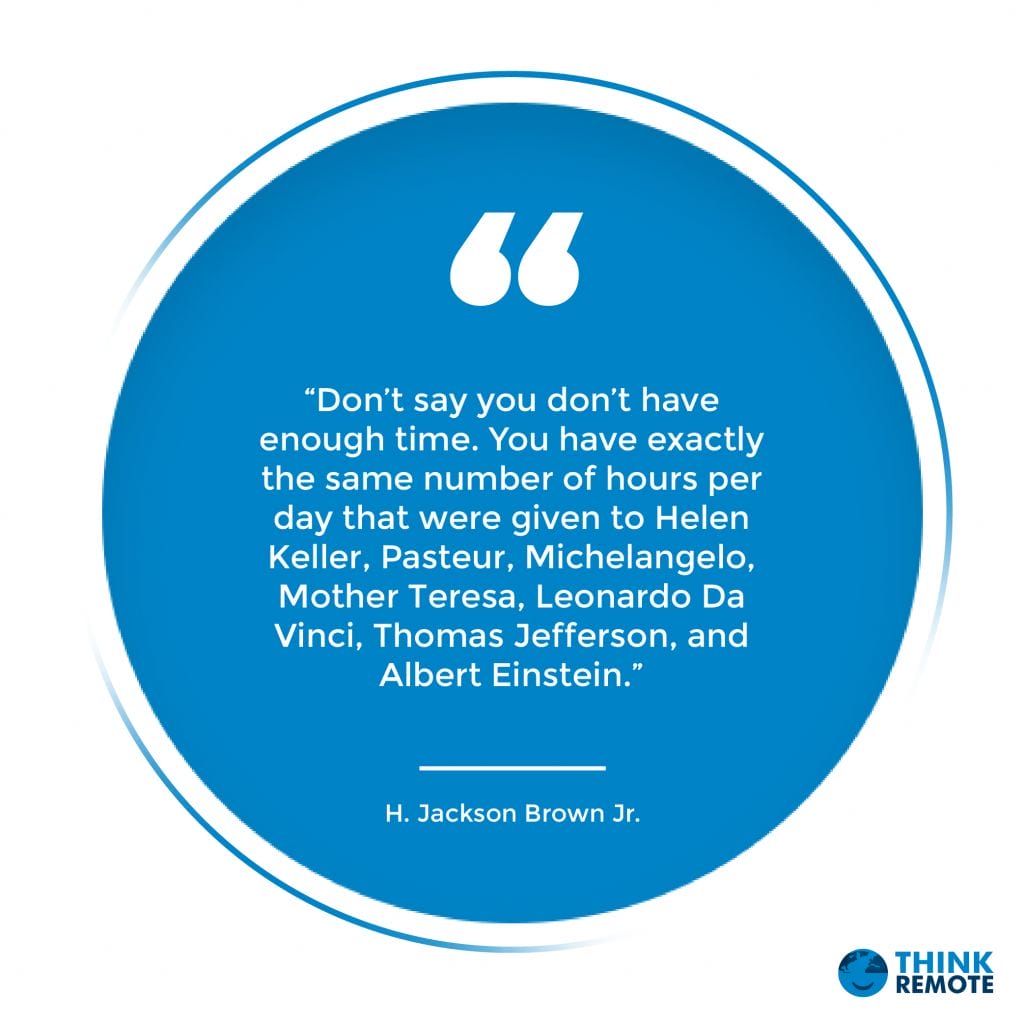 "Don't say you don't have enough time. You have exactly the same number of hours per day that were given to Helen Keller, Pasteur, Michelangelo, Mother Teresa, Leonardo Da Vinci, Thomas Jefferson, and Albert Einstein." – H. Jackson Brown Jr.
21.
"Your work is going to fill a large part of your life, and the only way to be truly satisfied is to do what you believe is great work. And the only way to do great work is to love what you do. If you haven't found it yet, keep looking. Don't settle. As with all matters of the heart, you'll know when you find it." – Steve Jobs
22.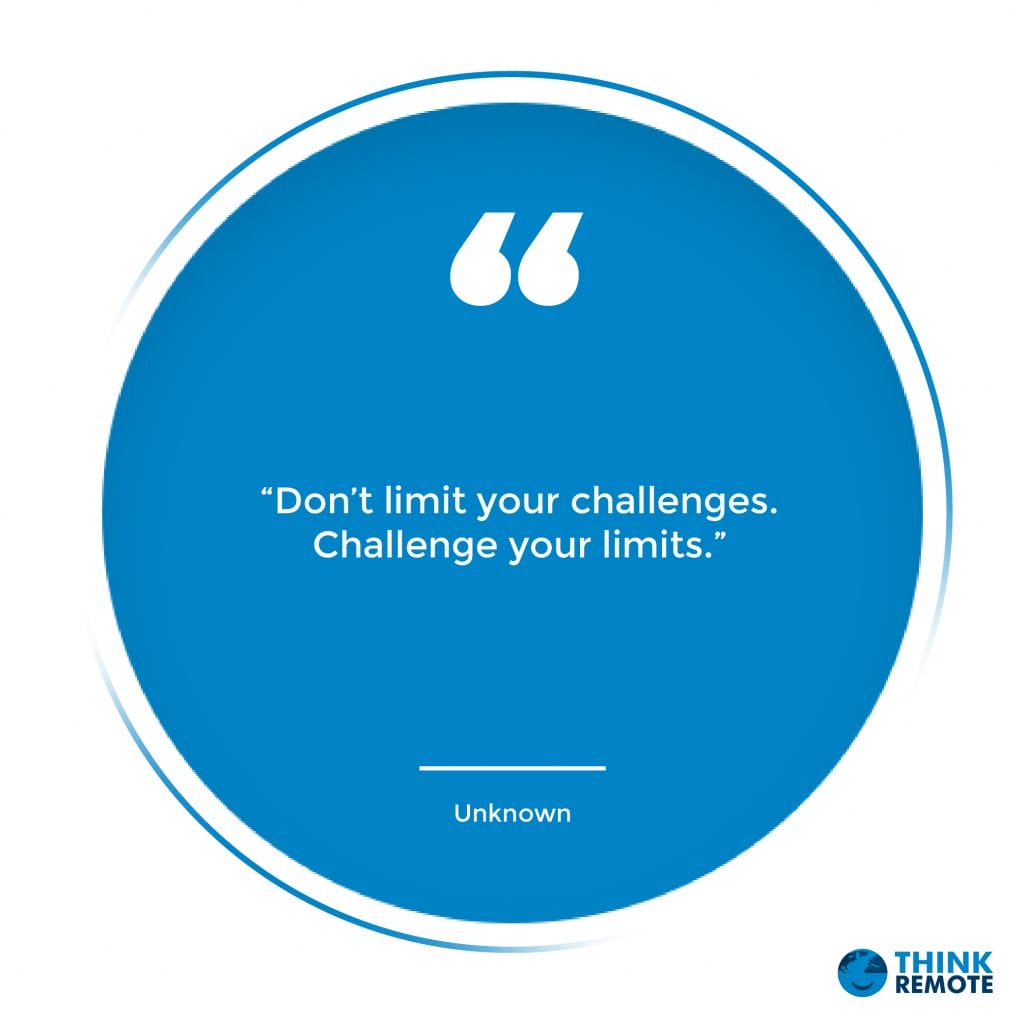 "Don't limit your challenges. Challenge your limits." – Unknown
23.
"Doubt kills more dreams than failure ever will." – Suzy Kassem
24.
"A walk to a nearby park may give you more energy and inspiration in life than spending two hours in front of a screen." – Tsang Lindsay
25.
"Yesterday I was clever, so I wanted to change the world. Today I am wise, so I am changing myself." – Rumi
26.
"I attribute my success to this: I never gave or took an excuse." – Florence Nightingale
27.
"It is only when we take chances, when our lives improve. The initial and the most difficult risk that we need to take is to become honest. – Walter Anderson
28.
"The key to success is to start before you are ready." – Marie Forleo
29.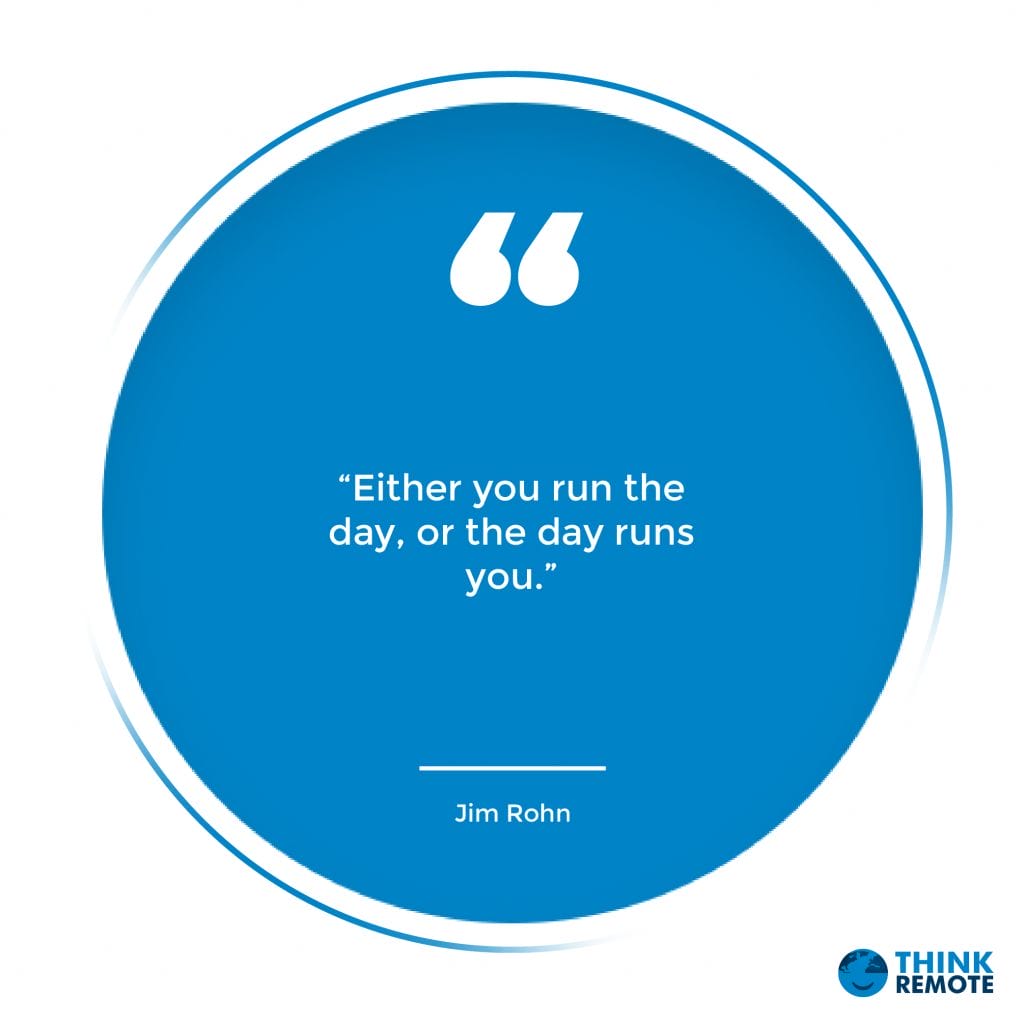 "Either you run the day, or the day runs you." – Jim Rohn
30.
"It is our attitude at the beginning of a difficult task which, more than anything else, will affect its successful outcome." – William James
31.
Knowing is not enough; we must apply. Wishing is not enough; we must do." – Johann Wolfgang Von Goethe
32.
"When we strive to become better than we are, everything around us becomes better too."
Paulo Coelho
33.
"One of the best pieces of advice I ever got was from a horse master. He told me to go slow to go fast. I think that applies to everything in life. We live as though there aren't enough hours in the day but if we do each thing calmly and carefully we will get it done quicker and with much less stress."
Viggo Mortensen
34.
"Whether you think you can, or you think you can't – you're right."
Henry Ford
35.
"Do the hard jobs first. The easy jobs will take care of themselves."
Dale Carnegie
36.
"Success means doing the best we can with what we have. Success is the doing, not the getting; in the trying, not the triumph. Success is a personal standard, reaching for the highest that is in us, becoming all that we can be."
Zig Ziglar
37.
"Don't be afraid to give your best to what seemingly are small jobs. Every time you conquer one it makes you that much stronger. If you do the little jobs well, the big ones will tend to take care of themselves."
William Patten
38.
"This is the real secret of life — to be completely engaged with what you are doing in the here and now. And instead of calling it work, realize it is play."
Alan Wilson Watts
39.
"Nothing is less productive than to make more efficient what should not be done at all."
Peter Drucker
40.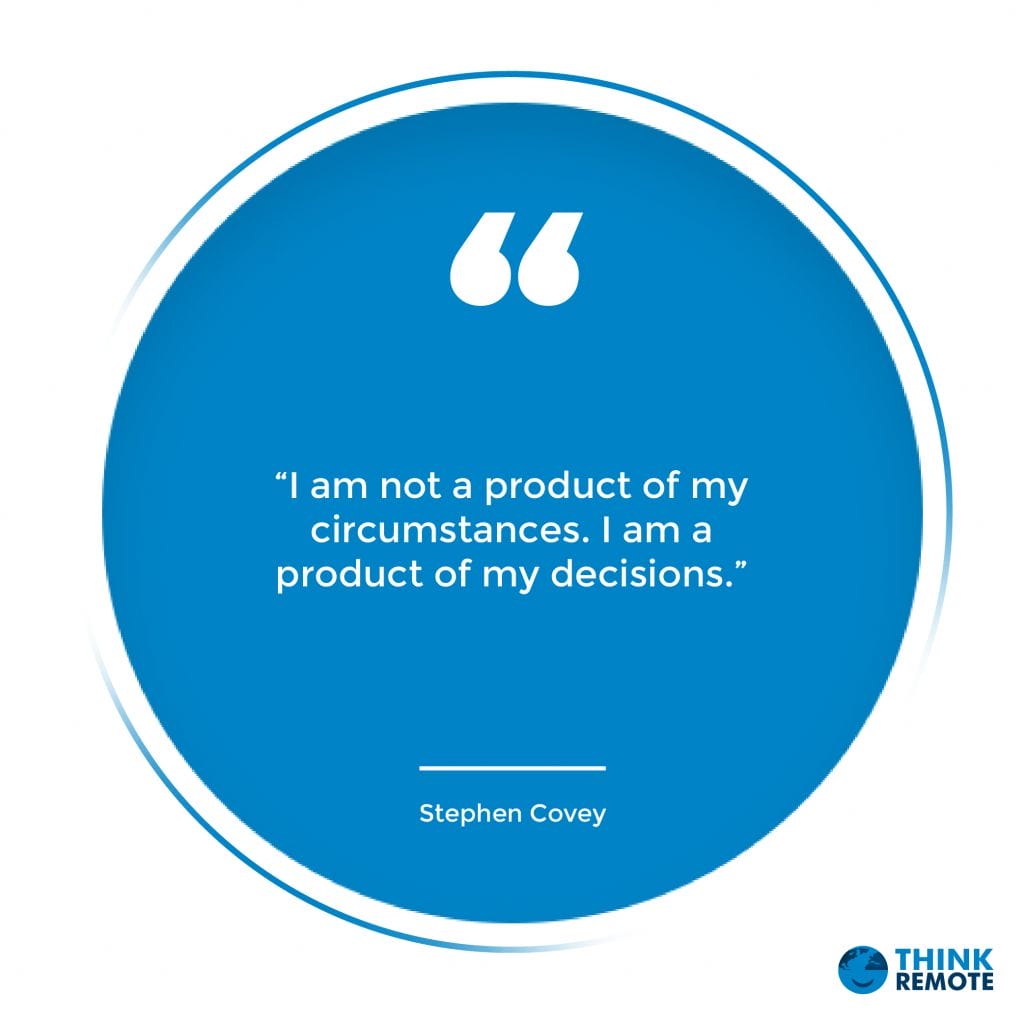 "I am not a product of my circumstances. I am a product of my decisions."
Stephen Covey
41.
"Spend eighty percent of your time focusing on the opportunities of tomorrow rather than the problems of yesterday."
Brian Tracy
42.
"One of the symptoms of an approaching nervous breakdown is the belief that one's work is terribly important."
Bertrand Russell
43.
"I could either watch it happen or be a part of it." – Elon Musk
44.
"Do or do not. There is no try." – Yoda
45.
"Your passion is waiting for your courage to catch up." – Isabelle Lafleche
46.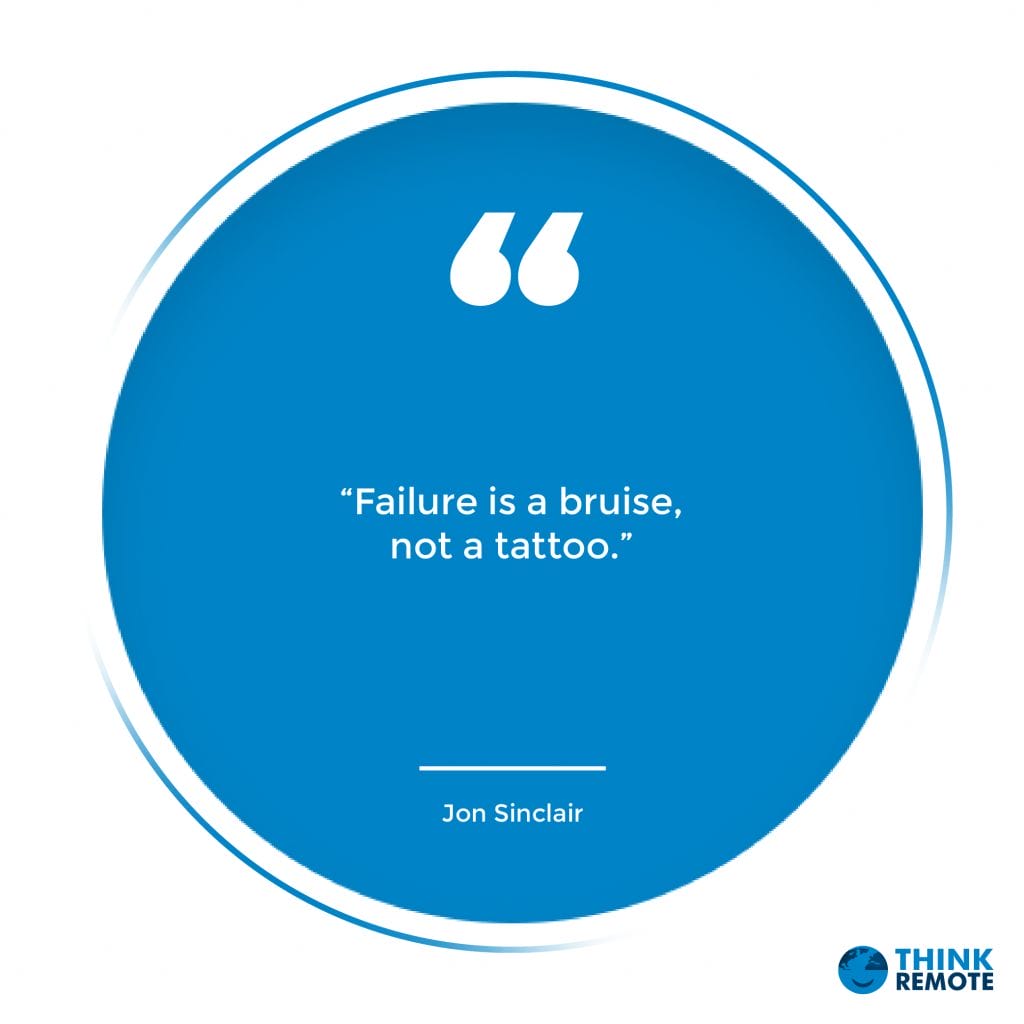 "Failure is a bruise, not a tattoo." —Jon Sinclair
Motivational Quotes for Teams Working from Home
47.
"In teamwork, silence isn't golden, it's deadly" – Mark Sanborn
48.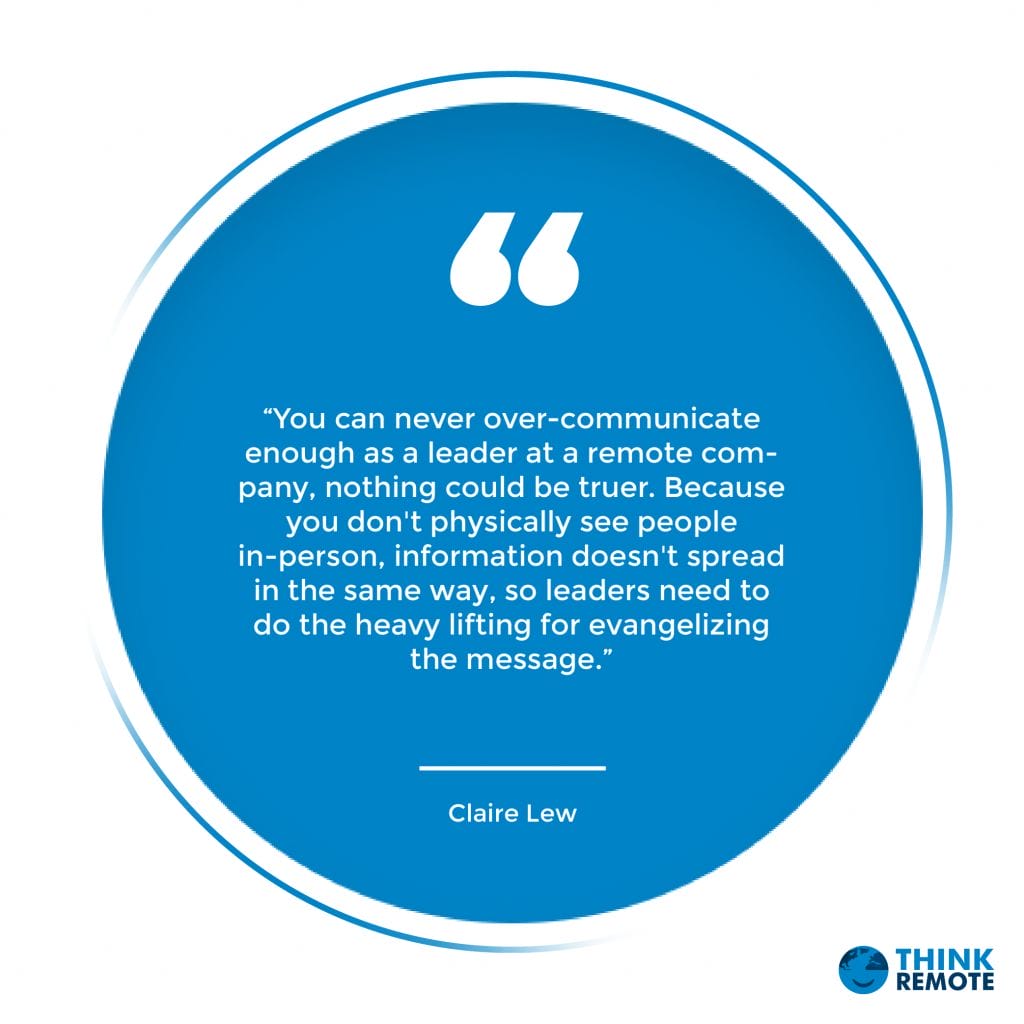 "You can never over-communicate enough as a leader at a remote company, nothing could be truer. Because you don't physically see people in-person, information doesn't spread in the same way, so leaders need to do the heavy lifting for evangelizing the message." – Claire Lew
49.
"It's a misconception that remote workers are lazy or not as productive or don't get as much done. Trust is so important. If you have relationship mistrust and you require your team to be in front of you so you can stare over their shoulders and look at their computer screens, they're also not going to operate with a level of trust. In a remote environment, you have that trust and people are generally getting more work done. They're more productive and are able to succeed." — Greg Caplan
50.
"Remote managers need to consider things like imposter syndrome, communicating intentionally with their remote teams, finding ways to talk about productivity, and communicating in writing rather than face-to-face chats." — Becca Van Nederynen
51.
"Talent wins games, but teamwork and intelligence win championships" – Michael Jordan
52.
"The nice thing about teamwork is that you always have others on your side" – Margaret Carty
53.
"The strength of the team is each individual member. The strength of each member is the team." – Phil Jackson
54.
"Trust is knowing that when a team member does push you, they're doing it because they care about the team" – Patrick Lencioni
55.
"None of us is as smart as all of us" – Ken Blanchard
56.
"We rise by lifting others" – Robert Ingersoll
57.
"If everyone is moving forward together, then success takes care of itself" – Henry Ford
58.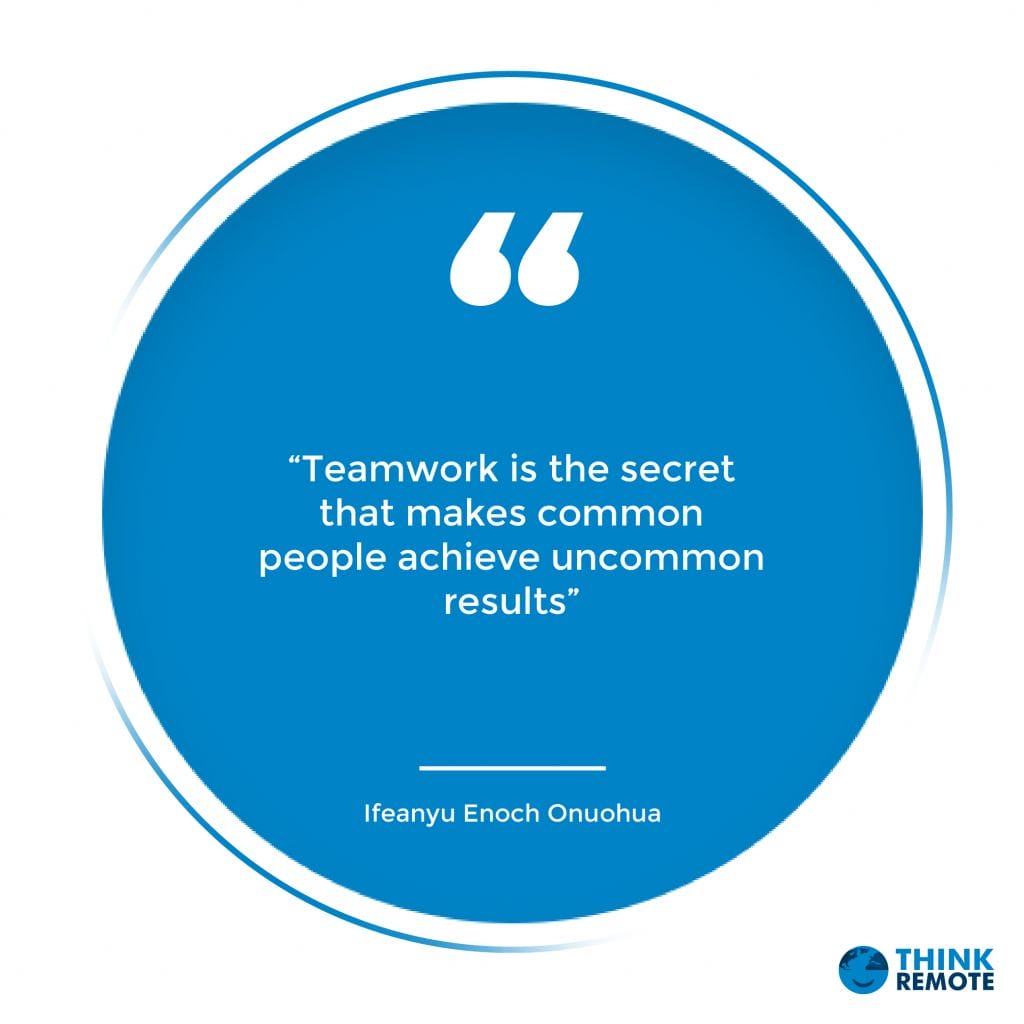 "Teamwork is the secret that makes common people achieve uncommon results" – Ifeanyu Enoch Onuohua
59.
"Keep a team chatroom open. There is nothing more important in a group remote project than casual communication. Not just official emails and work updates, but the ability to sit back and chat." – David Rabin
60.
"In terms of engaging and influencing your team, especially in a virtual environment, how you say something, or your vocal quality, can sometimes be more important than what you say." – Hassan Osman
61.
"The battle between perception and reality will always be won by perception. If your team members don't see the actions that show that you are thinking about them, want them to succeed, trust them, and more, it really doesn't matter what you are thinking or what your intention is." – Kevin Eikenberry
62.
"It is literally true that you can succeed best and quickest by helping others to succeed."
– Napoleon Hill
63.
"If you want to lift yourself up, lift up someone else." – Booker T. Washington
64.
"The way a team plays as a whole determines its success. You may have the greatest bunch of individual stars in the world, but if they don't play together, the club won't be worth a dime." – Babe Ruth
65.
"You are either supporting the vision or supporting division." – Saji Ijiyemi
66.
"It's better to have a great team than a team of greats." – Simon Sinek
67.
"To build a strong team, you must see someone else's strength as a complement to your weakness and not a threat to your position or authority." – Christine Caine
68.
"If I have seen further, it is by standing on the shoulders of giants."― Isaac Newton
69.
"A great leader takes people where they don't necessarily want to go, but ought to be." ― Rosalynn Carter
70.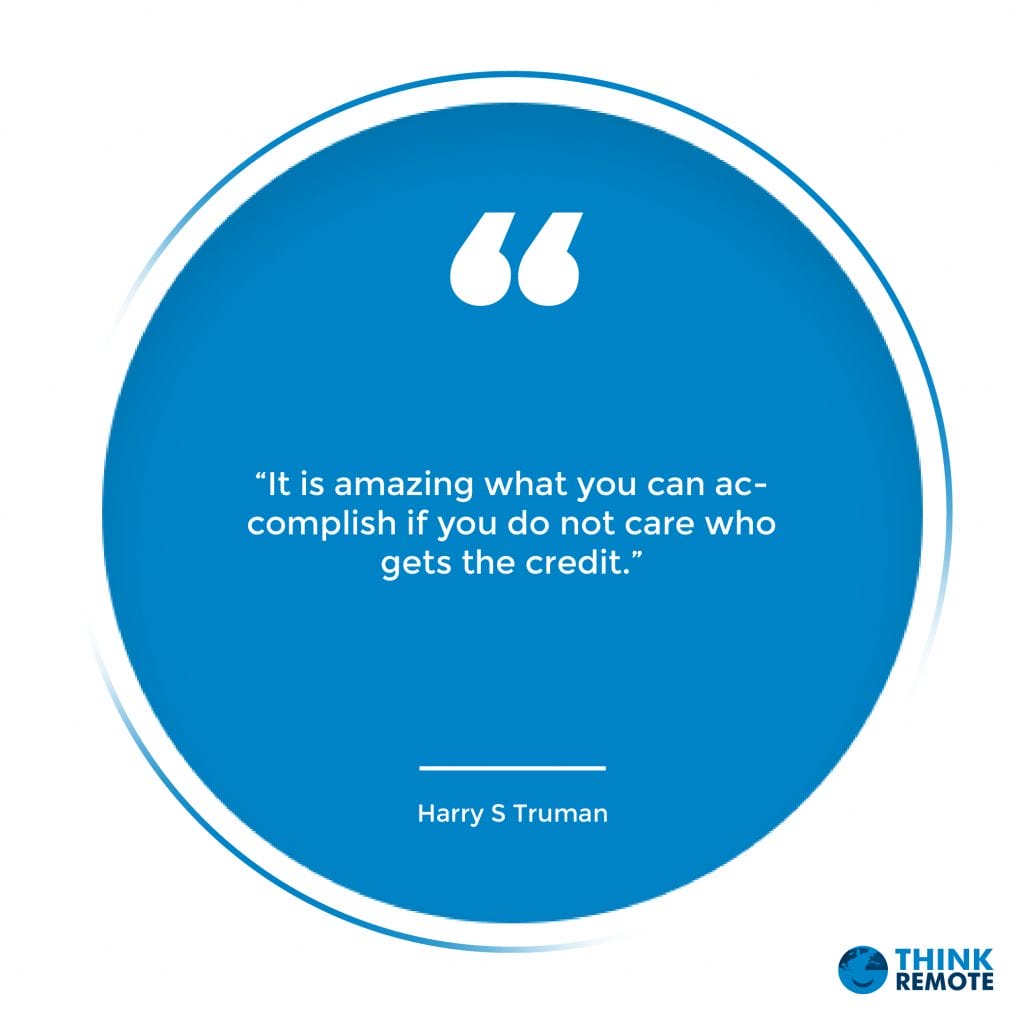 "It is amazing what you can accomplish if you do not care who gets the credit."— Harry S Truman
71.
"Not finance, not strategy. Not technology. It is teamwork that remains the ultimate competitive advantage, both because it is so powerful and rare." – Patrick Lencioni
72.
"Cooperation is the thorough conviction that nobody can get there unless everybody gets there." – Virginia Burden
73.
"We may have all come on different ships, but we're in the same boat now."
– Martin Luther King, Jr.
74.
"I've never scored a goal in my life without getting a pass from someone else." – Abby Wambach
75.
"The ratio of We's to I's is the best indicator of the development of a team."
~ Lewis B. Ergen
76.
"The secret is to gang up on the problem, rather than each other." – Thomas Stallkamp
77.
"What separates the good players from a great player is that a great player is willing to give up their own personal achievement for the achievement of the group." – Kareem Abdul-Jabbar
78.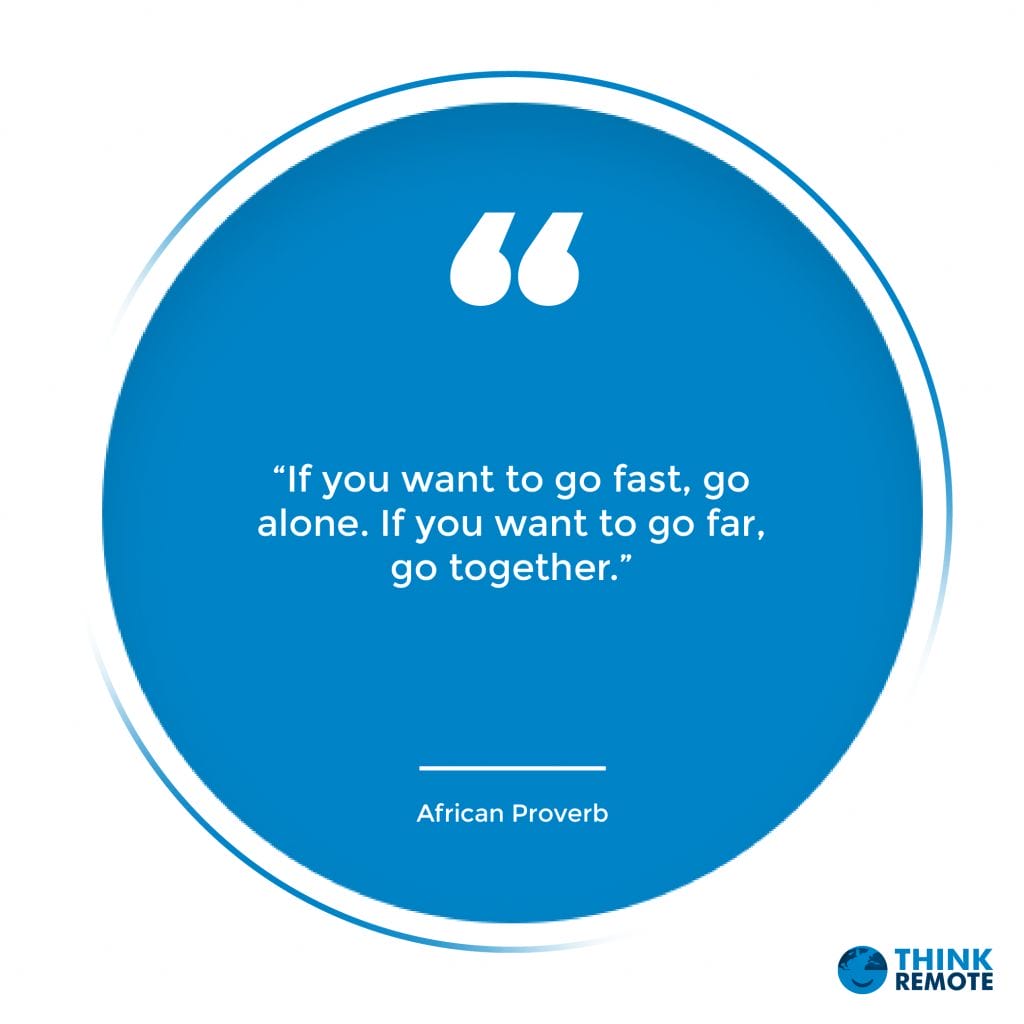 "If you want to go fast, go alone. If you want to go far, go together." – African Proverb
Funny Remote Work Quotes
79.
"If you think you are too small to make a difference, try sleeping with a mosquito" – Dalai Lama
80.
"Professionals who think they can work uninterruptedly 9 hours a day end up watching Netflix and drinking a full bottle of coke." – Unknown
81.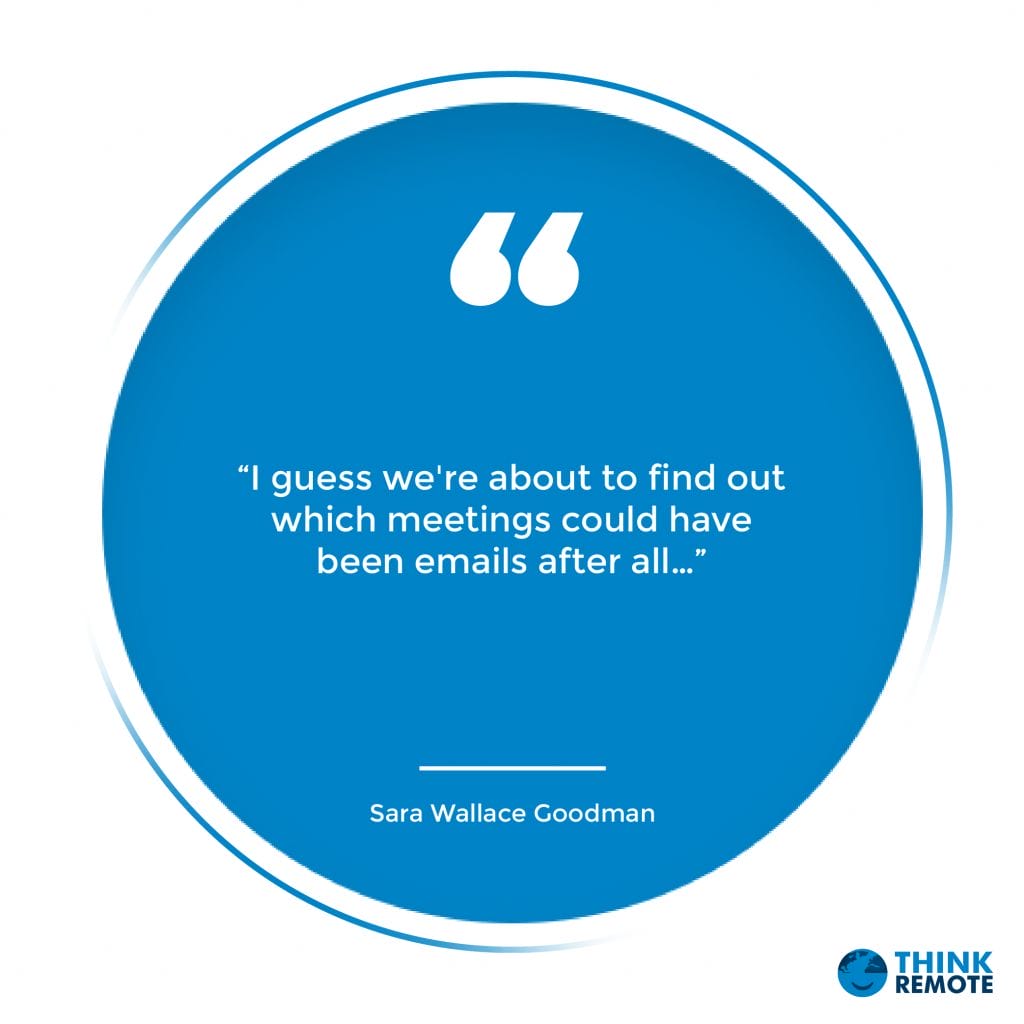 "I guess we're about to find out which meetings could have been emails after all…" – Sara Wallace Goodman
82.
"Pro tip for couples suddenly working from home together: Get yourselves an imaginary coworker to blame things on. In our apartment, Cheryl keeps leaving her dirty water cups all over the place and we really don't know what to do about her" – Molly Tolsky
83.
"Finally, I learned how to maintain a work-life balance, look at a blazer on the top and pajamas on the bottom" – Unknown
Check out the best work-from-home memes we can all identify with!
Self Empowerment Quotes for Remote Workers
84.
"Remember that if you don't prioritize your life someone else will." – Greg Mckeown
85.
"The man who moves a mountain begins by carrying away small stones." – Confucius
86.
"Success isn't owned. It's leased, and rent is due every day." – J.J. Watt
87.
"Our destiny is not written for us, its written by us" – Barack Obama
88.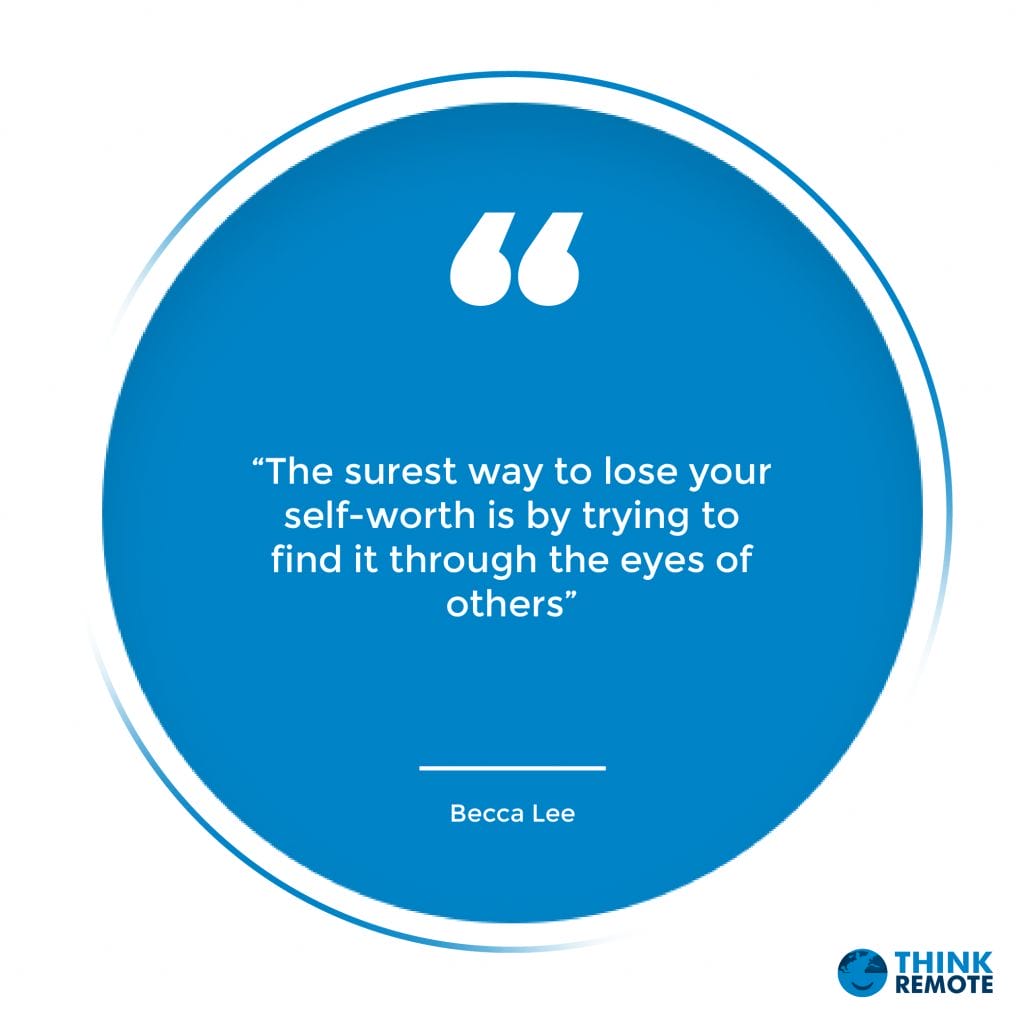 "The surest way to lose your self-worth is by trying to find it through the eyes of others" – Becca Lee
89.
"To be yourself in a world that is constantly trying to make you something else is the greatest accomplishment" – Ralph Waldo Emerson
90.
"Grow through what you go through" – Unknown
91.
"Fearlessness is like a muscle. I know from my own life that the more I exercise it, the more natural it becomes to not let my fears run me" – Arianna Huffington
92.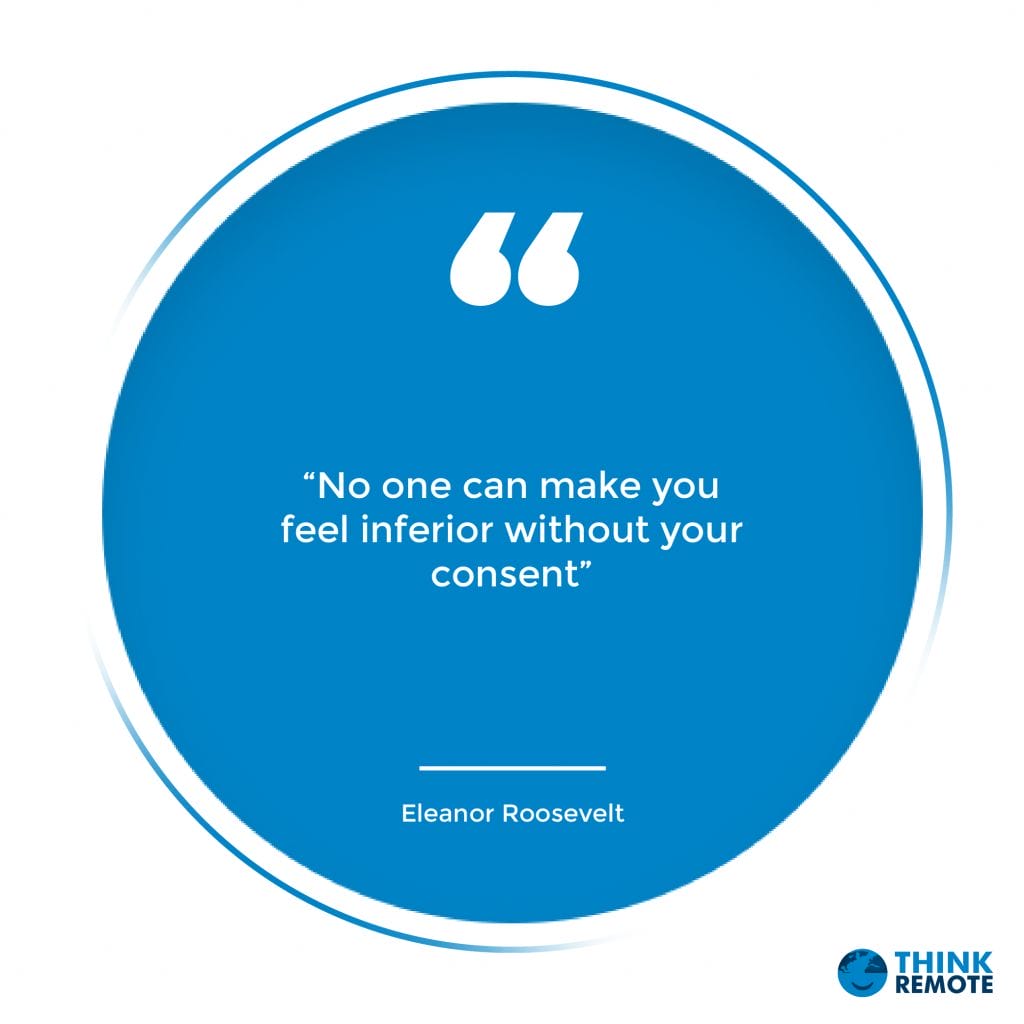 "No one can make you feel inferior without your consent" – Eleanor Roosevelt
93.
"Why should we worry about what others think of us, do we have more confidence in their opinions than we do our own?" – Brigham Young
94.
"Too many people overvalue what they are not and undervalue what they are." – Malcolm S. Forbes
95.
"In order to love who you are, you cannot hate the experiences that shaped you." – Andrea Dykstra
96.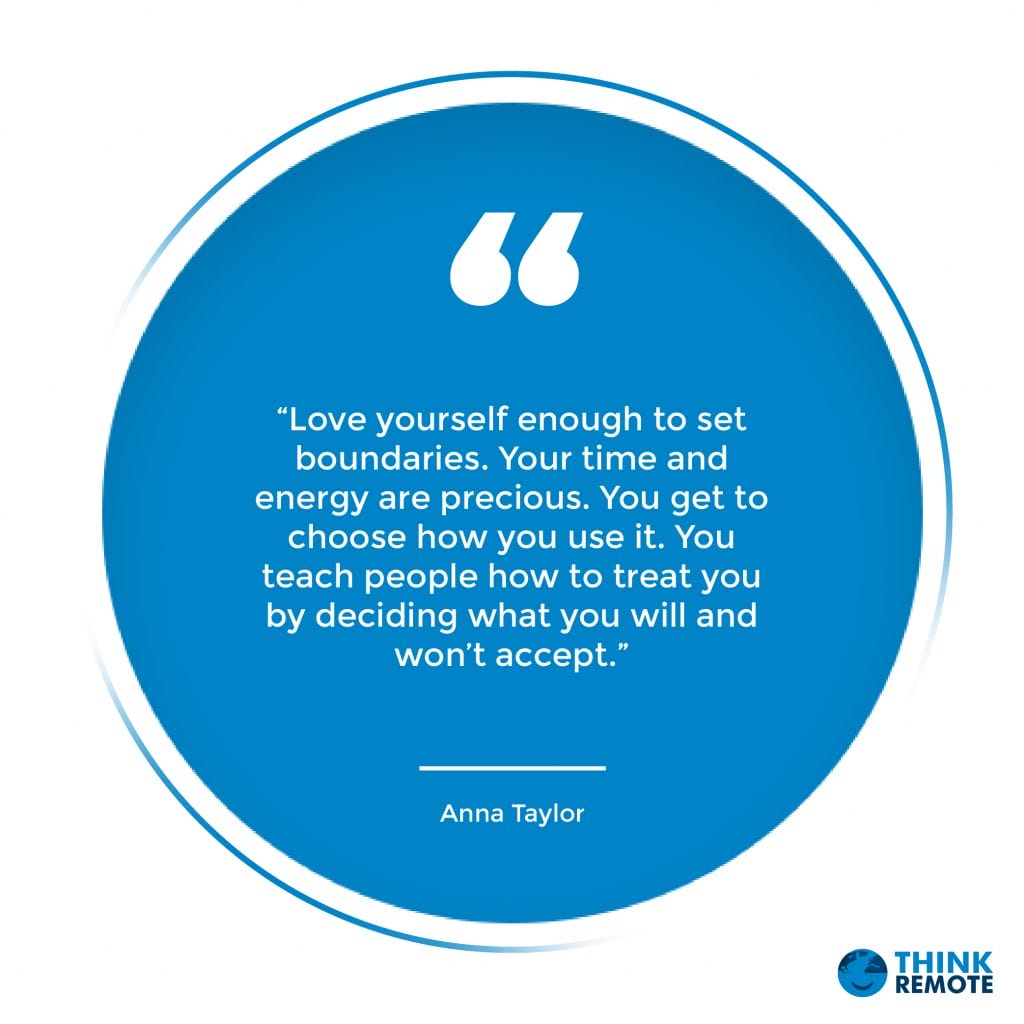 "Love yourself enough to set boundaries. Your time and energy are precious. You get to choose how you use it. You teach people how to treat you by deciding what you will and won't accept." – Anna Taylor
97.
"You are the most influential person you will talk to all day" – Zig Ziglar
98.
"We all make mistakes, have struggles, and even regret things in our past. But you are not your mistakes, you are not your struggles, and you are here NOW with the power to shape your day and your future." – Steve Maraboli
99.
"Get busy living or get busy dying." — Stephen King
100.
"Many of life's failures are people who did not realize how close they were to success when they gave up."– Thomas A. Edison
101.
"Not how long, but how well you have lived is the main thing." — Seneca
102.
"Too many of us are not living our dreams because we are living our fears." – Les Brown
103.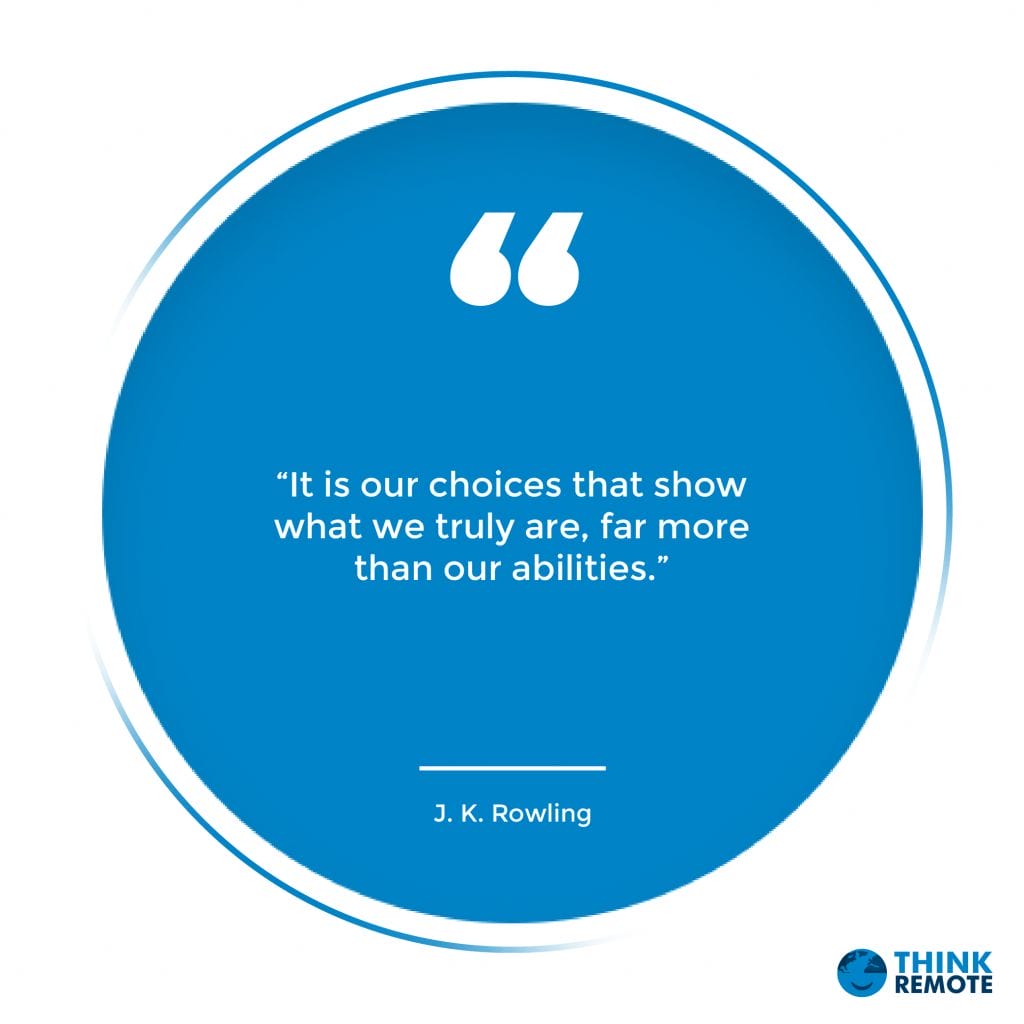 "It is our choices that show what we truly are, far more than our abilities." — J. K. Rowling
104.
"The way to get started is to quit talking and begin doing" – Walt Disney
105.
"The greatest glory in living lies not in never falling, but in rising every time we fall." -Nelson Mandela
106.
"I find that the harder I work, the more luck I seem to have" – Thomas Jefferson
107.
"Fortune favors the bold." – Virgil
108.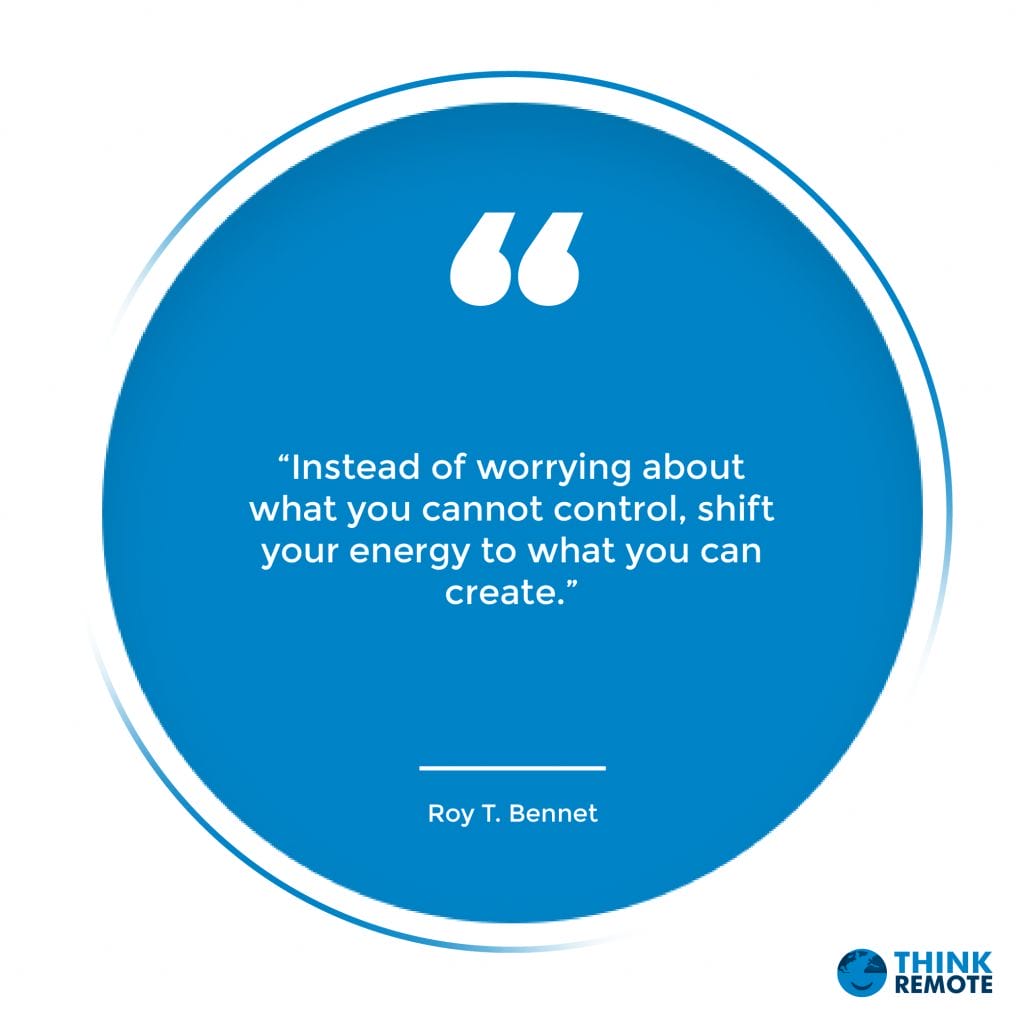 "Instead of worrying about what you cannot control, shift your energy to what you can create." – Roy T. Bennet
109.
"Don't let yesterday take up too much of today." — Will Rogers
110.
"Tough times don't last. Tough people do" – Robert Schuller
111.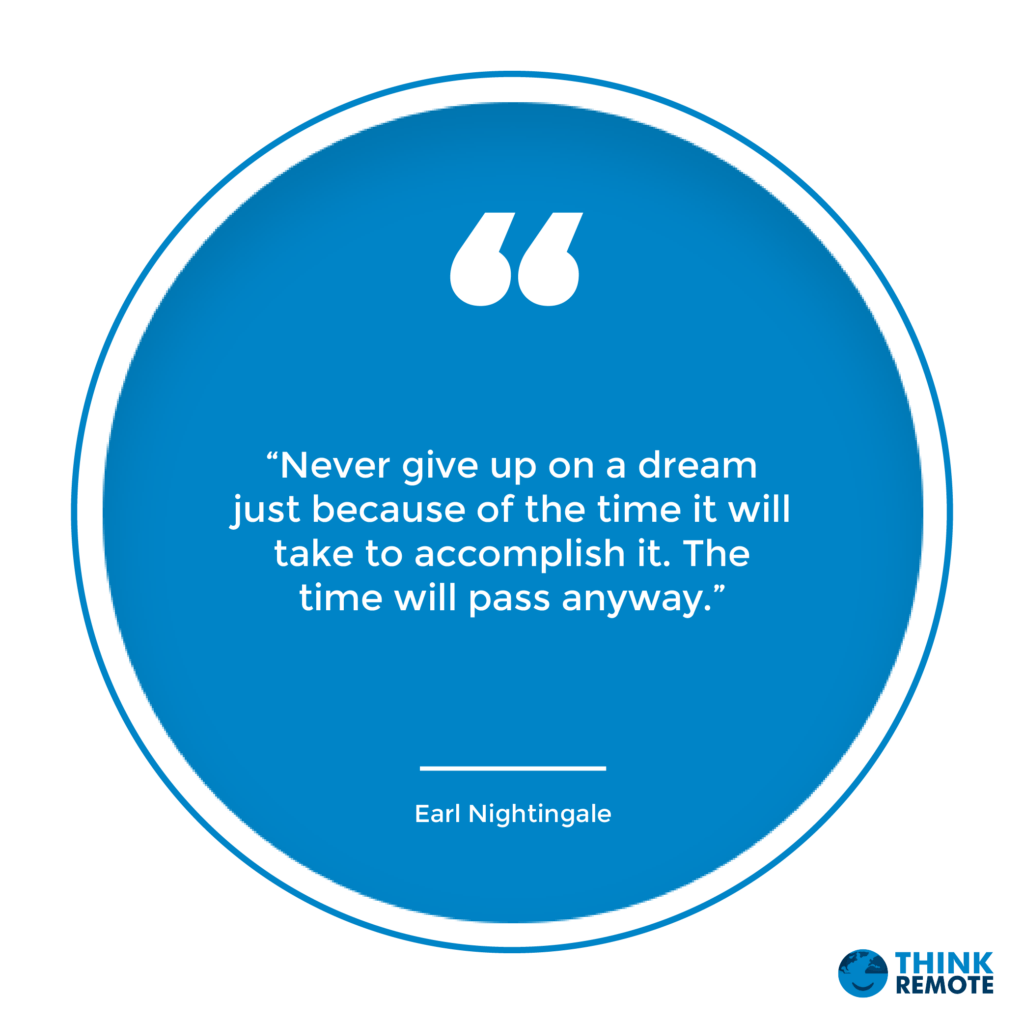 "Never give up on a dream just because of the time it will take to accomplish it. The time will pass anyway" – Earl Nightingale
A Single Quote Can Change Your Entire Day
Working remotely is one of the greatest pleasures in life. However, despite all its benefits, it always comes with difficulties. Whether you have a hard time beating the post-vacation blues or you feel you need extra motivation to get going, these work from home quotes can change your mood in a matter of seconds.