Remote work, also known as telework, refers to a professional environment in which employees have a flexible arrangement that enables them to work in locations outside their company's physical office. They may work from home, in co-working spaces, hotels, etc.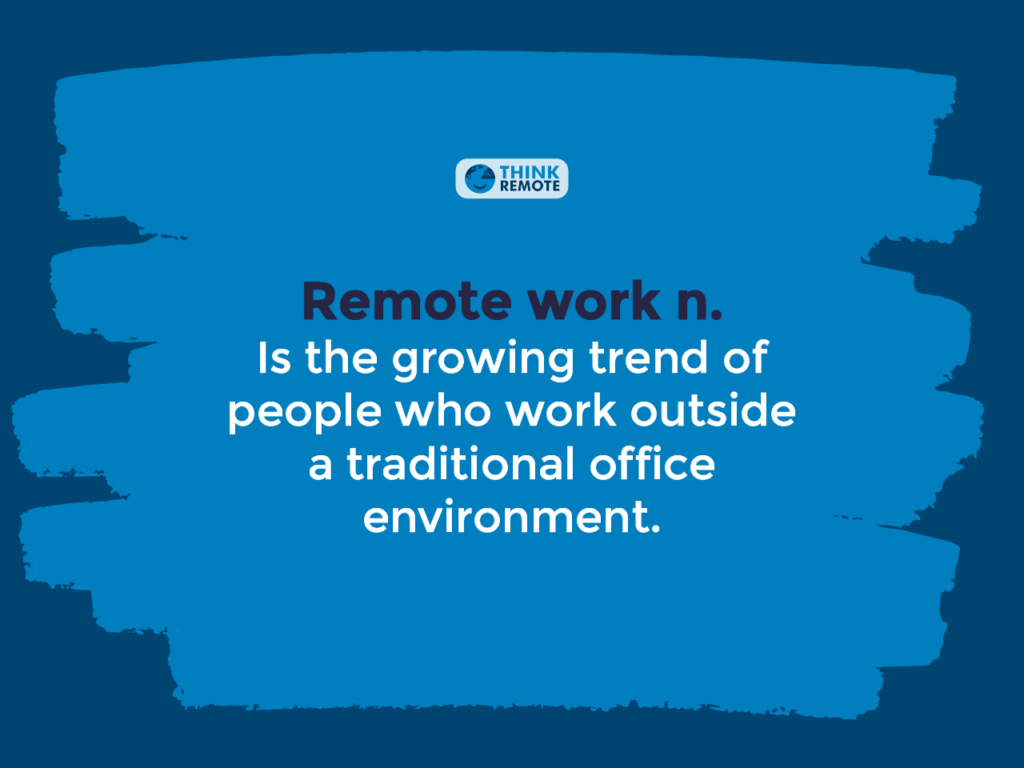 The concept of remote work highlights how employees can execute their projects and tasks successfully without the need to fulfill a 9 to 5 schedule from an office.
It consists in doing "any work" from "any location." Even before the pandemic, companies started hiring remote employees to expand their talent pool. And for people, remote work meant having more job opportunities as they were no longer tied to one location exclusively.
What is the Difference Between Remote Work and Work from Home?
Remote work doesn't necessarily mean working from home. Digital nomads, for instance, are remote workers who take their jobs anywhere they travel to.
To work remotely, employees require having the tools and equipment, which often reduces to a laptop and a reliable Wi-Fi connection. Other home office gadgets are a plus for those who love working from home, but they aren't a need.
The pandemic and quarantines made most people work remotely from home, but that doesn't mean that remote work is exclusively for people at home. The core definition of being a remote worker consists in working anywhere that allows you to do your tasks successfully, and this could be from your home, a café, the airport, the beach, or a co-working space.
Remote Work Pros and Cons
Is remote work worth it? What are the advantages and disadvantages of remote working? Let's get into the pros and cons of working remotely so you can evaluate for yourself.
Remote Work Advantages
1. Flexible Schedules: Your time, your control. Working from home allows you to plan your work around your most productive periods and create a routine that works best for you.
2. Save More Money: Working from home can help you save money on expenditures such as commute, food, work apparel, and daycare.
3. Enhanced Productivity: Employees who work alone at their own speed in their chosen setting, away from office distractions and stress, are happier and more productive.
4. Improved Work-Life Balance: Many employees find it challenging to manage their job and personal lives. When working from home, this balance might be a bit simpler to maintain. You're in control of your work and personal schedules.
5. No More Commuting: Working from home eliminates the need for commuting. No more overloaded public transportation and no inconvenient traffic congestion.
6. A Healthier and Happier "You": Employees who work from home are more content because working from home decreases stress.
Remote Work Disadvantages
1. Distractions: At home, there are several distractions like screaming children, road-noise, ringing doorbells, pets, etc. Employees who continue to work from home must create a separate workstation for themselves to avoid these distractions.
2. Loneliness: It can get lonely. Remote work can surface emotions of loneliness and isolation, especially for people who live alone.
3. Burnout: Some employees discover that work is infiltrating their personal lives more and more. For many, it's hard to set up boundaries, and they end up working more than eight hours a day.
Going through a burnout? Check these self-care tips to learn.
Tips to Work Remotely (And Deal with Remote Work Challenges)
According to a survey by Monster, 69% of employees working from home reported burnout symptoms.
The line between work and personal life often blurs out when working remotely. You have more control over your schedule, but this can be a double-edged sword. Sometimes the "5 more minutes and I´ll turn off the computer" turns into 3 more hours.
Remote Work Best Practices
To avoid suffering from burnout, stress, and overall all the challenges that come with remote workers, follow these tips:
1. Define a Schedule and Your Working Hours: Yes, the point of working remotely is to avoid the corporate 9 to 5 schedule. However, defining working hours isn´t entirely wrong. In fact, it helps you trace a limit between your work and your life. Creating these boundaries will help you build the perfect work-life balance.
2. Make Yourself Visible: As a remote worker, sometimes you might feel you're doing so many things your boss or team aren´t appreciating. And the thing is, in some cases, they might not even be aware of these. Making yourself visible as a remote worker is being available during your working hours (answering questions or messages), telling your boss and team what you are working on, and sharing your wins.
3. Prioritize Your Health: While working remotely means having more time and flexibility, it's easy that our health slips out of our hands. Instead of spending extended periods working, set alarms to take breaks and stretch your legs. Prioritize developing healthy habits, whether it's eating healthier, starting the gym, or simply taking care of your posture with ergonomic equipment.
4. Socialize: There are many ways you can connect with your remote colleagues. If you live in the same city, you can organize coffee meetups or coworking sessions from time to time. But if your team is spread across the world, you can do virtual coffees, happy hours, trivia sessions, or even movie nights. Take time to get to know your teammates. This will help you avoid feeling isolated and lonely and boost motivation across the team.
5. Stick with What Works to You: You might read about the importance of working in a dedicated space or why you should start with the biggest tasks and move to the smaller ones. There are so many productivity tips. However, it all comes down to what works best for you. If you are a remote work newbie, start experimenting. Maybe you can´t stay focused in the same place all day and need to work in coworking spaces or cafes. Learn to identify the most productive times, whether it is in the morning, after a shower, or after a nap.
6. Take Advantage of Technology: There are great tools that are great to help you keep your tasks organized. Creating daily task lists will help you have a clear panorama of what your day looks like and what you need to prioritize. It will also help you define how long it should take to go over the tasks.
Best Tools for Remote Workers
There are certain tools that will likely depend on the company your work for. However, as a remote worker, some additional apps can help you boost your productivity and become a better remote worker.
These are the 5 best tools for remote work:
1. Dropbox
Dropbox is a cloud-based file storage service that allows remote workers to save all of their data in one place and share it with their team members. You can organize and manage information such as documents, images, videos, music, and various other file types. Dropbox makes it easy for remote teams to work on shared documents and resources without asking for permission all the time.
2. Calendly
If you´re constantly sending back and forth emails to set up meetings and appointments, Calendly can help you solve this problem. Calendly is a virtual booking application that enables users to schedule meetings and events for individuals and organizations. People will see you're availability times and schedule a meeting with you easily.
3. Todoist
One of the keys to succeed as a remote worker is organization. And Todoist is the perfect tool to help you organize your tasks and notes. The app consists of a cloud-based service that works as a to-do list and task manager for individuals and small businesses. It combines tasks, projects, attachments, notifications, and more.
4. WorldTimeBuddy
If you're part of a remote global team, you´ve probably experienced the challenges of time zones. It's easy to mess up meetings or get confused with availability times. To avoid this from happening, WorldTimeBuddy is the perfect tool to have visibility for the different time zones around the world.
5. Brain.fm
Do you need to get work done but can't focus? Don´t worry, it happens to all of us. The good news is that apps like Brain.fm are perfect to create a productive work environment. The application uses science to create and play music to help you improve your focus and create an ideal mental state.
Remote Work Statistics
Things are looking really good, and remote work seems to have a bright future. These are the key remote work statistics to know:
16% of companies globally are 100% remote. (Owl Labs)
83% of organizations believe their company´s transition to remote work has been a success. (PwC Research)
The number of people working remotely has increased by 159% since 2009. (Global Workplace Analytics)
By 2028, 73% of all departments will have remote workers. (Upwork)
86% of employees believe remote work reduces stress. (FlexJobs)
Companies allowing remote work have 25% lower employee turnover than those that don´t. (Owl Labs)
69% of millennials would give certain benefits to be able to work remotely. (CBRE)
85% of managers believe that remote workers will be the new normal for most teams. (Tecla)
Remote employees are 13% more likely to stay in their jobs than onsite employees. (Buffer)
Remote workers save approximately $7,000 in transportation, food, and childcare per year. (Tecla)
From employee productivity to organizations giving a green signal, remote and hybrid work seem to be thriving. Remote work benefits are many, but nothing is foolproof and working from home comes with its own challenges for both employer and employees.
Types of Jobs That Can Be Done Remotely (And How to Find Them)
There are three types of jobs that can be done 100% remotely:
1. Fully Remote Positions
Fully remote employees work full-time (or part-time) for an organization but instead of working from their company office, they work from home, coworking spaces, etc.
Though several advantages of working from home are kept secret, the truth is fully-remote employees have the same rights and benefits as on-site employees. Depending on their roles and responsibilities, fully remote workers may live and work from anywhere in the world.
What's great about working from home is everyone can become a remote worker, it only takes the right research to find where you can start.
Popular fully remote jobs include digital marketing, graphic design, copywriting, proofreading, translation, social media management, bookkeeping, and software development.
Where to find full-time remote jobs? Check out these websites:
FlexJobs
JustRemote
WeWorkRemotely
Remote.co
Virtual Vocations
Working Nomads
Pangian
DistantJob
Remotive
Learn more about how to land great remote job opportunities.
2. Flexible Jobs or Hybrid Work
Flexible employment or hybrid work is a kind of arrangement that permits employees to work from home for some days in a week or month while on the other days the staff is expected to be in the office.
You'll find plenty of flexible jobs with a hybrid work model in industries such as healthcare, IT, sales and marketing, customer service, and finance and accounting.
Where to find flexible jobs? Check out these companies:
Citizens Bank
Datadog
GitHub
HubSpot
Randstad
United Health Group
Verizon
CVS Health
Grand Canyon Education
FlexJobs and theMuse, are great job boards to keep track of hybrid job opportunities.
3. Freelance
A freelancer can be called a virtual entrepreneur. They get to work on multiple projects for different clients at once and aren't bound by an employment contract with any company.
Terms, costs, deadlines, etc can be discussed with each client. Freelancers can also work on top of a full-time or part-time job, either as a side hustle, or to supplement their income.
Freelancing is most frequently in fields such as digital marketing, social media, journalism, coding, PR services, software development, graphic design, and filmmaking.
Where to find freelancing gigs? Check out these websites:
Upwork
Toptal
Freelancer
Fiverr
SimplyHired
Guru
Behance
If you want to know how to get clients as a freelancer, check out this article!
Remote Work FAQs
How can you know if remote work is for you?
Remote work is not for everyone. Here are 5 key questions that can help you determine if becoming a remote worker is a good idea:
Do you love using technology on a daily basis? You don´t need to be a tech expert to work remotely, but you do need to know the basics. If you hate using technology, then it's time to reconsider remote work.
Can you work independently? Working remotely means you'll spend most of your time alone. You don't have your coworkers or manager by your side as you would in an onsite setting. Because of this, you need to be able to work independently.
Are you a good communicator? To succeed as a remote worker you need to have strong oral and written skills, as communication is the soul of remote work.
Can you manage your time and schedule effectively? Remote workers need great time management skills. You need to be able to prioritize tasks to finish your work. That way, you can focus on what matters without risking suffering from burnout or overworking.
Are you capable of dealing with distractions? Whether you have a rigid schedule, or you know at what times you're more productive, or what works for you, it all comes down to doing your work the most effective way possible.
How to succeed in a remote interview?
There are 3 key strategies that can help you ace a remote interview:
Prepare: Make sure your laptop, camera, microphone, and Wi-Fi connection work properly. For this, try to be ready at least 30 minutes before the interview ensuring everything works the way it's supposed to. Additionally, look for a quiet spot in your house where you can talk freely without worrying about noise or distractions.
Basic virtual meeting etiquette: Although it's a remote interview, and your camera only focuses on your face, you still want to look professional. Keep an eye out for your body language, the way you make eye contact with recruiters through the camera, listen carefully to the questions, and overall how comfortable you seem in a remote call.
Don´t memorize your answers: "My biggest weakness is that I´m a perfectionist." Do you have any idea how many times hiring managers heard that answer? Don´t try to give the perfect elaborated answer. Instead, focus on being honest and real. Focus on connecting with the interviewer, that they can tell you are deeply interested in the position and that you have all the skills they need. In most cases, interviewers hire the one who aligns better with the company.
Which is the best equipment for remote work?
Regarding the fundamentals, remote workers, besides Wi-Fi, need a good laptop and headphones. That way they're able to work from home but also any other place they need. But, besides the essentials, these are other great tools that have proven to increase remote workers' productivity:
Ergonomic chairs – Check out our post about the best chairs to improve your posture.
Laptop stand – helps you to improve your posture.
A second-screen – Is great to boost your productivity.
Wireless keyboard and mouse – Makes working remotely easier and more comfortable.
Check out the best computers for remote workers!
How to stay productive while working from home?
One of the most common challenges of remote work is dealing with distractions. Here are some effective tips to stay productive:

Create a working schedule
Take breaks
Have a pre-work morning routine
Meal prep to avoid stressing out about not knowing what to eat
How to handle isolation as a remote worker?
Isolation is also a common struggle among remote workers. Whether you work in a hybrid environment or in a fully remote one, there are days when you feel more lonely than others. And likely, your coworkers have been through this too, so a way to avoid it is with virtual water coolers. Once a week, you can hang out with your colleagues by Zoom and have coffee meetings or happy hours.
Also, working in coworking spaces or cafes is a way to deal with isolation as you can socialize and meet different people.
Can I get a remote job without having any experience?
Yes! There are many remote jobs such as data entry, virtual assistant, and content writer that don´t require much experience. While you do have to know the basics of each job, even if you're a college graduate, you can manage to land a remote opportunity. It's all about looking in the right places and acing your interview.
Find out more on how to get a remote job with no experience!
Conclusion
Whether you're a professional looking for a remote job or an entrepreneur who is deciding to break free from the shackles of traditional work, you're on your way to something bigger for yourself. Remote work isn't just about how you work or your freedom to choose your schedules. It's about your overall development and growth in one space that encompasses everything you are and can be: professionally, personally, physically, mentally, emotionally, and spiritually.
Remote work could be your first or maybe the final step to discovering who you really are.