Stress and eating habits tend to have a bad relationship. Usually, when we're stressed, we eat everything that crosses our path, or we don't eat at all. Maybe your boss gave you a tight deadline, and the first thing you did was eat an entire bucket of ice cream. Or perhaps you're just stressed about the whole pandemic situation, and eating healthy is not on your to-do list. But what if we told you there's a way to eat healthier and satisfy your cravings while working from home? Snacks! And we're not talking about eating apples with peanut butter, but creative and healthy snacks to make while working from home.
Here are 20 healthy snack ideas you can eat when working from home:
1. Raspberry and Banana Nice Cream
This healthy snack idea is perfect when you're craving ice cream and want a fruity and refreshing option. Plus, it's also for our vegan friends!
Ingredients (1-2 serves):
1 medium banana, peeled, chopped and frozen
65g frozen raspberries
1 tsp coconut sugar
1 cup coconut water
Method:
Add all the ingredients in a high-powered blender and blend until smooth and creamy. Serve immediately.
2. Chocolate Salty Almonds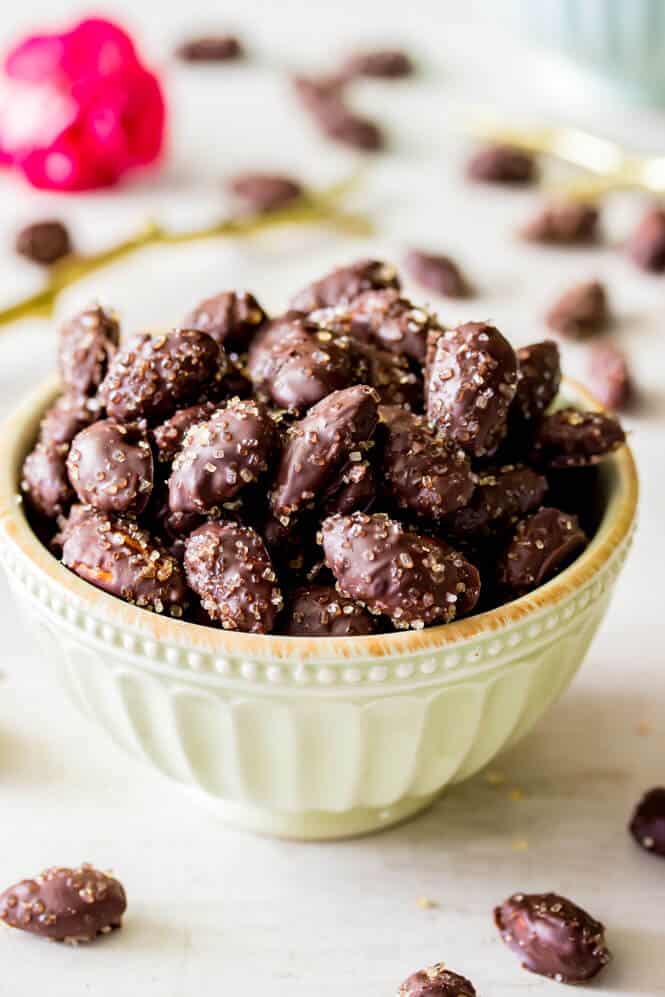 Craving something sweet but not that sweet? This one's for you. The sweetness with an almond covered in chocolate with a pinch of sea salt. Heaven in just one bite!
Ingredients (6 servings):
254gr whole almonds
6 oz dark chocolate
50 gr Turbinado sugar
Sea salt (for sprinkling)
Method:
1. Preheat your oven to 350F (175C). Scatter almonds evenly over an ungreased cookie sheet.
2. Bake almonds in the oven (350F – 175C) for 10-15 minutes, using a spatula to turn the almonds every 5 minutes.
3. Chop your chocolate and place in a small bowl. Microwave on 15 second increments, stirring well in between, until chocolate is melted and smooth.
4. Pour your prepared almonds into the bowl of chocolate and stir.
5. Use a fork to lift almonds out of the chocolate and drop almonds individually and separately onto a cookie sheet.
6. Sprinkle almonds with turbinado sugar and sea salt. Allow the chocolate to harden before eating the almonds (you can speed up the process by taking them to the refrigerator).
3. Apple Chips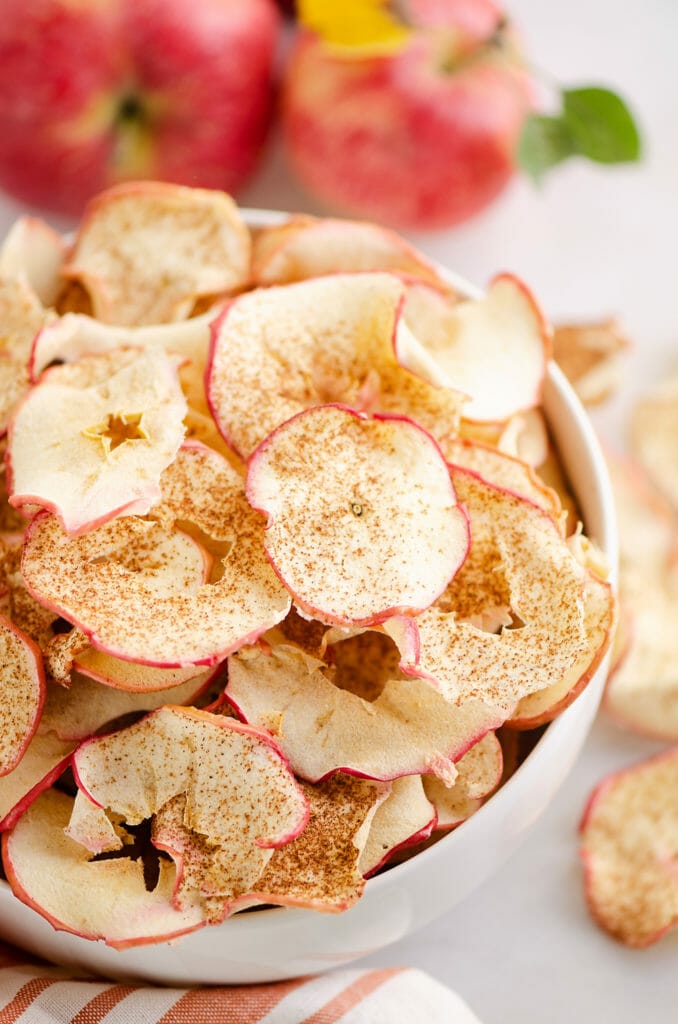 These apple chips are the perfect example that eating healthy is possible with what you already have in your kitchen. Why? Because all you need is an apple and a little bit of cinnamon or apple pie spice. That's it! And in case you're wondering, no, you don't need a fancy deshidrator for this one, they are 100% oven baked.
Ingredients:
3-4 baking apples
2 Tbsp. apple pie spice
Method:
1. Preheat the oven to 200°C.
2. Slice apples as thin as possible.
3. Arrange the slices on a parchment lined sheet pan. Try doing this quickly or the apples will brown.
4. Sprinkle the apple slices with apple pie spice.
5. Top the seasoned apple slices with a cooling rack. Line the cooling rack with more apple slices and season them with apple pie spice.
6. Bake at 200°F for 2-3 hours. After 2 hours, check an apple chip by removing it from the oven and letting it cool for 5 minutes. If it is crispy after cooling, then they are done. If not, continue baking in 20 minute increments until they are done. The baking time will vary based on how thin you slice the apples.
7. Let the apple chips cool completely before storing in airtight containers.
4.  Fruit Roll-Ups
With just one bite, you'll transport yourself to your childhood. What if we told you there's a way to make roll-ups at home? And it's way easier than you think. The best part is that you're tricking your mind thinking you're eating candy when in reality, you're eating a healthier version of a traditional roll-up.
Ingredients (2-3 servings):
8 oz of strawberries
1 tbsp of squeezed lemon juice
3 tbsp of sugar (optional)
Method:
1. Place the trimmed strawberries in a blender or food processor and puree them for a minute or so until smooth. Make sure there are no chunks in the mixture.
2. Transfer the strawberry puree to a saucepan and add the lemon juice and sugar. Turn the heat to medium high, and cook the mixture for about 10 minutes, stirring frequently, until the mixture is thick and jammy. The goal here is to cook out much of the moisture.
3. Preheat the oven to 170 degrees F, or as low as your oven will go, making sure it's less than 200 degrees at the highest.
4. Spread the strawberry jam into a rectangle shape onto a baking pan lined with a silpat or parchment paper. You may use an offset spatula or a regular spatula to help spread the mixture as evenly as possible, until the rectangle is about 1/8 inch thick. Keep in mind the fruit leather will lose some of its thickness in the oven as it dehydrates, so make sure that none of the jam is so thin that you can see through it as you spread.
5. Cook in the oven for 3-4 hours, until the fruit mixture no longer feels sticky, just a bit tacky. Remove from the oven and let it cool completely. Transfer to a cutting board lined with wax paper, and use a pizza cutter to cut long strips. Roll them up into the fruit roll ups, and enjoy!
5. Bell Pepper with Cream Cheese
Hello Keto lovers! If you're here desperate for a healthy snack while working from home, we got good news. These bell peppers with cream cheese are a win-win for all your cravings. With just bell peppers, cream cheese, and your favorite spices (although we highly recommend bagel seasoning), you'll be happier and feel you're full.
Ingredients (8 servings):
8 oz of cream cheese
8 mini sweet peppers
1 tbsp of everything bagel seasoning (or the seasoning you prefer)
Method:
1. Cut bell peppers in half.
2. Spoon cream cheese spread into peppers, adding about 1 Tbsp. cream cheese to each pepper.
3. Top with seasoning.
6. Smoky Spiced Chili Lime Popcorn 
Let's talk for a minute about popcorn. Easy to make? Yes, healthy? Yes. Underrated? Absolutely. Most people eat popcorn with salt, popcorn with butter, or caramel popcorn. The truth is that with popcorn, you can get creative and go wild! There are so many different healthy, delicious variations and take you less than 15 minutes to make. For example, this one. Smokey spice chili lime popcorn? What? Without a doubt, it's a must-try.
Ingredients (Servings: 10 cups):
½ cup of popcorn kernels
4 teaspoons of extra virgin olive oil
½ teaspoon smoked paprika
½ teaspoon of cumin
¼ teaspoon of ground red cayenne pepper
½ teaspoon of ground coriander
¼ teaspoon of sea salt (or to taste)
2 teaspoons of fresh lime (or to taste)
Method:
1. Make popcorn by combining 2 teaspoons of olive oil with popcorn, using your favorite method. You can make it on the stovetop, or in the microwave.
2. Make a spice mixture by combining smoked paprika, cumin, coriander, cayenne pepper, and sea salt in a small bowl. Adjust the quantities according to your taste.
3. Pour popped popcorn into a large bowl or bag, and top with remaining olive oil, lime juice, and spice mixture. Stir, or shake well, until all popcorn is coated with seasonings.
7. Chia Pudding
Chia puddings have been rocking the 'healthy snacks and nutrition world' for a while now. The reason is that they are easy to make and have many different variations. You can make them with mango, strawberries, kiwi, or whatever fruit you like the most. All you need is almond milk (you can use regular milk as well) and chia seeds.
Ingredients (2 servings):
1 cup of unsweetened cashew or almond milk
3.5 tbsp of chia seeds
1 tbsp of date or maple syrup
Method:
1. Add all ingredients to an airtight container or mason jar and mix well. Refrigerate overnight or 6 hours.
2. Enjoy with your favorite toppings (fresh fruit, chopped nuits, granola, etc).
8. Chocolate Almond Butter Banana Bites
Have you ever had one of those days that you felt truly drained? Meeting after meeting, answering emails, addressing several problems, the worst part is that it's 4 pm, and you still have a lot of unfinished tasks. You think you need to continue working nonstop but in reality, what you need is healthy fats, vitamins, fiber, and protein. Or, in other words, chocolate almond butter banana bites.
Ingredients (30 bites):
3 ripe bananas
⅓ cup almond butter
½ dark chocolate chips
1 teaspoon of coconut oil (optional)
1 teaspoon of chia seeds (optional)
Method:
1. Line a baking sheet with parchment paper. Then set aside.
2. Peel and slice the bananas into rounds about 1/4 inch thick. Avoid slicing them too thick, otherwise, the bites will be very thick to bite into when sandwiched together.
3. Place half of the banana slices on the baking sheet and spread a layer of almond butter on top. If you like, add chia seeds to the almond butter, stir that into the almond butter before topping on the banana slices.
4. Place another banana slice on top to create a mini sandwich. Repeat this for the rest of the banana slices.
5. Freeze the banana bites until solid, about an hour.
6. Add the chocolate chips to a microwave-safe bowl. Heat the mixture in 20 second increments, stirring in between until it's silky smooth. If you'd like to add coconut oil to make the chocolate a little softer and more dip-able.
7. Remove the frozen banana bites from the freezer. Dip each frozen banana bite into the melted chocolate so that half of each bite is coated. Then place it back on the baking sheet.
8. Place both baking sheets back into the freezer to let the chocolate harden.
9. Once frozen, you're ready to enjoy or store away in freezer safe containers for up to 1-2 months.
9. Avocado Hummus with Veggies
I think it's safe to say that we're all a bit obsessed with hummus. It's creamy, tasty, and fresh. What else can you ask for? The best part of this traditional middle eastern recipe is that you can add more flavor to it. For example, a healthy snack while working from home is this bomb avocado hummus with veggies.
Ingredients (10 servings):
15 oz of unsalted canned chickpeas
1 ripe avocado, halved and pitted
1 cup of cilantro leaves
¼ cup tahini
¼ cup of lemon juice
1 clove of garlic
1 teaspoon ground cumin
¼ cup of extra virgin olive oil
1/2 teaspoon of salt
Method:
1. Drain chickpeas, reserving 2 tablespoons of the liquid.
2. Transfer the chickpeas and the reserved liquid to a food processor. Add avocado, cilantro, tahini, oil, lemon juice, garlic, cumin and salt. Puree until very smooth.
3. Serve with chips, pita chips or veggies..
10. Froyo Berry Bites
Are you a fan of frozen yogurt? Especially when it's summer, eating froyo feels as if you were feeding your soul. If you're working from home, enjoying the warm weather, and the sun shining on your face, these froyo berry bites will make you even happier.
Ingredients (10-12 cubes):
1 cup of plain yogurt
1 cup of strawberries (or your favorite fruit)
Method:
1. Blend plain yogurt and the strawberries together in a food processor or blender.
2. Using a piping bag or small spoon, scoop yogurt into a mold or ice cube tray.
3. Freeze until ready to eat.
11. Whole Wheat Vegan Carrot Cake Muffins
Whether you're vegan or not, these carrot cake muffins are amazing. Although it is indeed a more elaborated snack that requires more time, it's worth it. Plus, you can start applying the meal prepping strategy and make a whole batch for the entire week, especially for those days that you're feeling lazier.
Ingredients (12 muffins):
Dry Ingredients:
1 & 1/2 cup whole wheat pastry flour (not regular WW flour)
1/2 cup brown sugar
1/4 cup chopped walnuts
1/4 cup raisins
2 tsp. cinnamon
1/2 tsp. nutmeg
1 tsp. baking powder
1 tsp. baking soda
1/4 tsp. Salt
Wet ingredients:
1 & 1/2 cup unsweetened applesauce
1 cup shredded carrot (about 1 large carrot or 16 baby carrots worth)
Method:
1. Preheat the oven to 350 degrees.
2. In two separate bowls, mix dry, then wet, and then combine, adding wet to dry and stirring gently until the mixture is uniform-ish. The batter will be pretty wet because of all the applesauce — don't worry.
3. Spoon the mixture into a non-stick or sprayed muffin pan. Bake 25 minutes — fork check near end to make sure they are done!
12. Tuna Cucumber Cups 
Have you ever had that annoying feeling of wanting to snack but don't want anything that's too heavy? Muffins are too much, but just an apple is too little. These tuna cucumber cups are perfect for satisfying that feeling. Delicious, fresh, and light, the perfect combo!
Ingredients (12 cups):
1 cucumber
4-5 oz canned tuna (drained)
2 tbsp of homemade or store-bought mayo
1/8 tsp onion powder
1/8 tsp garlic powder
Salt and pepper to taste
Method:
1. Combine tuna with your choice of mayo, yellow mustard, greek yogurt, or mashed avocado (or a combination of your favorites!), along with veggies, salt, pepper, garlic powder and onion powder.
2. Slice cucumbers into discs, scoop out a bit of the center, and arrange on a plate.
3. Add the tuna salad and that's it!
13. Avocado Deviled Eggs
Avocado and bacon sometimes are all you need. Fuel up your energies with these avocado-deviled eggs that level up the traditional ones. If you want to save time prepping this, boil the eggs at the beginning of the week.
Ingredients (12 servings):
2 slices bacon, diced
6 large eggs
1 avocado, halved, seeded and peeled
2 tablespoons chopped fresh cilantro leaves
1 tablespoon freshly squeezed lemon juice
Zest of 1 lemon
Kosher salt and freshly ground black pepper, to taste
2 tablespoons chopped fresh chives
1/4 teaspoon cayenne pepper
Method:
1. Heat a large skillet over medium high heat. Add bacon and cook until brown and crispy, about 6-8 minutes. Transfer to a paper towel-lined plate; set aside.
2. Place eggs in a large saucepan and cover with cold water by 1 inch. Bring to a boil and cook for 1 minute. Cover eggs with a tight-fitting lid and remove from heat; set aside for 8-10 minutes.
3. Drain well and let cool before peeling and cutting the eggs in half lengthwise, reserving the yolks.
4. In a small bowl, mash the yolks and avocado with a fork until chunky. Stir in cilantro, lemon juice and lemon zest; season with salt and pepper, to taste.
5. Use a pastry bag fitted with decorative tip #1M to pipe into the eggs, topped with bacon and garnished with chives and cayenne pepper, if desired.
14. No Bake Oatmeal Energy Balls
Energy balls have the popularity of being the perfect pre-workout snack for the gym – with healthy fats and the necessary ingredients to boost your energy levels. However, when you're working from home, sometimes you feel an injection of energy as well. And these oatmeal energy balls are perfect for giving you the right amount to continue with your tasks.
Ingredients (12 bites):
1 cup whole rolled oats
1 tablespoon ground flaxseed + 3 tablespoons warm water
¼ cup roasted almond butter
2 tablespoons maple syrup
3 soft Medjool dates, pitted (or 2 additional tablespoons of maple syrup)
2 tablespoons coconut oil
½ teaspoon vanilla extract
¼ teaspoon cinnamon
¼ cup chopped walnuts
½ cup shredded coconut
⅓ cup chocolate chips
¼ teaspoon sea salt
Method:
1. In a medium pan, toast the oats over low heat until just browned around the edges, about 1 to 2 minutes. Remove from the heat and set aside.
2. In a small bowl, combine the flaxseed and warm water and set aside to thicken for about 5 minutes. In a food processor, combine the almond butter, maple syrup, dates, coconut oil, vanilla, cinnamon and salt. Add the flaxseed mixture and blend until smooth.
3. Add the walnuts and pulse until combined. Then add the oats and coconut and pulse until combined. Finally, add the chocolate chips and pulse just until evenly incorporated.
4. Roll the mixture into 12 balls and chill until firm, at least 30 minutes. If the dough is too sticky to work with, chill it for several minutes before rolling.
5. Store in an air-tight container in the refrigerator.
15. Fruit Kabobs with Honey
This is one of the easiest snacks to make while working from home. Choose your favorite fruits and thread them onto skewers; that's it! Additionally, you can also add the toppings you like the most, like yogurt or honey, for example.
Ingredients (12 skewers):
12 wooden skewers
12 cups cantaloupe cubed
3 mangoes peeled and cubed
12 blackberries
12 cups pineapple cubed
3 kiwi peeled, halved and sliced
4 oz strawberry yogurt
12 cups watermelon cubed
4 oz whipped topping
12 strawberries
Method:
1. Thread fruit onto wooden skewers.
2. Combine fruit dip (strawberry yogurt and whipped topping) ingredients and stir well – optional, you can also use honey or any other topping you prefer.
3. Place skewers on a serving platter with dip.
16. Dark Chocolate Bites
Dark chocolate is a powerful source of antioxidants. It improves blood flow, reduces heart disease risk, improves brain function, among other great benefits. And these dark chocolate bites, besides being good for your health, also give you space to get creative and add different topics. For example, you can add nuts, raisins, seeds, or any additional ingredient you like!
Ingredients (24 small circles):
8 oz of dark chocolate
Assorted dried fruits
Method:
1. Lay out a piece of parchment paper, or waxed paper, or foil.
2. Chop the chocolate into small pieces and put in a microwave safe glass measuring cup. Microwave for 60 seconds, and then stir. Microwave for another 30 seconds, and then stir again to completely melt the chocolate. If there are still lumps, microwave for another short burst and stir again.
3. Use a spoon to make small rounds of chocolate onto the parchment paper. Let the chocolate fall from the spoon and it will naturally form a more or less round shape. You can nudge it with your spoon if you like. Work with one at a time, and sprinkle each round of chocolate with an assortment of your healthy add-ins while the chocolate is still hot.
4. Let the chocolate set at room temperature, or put the bites in the refrigerator to speed things up.
17. Green Smoothie
If you have a hard time eating vegetables and fruits, smoothies work like magic and they can become your new secret weapon towards a healthier lifestyle. This is a great healthy snack when working from home as you can make it in less than 10 minutes. It's simple and delicious!
Ingredients (2 servings):
2 cups fresh spinach (or frozen)
1 small banana
1 small green apple
1 orange
1 tbsp chia seeds
1 1/2 cups oat milk (or any other type of milk)
Method:
1. Peel and cut the banana, orange, and apple.
2. Place all the ingredients in a blender.
3. Blend the ingredients in a high-speed blender for 1-2 minutes until you get a smooth and creamy texture.
4. Taste the smoothie, adding more oat milk (or almond milk) if it is too thick for your liking.
5. Pour into a cup, bottle or mason jar.
6. Enjoy straight away, or store in the fridge for up to 24 hours.
18. Fruit Popsicles
Popsicles are usually the snack of summer, but why not change the status quo and eat them in winter as well? There are no rules, so whether you live in a cold or hot place, a fruit popsicle is always a good idea. Few ingredients, some hours in the freezer, and voilà, the perfect snack.
Ingredients (6 popsicles):
2 medium kiwi
2 cup peaches, canned in own juice
1 cup raspberries
3 cup coconut water
Method:
1. Peel and slice kiwi. Using an alternating method, add fruit to each of 6 popsicle molds. Pour coconut water into each mold, covering the fruit.
2. Allow to freeze overnight.
19. Kale Chips
Did you know that Kale, when turned into chips, still retain their nutritional value? Filled with fiber, calcium, vitamins (A, B, and C), kale chips are a great way to eat your greens! In addition, you can season them with any condiments you enjoy the most, although we strongly recommend you eat them with black pepper and sea salt.
Ingredients (4 servings):
1 bunch kale stemmed and torn into 3-inch pieces (about 12 cups)
2 tablespoons olive oil
Salt and freshly ground black pepper
Method:
1. Preheat the oven to 275F. Fill a large bowl with water and add kale. Swish around to remove any dirt; drain. Dry thoroughly using a salad spinner or a clean kitchen towel.
2. Tear the kale leaves into 1" – 2" pieces, discarding the ribs, and place in a large bowl. Drizzle with olive oil and toss with your hands until evenly coated.
3. Arrange the leaves in a single layer (with NO overlap) on ungreased cookie sheets. Rub each leaf gently between your fingers as you work to ensure each is covered in oil. Sprinkle it with salt and pepper.
4. Bake for 18 to 20 minutes or until the leaves are crispy.
20. Healthy Homemade Reese's
Reese's, hands down, are one of the best candies ever. If you love sweets and chocolate and are a big fan of Reese's, you must try this snack. You need a few ingredients, and if you want to start meal prepping, you can also create a bunch and leave them in the freezer (although this can be dangerous because you have the risk of eating them all at once).
Ingredients (12 cups):
Bottom layer (chocolate)
1/3 cup peanut butter
2.5 tablespoons melted coconut oil
1 teaspoon vanilla extract
3 tbsp unsweetened cocoa powder
2 tbsp maple syrup
Top layer (peanut butter)
1/3 cup all-natural creamy peanut butter
2 tablespoons melted coconut oil
1 teaspoon vanilla extract
2 tablespoons maple syrup
Himalayan sea salt
Method:
1. Line a muffin tin with 12 muffin liners and then spray with coconut oil cooking spray and set aside.
2. In a medium bowl, stir all ingredients for the bottom layer (chocolate) together until smooth. Set aside.
3. In another medium bowl, stir all ingredients for the top layer (peanut butter) together until smooth. Set aside.
4. Scoop a heaping 1/2 tablespoon of the chocolate layer into each muffin cup. Repeat until you've filled 12 cups. Then, pick up the entire muffin tin and shake/tap it until the layer is set evenly.
5. Repeat the same thing with the peanut butter layer, adding around a heaping 1/2 tablespoon on top of the chocolate layer. Pick up the entire muffin tin one more time and shake/tap it until your cups are even.
6. Finally, sprinkle each cup with some Himalayan sea salt.
7. Place the muffin tin in the freezer for 30 minutes or until firm. Enjoy!
8. Store the cups in the freezer to enjoy for later.
Why Do We Need to Eat Healthy Snacks When Working from Home?
If you eat countless Oreos when you're stressed or go on a hunger strike, you're not the only one. A study by MedicineNet shows that 40% of people tend to overeat when stressed, while about 40% eat less.
But why does this happen? When we're stressed, our brain sends cues to our bodies. It's part of our fight-or-flight response that helps us deal with perceived threats – in this case, stress. Our body sends out cortisol, known as the stress hormone, that makes us crave sugary, salty, and fatty foods. Our brain thinks it needs fuel (junk food) to fight whatever threat is causing the stress. However, not everyone reacts the same way. Some people can eat their entire pantry, and others simply lose their appetite.
While we might think this isn't a big deal, bad eating habits can significantly impact our bodies in the long term. And while snacks aren't meals, if we eat for a prolonged time unhealthy snacks, our body can start suffering the consequences. These are some of the side effect junk foods have:
Headaches and migraine
Depression
Acne outbreaks
High cholesterol levels
Increased blood sugar and insulin resistance
Bloating
Hacks to Eat Healthier While Working from Home (Without Even Realizing It)
We've all used the ''I'll start on Monday'' card, and we know that turned out. We never start on Monday. Instead of trying to change your eating habits drastically, you can take it slowly. Here are some hacks that can help you:
1. Eat Things You Actually Enjoy
Your 'how to eat healthier' google search probably bombarded you with thousands of diets like Keto or Paleo that might seem overwhelming at first. Or with the story of a woman who lost 30 pounds drinking a magic pill or eating boiled broccoli. But the reality is that making your way through healthier eating habits is all about the right balance. If you hate kale smoothies, why drink them? Make a list of the things you do enjoy eating and base your diet on those. You can even make a list of the junk food you like the most and search for healthier versions. Don't waste time and energy trying to eat healthy things you hate; it will make you want to eat junk food even more.
2. Meal Prep
Meal prep is an art that helps you save time, money, energy while eating healthy food, all at once. For those not familiar with the concept, meal prepping consists of leaving your meals ready in advance. Some people love doing this on Sundays, where they plan and cook the meals they will eat until Wednesday (it's recommended to cook food for up to three days; otherwise, ingredients might ruin). Others make their meals for the next day during dinner. That way, you won't be tempted to order deliveries or takeaway.
3. Eat When You're Hungry
It sounds stupid but eating when bored or stress is not the same as eating when hungry. When we have a million urgent tasks on our to-do list, and we are overwhelmed, it's easy to feel that potato chips or chocolate cake will make us feel better. However, loading your body with sugary foods will make you even feel more tired and drained. Instead of eating just because you want to have a little break to avoid your tasks, learn to listen to your body and to differentiate when you're hungry from when you're not.
These are some tips outlined by Healthline to avoid eating because of stress or boredom:
Understand your eating triggers
Practice mindful eating
Map out your day
Have a plan for when you get bored
Wait 30 minutes
4. Get Inspired
Movies, or Keeping Up with the Kardashians, sometimes make us believe that eating healthy is all about salads and bottles of water. But eating healthy is also about being creative. There are thousands of veggies, fruits, nuts, and different types of food that nurture our bodies that go beyond the traditional ideas.
A key to starting eating healthy snacks while working from home is getting creative and starting trying new flavors. Beyond the typical snacks we see at every fitfluencers blog; there are many other snacks easy to create that will make you ditch the junk food addiction in no time.
To get you inspired, we gathered 20 recipes from different blogs that are perfect for everybody. Whether you are vegan, have a sweet tooth, love salty foods, or just want something different, these snacks will help you create a healthier lifestyle while working from home.
Becoming a Healthy Remote Worker
Eating healthy is hard if you don't know exactly what to eat. You might think it's only about eating apples and bananas when there are thousands of recipes that can blow your mind. If you want to improve your eating habits and want to start preparing healthy snacks while working from home, then you have these 20 ideas – of all types (keto, vegan, low calorie, sweet, salty, easy to make, etc.) – to start experimenting in the kitchen. And the best part of all is that you're not only eating delicious food, but you'll also be experimenting more energy and motivation to continue with all your projects and tasks.