Are Envelope Stuffing Jobs A Scam?
Have you ever come across an envelope stuffing job and got instantly excited about how simple the job was? No experience or equipment required, few hours a day, and a great side income. But, when these ads seem too good to be true, that's when you need to be more careful.
Envelope stuffing jobs have become notorious for being associated with scams, so learning how to differentiate legitimate opportunities from fraudulent ones is key.
The truth is, these jobs are often too good to be true. In this article, we'll take a closer look at this type of work and expose the common scams associated with it.
What Are Envelope Stuffing Jobs?
Envelope stuffing jobs are a type of work that involves inserting sheets of paper or flyers into envelopes, which are then sent to a designated mailing list. These jobs are popular because they can be done from the comfort of your own home and don't require much experience or special skills.
Why Envelope Stuffing Jobs Are Not Always Legitimate?
While many envelope stuffing jobs are advertised as easy jobs from home, not all of them are legitimate. Some of them only intend to ron you off your hard earned money. In fact, envelope stuffing job scams have been around for decades and have always targeted vulnerable individuals who are on the lookout for a decent job or easy money.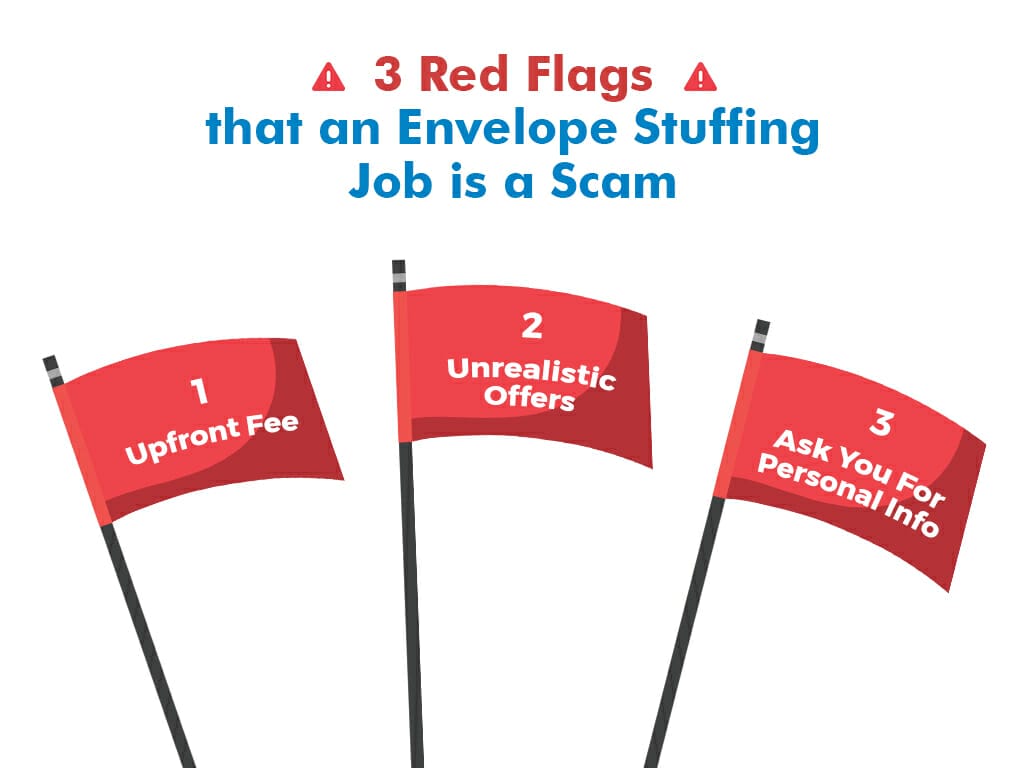 Scammers have multiple tricks up their sleeve. One of them is, some of them ask for an upfront fee for "training or material". Remember, that is a clear red flag!
Other methods are luring people into unrealistic offers. While most envelope stuffing jobs are high effort and moderate pay, scammers would advertise these jobs as "high pay, low effort." Remember that anything that is too good to be true is probably a scam.
Another red flag is when the scammers ask you for your bank details, your social security number and other personal information in your very first meeting. There are no jobs that do not involve interviews.
Therefore, it is vital that you research about the job before you apply to avoid falling victim to a scam.
💡 Related: How to Identify Scam Jobs on Indeed? 
How To Find Legitimate Envelope Stuffing Jobs?
Finding legitimate envelope stuffing jobs can be challenging, so it's important to approach work-from-home opportunities with caution. Here are a few tips  to  consider before looking for a legitimate job. 
Tips To Find Legitimate Envelope Stuffing Jobs
Research the company offering the job: Before applying for any job, research the company offering the job and read reviews from other workers. This will help you to determine if the company is legitimate and if other workers have had positive experiences working with them.
Avoid upfront payment: A legitimate job offer should not require you to pay upfront fees for materials or training. If a job offer requires payment, it is likely a scam.
Check online job boards: Many legitimate job opportunities, including envelope stuffing jobs, are posted on online job boards. Sites like Indeed, Monster, and FlexJobs can be a great resource for finding reliable job opportunities.
Consider contacting local small businesses: Local small businesses may need help with envelope stuffing or other clerical tasks. Contacting these businesses directly and inquiring about job opportunities can be a good way to find legitimate work.
Network with others: Networking with others in your field or industry can help you to learn about job opportunities that may not be advertised on job boards. Joining professional organizations or attending industry events can be a good way to meet others in your field and learn about potential job opportunities.
Reliable Places to Find Envelope Stuffing Jobs
Indeed: Indeed is one of the largest online job boards, and it features a variety of job postings, including envelope stuffing jobs.
FlexJobs: FlexJobs is a subscription-based job board that specializes in remote and flexible job opportunities. They regularly post legitimate envelope stuffing jobs.
Glassdoor: Glassdoor is an online job board that allows users to search for jobs and read reviews of companies from current and former employees.
LinkedIn: LinkedIn is a professional networking site that can be used to search for jobs and connect with other professionals in your industry.
Local Small Businesses: Consider contacting local small businesses directly to inquire about job opportunities.
Your Network: Networking with others in your field or industry can help you to learn about job opportunities that may not be advertised on job boards. Joining professional organizations or attending industry events can be a good way to meet others in your field and learn about potential job opportunities.
One thing to remember is that, while these job boards are legitimate, scams could still be present within these job boards. Make sure you do your research before applying for any job even when you find them within these boards. 
Things to Know While Looking For Envelope Stuffing Jobs
1. BBB Envelope Stuffing Jobs
It is highly likely that you have come across an email with offers to make a good amount of money by stuffing envelopes for companies. Also, there are the occasional ads on your browser promising the same. With experience, you will learn that most, if not all, of such advertisements, are scams.
You should also beware that there are direct warnings from the US Postal Service, Federal Trade Commission (FTC), and the Better Business Bureau (BBB) that any work from home stuffing envelopes offers are defrauding schemes by illegitimate companies.
The procedure by a number of companies offering work from home envelope stuffing jobs asks for a start-up fee when registering for the opportunity. The fee falls between $20 and $50, depending on the earning promises at the registration stage, security deposit, the cost of the start-up kit, and the cost of working material. These are just a few of the excuses scammers use to encourage you to part with your money.
The BBB advises checking a company's rating to avoid envelope stuffing scams (more on that later). For example, Millionaire Mailers Club, a company that popularized the scam came with an 'F' rating on BBB. And as of publishing, their domain was no longer functional.
2. Amazon Envelope Stuffer Job
Fraudulent companies may use well-known brands like Amazon to scam people into thinking they can earn money by stuffing envelopes at home. However, any job offer for an Amazon envelope stuffer is a scam. Scammers use digital technologies to make fake job offers appear legitimate, so it's important to verify the URL of the originating offer. If it's not the official Amazon website, it's a red flag.
If you have any doubts about a job offer, contact legal authorities like the US Postal Inspection Service or the Federal Trade Commission to report the fraud.
5 Alternatives to Envelope Stuffing Jobs
There are few other alternatives that you can consider if you want to work from home.
1. Virtual Assistant
If you're interested in working with some of the top bosses in the industry of your choice, virtual assistant is a way to do it. Your tasks as a virtual assistant can include scheduling appointments, managing emails and handling social media accounts. 
2. Freelance Writer
Content writing is the job for you if you find yourself as a storyteller or an explainer. If you want  to write persuasive content to advertise a product or service. 
As a freelance writer, you get to work on a project-by-project basis and create content for various clients. This can include blog posts and articles to copywriting for business.
💡 Related: Are You Lazy? Find the Perfect Online Job for You!
3. Online Tutor
As an online tutor you can provide academic support to students in the subject you're comfortable with. You can choose subjects ranging from math and science to language learning and test prep. 
4. Customer Service Representative
Customer service representatives focus on assisting people with resolving their issues or answering their questions, making it a great job for those who enjoy communicating and problem-solving. Your job would be to handle inquiries from customers and support them over call, email or chat.
5. Graphic Designer
As a graphic designer, you get to make content for various purposes such as marketing materials, websites, social media accounts and others.
These are just a few examples of alternatives and not an exhaustive list. Just like envelope stuffing jobs, here too, you should look for job scams.
Land A Job That Pays Well
While envelope stuffing jobs may seem like an easy and convenient way to make money from home, there are many scams out there. So it is important to be cautious when considering any job opportunity and to research the company or client thoroughly before accepting a job offer.
If you are interested in working from home, there are also other options to consider, such as virtual assistant, freelance writing or editing, online tutoring, customer service, and graphic design. By taking the time to find a legitimate job opportunity, you can avoid falling victim to job scams and find a fulfilling and rewarding work-from-home career.