Here's one undeniable fact: It's hard work to earn a living. The world has evolved with the idea that those who work the most will do best. Some choose to toil from 9 to 5, while others work extra hours during midnight to run their businesses successfully. But what if I told you that you could make a living out of online jobs for lazy people? Would you give it a try?
Are There Online Jobs for Lazy People?
At this point, you might be thinking this article encourages laziness and effortless activities for you to make easy money. But that's false.
The world is full of different human beings with all kinds of skills and tastes. And for some cultural – annoying – reasons, everyone has pigeonholed into the idea that you must work hard to achieve happiness.
Fortunately, there's a perfect job for each person. Online jobs for lazy people may require less effort and lower stress and pressure, yet they pay significant money. They also allow more room for flexibility than a regular in-office job and prioritize results over processes. So they are perfect for people who want to have control over their schedules.
Though online jobs for lazy people don't replace a full-time income, they can be a great additional stream!
The Best Online Jobs for Lazy People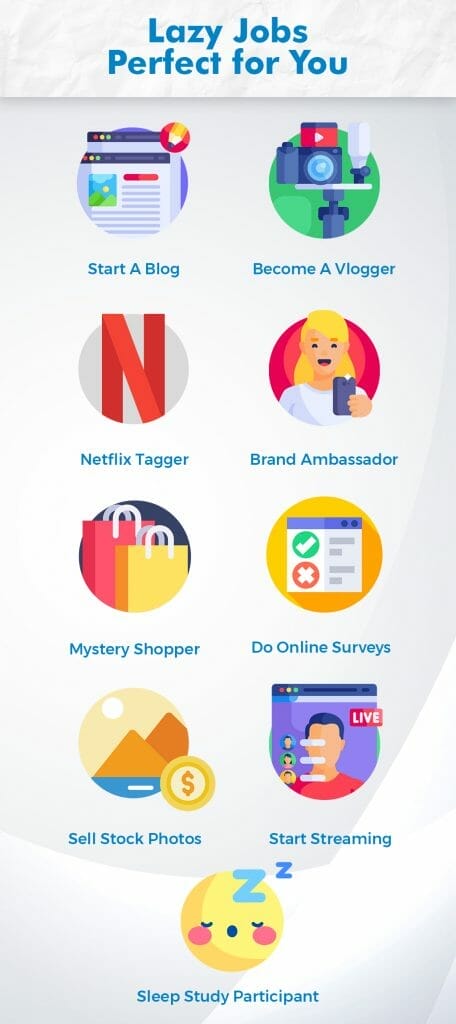 1. Start a Blog
Creating a blog is still among the most popular online jobs among lazy people. People still chose it because you can make a successful and profitable business that is also location independent!
You can start running a blog within a few days. Millions of online tools – like WordPress or Wix – can help you make your website more accessible. Before entering the blogging world, ask yourself who will be your target audience and what topics you will cover.
Though several people blog for extra money, they can also make a nice income from their blogs. But be careful; a blog itself is not a business. You'll have to select the ways you'll monetize your website – through advertising, ebooks, online courses, coaching, affiliate marketing, or membership websites.
Blogging offers flexibility, and you can choose how much time and effort you put into your blog, depending on your aims.
Equipment: a computer, web hosting, and tones of creative ideas to mark the difference
Skills: good writing skills
Income: it's pretty easy to make an extra $500-2,000 per month blogging in your first year, with advertisements, online courses and other projects you may create. And then in a year, increase monthly your blog revenue.
2. Become A Vlogger
Vlogging refers to a personal website or social media account where you regularly post short videos – generally about your lifestyle or opinions. Nowadays, Youtube is the second-largest most popular site in the world, and video has become one of the most popular types of web content. Plus, it's great for lazy people! 
You'll only have to take the time to record yourself and edit the video before you upload it on social media – YouTube, Facebook, or wherever you created your vlogging profile. Since YouTube has had such excellent results, it'll help if you started on that platform.YouTube will play advertisements along with your video and give you a percentage of the ad revenue.
What's excellent about vlogging is your vlog account can lead you to other business opportunities like collaboration, social media arrangements, and more.
Equipment: a computer, a good microphone and camera, and a YouTube account
Skills: you'll need communication skills and some knowledge on editing – since your videos should be as attractive as possible.
Income: it depends on your content and followerd provenance. On average, vloggers can get around $2.00 per thousand views. Recently, Forbes reported a Youtube star's annual income could be around $10 million a year!
3. Netflix Tagger
Imagine getting paid for watching Netflix from your couch? Well, surprisingly, you can!
Companies like Netflix need people who can watch their shows and categorize them. So, if you were already watching tv series all day long, why not get paid for it?
People call this online job editorial analysts, and their goal is to watch shows and tag them according to their appropriate categories so that viewers have a pleasant watching experience. They focus on improving the user's experience on digital platforms to find better results!
Equipment: a computer or TV, a Netflix account, and tones of free time.
Skills: good criteria to categorize different types of content.
Income: you'll earn around $500 to watch three TV shows.
4. Brand Ambassador
Are you familiar with this term? Well, there are several worldwide brands whose sales depend on their social media content. They select several interesting profiles and offer the chance to represent the brand through different types of content – videos, images, or reels.
If you're some kind of an influencer – or hope to be – you could earn easy money as a brand ambassador! You'll have to represent the brand in various settings, establish social media connections, and work on the type of content you aim to share. This online job helps to put you in the spotlight!
Also, several brands provide free products to their ambassadors to generate engagement between the social media profile and the brand!
Equipment: a good phone or camera and some excellent ideas to share the products
Skills: you'll need communication skills and creativity. And remember, the more fun you are, the better.
Income: you could make around $45k per year.
5. Mystery Shopper
If you love to shop – and sometimes feel guilty to spend money on irrelevant things – this is the perfect online job for you!
Some of these jobs may seem crazy to imagine. But mystery shopping is about hiding in a brand's eCommerce. You log in to the shopping website and go "undercover," pretending you're an actual paying customer. At the same time, a third-party market research company takes over your monthly payment.
When you're shopping, you may have to discreetly check out the pieces and deals of a brand or take note of the staff's customer service. You should observe and analyze everything in detail to provide an accurate report to your boss.
Equipment: a computer
Skills: you'll have to have organization and accuracy.
Income: mystery shoppers tend to get paid by the task, around $10-100.
6. Do Online Surveys
It may happen that you're looking for a lazy-people job but still want to put into practice your organizational skills. Well, taking online surveys is one of the no-brainer, low-stress jobs for lazy people.
Several online survey companies – like Swagbucks, Survey Junkie, and InboxDollars – create millions of surveys a day. All you'll have to do is sign up on these websites and answer their questions. It's easy since these surveys usually match your profile and interests; you'll, fortunately, answer the ones that interest you the most.
Fulfilling online surveys may not be the best idea to make good money online since they don't pay much. But if you're looking for a side hustle or additional monthly income without needing much skills, this it a great way to do it. And you can complete tons in just a few hours!
Equipment: a computer or smartphone and an account on several survey companies.
Skills: the fast you answer them, the more money you'll make.
Income: online surveys don't pay as much per hour, but you can complete a study in three minutes with just a few clicks on your computer.
7. Sell Stock Photos
If you're one of those people who carry a camera everywhere they go and enjoy taking photos, this could be the best lazy job idea for you.
People tend to think you have to be a professional photographer to sell your photos – whether online or to particular clients. But that's not true! Anyone who has the basic knowledge of photography – like framing, angle, and lightning – and is willing to use their passion as a work tool can become a stock photos seller.
There are millions of stock photography sites waiting for freelance photographers to send them their content. As customers purchase or download your images, immensely you'll receive your payment. So, grab your camera, your sunglasses and go out to the street. There are millions of pictures you can take without an official model or a shooting studio. And these are usually the best ones!
Equipment: a camera, a computer, and an editing program – like Photoshop.
Skills: basic knowledge of photography and a good eye for unique moments.
Income: it'll depend on the quality of your images. You can earn between $0.30 and $99.50 per sale (royalty free), but no less than $0.10
8. Start Streaming
Several people consider playing video games a waste of time. Children and professional gamers tend to be the ones who most consume them, while the rest believe gaming is an addiction from which they want to stay away.
But that's until they realize they can make money from gaming. There are tons of ways to make money playing video games, and the pandemic immensely helped the growth of these platforms. Twitch and Booyah are some of the most popular live-streaming platforms, where users log in to watch gaming geniuses play their video games.
But if you are more of an introvert, you can also enter the gaming world through video games evaluations. Game testers dib on the up-and-coming video games, play them out and give honest feedback to developers. You can also create video game tutorials, contact sponsors to back up your games. If you're a video game fan, this is the perfect lazy-people job for you.
Equipment: a computer and a play-station.
Skills: you'll need consistency, good equipment management, social skills and creative diversified content.
Income: expert streamers make between $3.000 and $5.000 per month.
9. Sleep Study Participant
No, this isn't a joke. Though online jobs for lazy people can sometimes become ridiculous, why not give this one chance?
If you were looking to make money while you sleep, this is the perfect opportunity for you. Sleep study participants assist in clinical trials about sleep. Sleep studies allow experts to discover treatments for sleep-related issues, and as a member, you would only have to sleep!
These studies need participants with specific age ranges, gender, or weight, so check these conditions before applying to avoid losing the opportunity. If you're accepted, you'll earn a passive income with a few hours of sleep.
Equipment: some free minutes to fulfill your information on the vacancies.
Skills: great sleeper.
Income: you can make around $80.000 per year.
Ready to Choose Your Lazy-People Job?
Whether you're a productive workaholic or one who prefers to stay home watching movies, anyone can try online jobs for lazy people. What's great about these opportunities is you can have them as a permanent job or as an extra source of income!
Pay attention to the details. Maybe you're a Netflix fan, and you choose to go with the Netflix Tagger idea. Or you prefer to work on your time management skills and go for the Online Survey job. Or maybe you just want to receive an income for sleeping. It's up to you the choice you make, but the important thing is trying to go with what's best for you and your schedule.
Remember, it's not wrong to be lazy or avoid complicated jobs and long hours of work. Each human is different, and that's what makes the world so interesting.