Can You Really Pack Light When Traveling as a Digital Nomad?
The digital nomad packing list involves carrying only essential items. Many seasoned nomads recommend taking what you need, not what you think you might need.
One tip is to shed weight: you can do this by removing items you can buy locally cheaply to reduce the weight of your luggage.
The fact is that this is an individual question with no one-size-fits-all answer. Several factors, including climate, destination, and even the region's culture, will influence what to pack.
But regardless of where you are traveling, here are some essentials to consider.
Digital Nomad Packing List: 60 Essential Items to Pack in 2023
If you plan to travel for an extended period, you should pack more efficiently than you would for a typical vacation. Also, remember that becoming a digital nomad requires adopting a minimalist lifestyle. Do you think you can handle it? Get started with this digital nomad packing list before heading out.
Travel Essentials
Before making a trip, ensure that you do your research because each destination has its unique needs. Many digital nomad forums agree on this list of must-haves that cannot be missing from your package. Take notes!
1. Passport
This is the most vital item you need because, without a passport, you cannot go anywhere. This government-issued identification document proves your identity and citizenship.
2. Travel Visa
A document that allows you to enter a foreign country for a specific purpose and duration. You may need to apply for a travel visa in advance, depending on your destination and nationality.
3. Travel Insurance
These documents provide proof of your travel insurance coverage. Travel insurance for remote workers can cover unexpected expenses such as medical emergencies, trip cancellations, and lost luggage.
4. International Driver's License
If you need to drive in your destination country, you will need an International Driver's License.
Technology Must-Haves
5. Laptop
You'll need a reliable laptop to work on the go, so choose one that is lightweight, has good battery life, and meets your computing needs.
Our pick: Apple 2020 MacBook Air Laptop M1 Chip
6. Power Bank
A power bank is a portable battery that you can use to charge your electronic devices when you don't have access to an electrical outlet. This is especially useful when you're on the move or traveling to remote locations.
Our pick: Luminira Emergency USB Battery Powered Power Bank
7. Noise-canceling Headphones
Whether working in a noisy cafe or trying to block out the sound of the airplane engine, noise-canceling headphones can help you stay focused and productive.
Our pick: Bose Noise Cancelling Headphones 700
8. Cable Organizer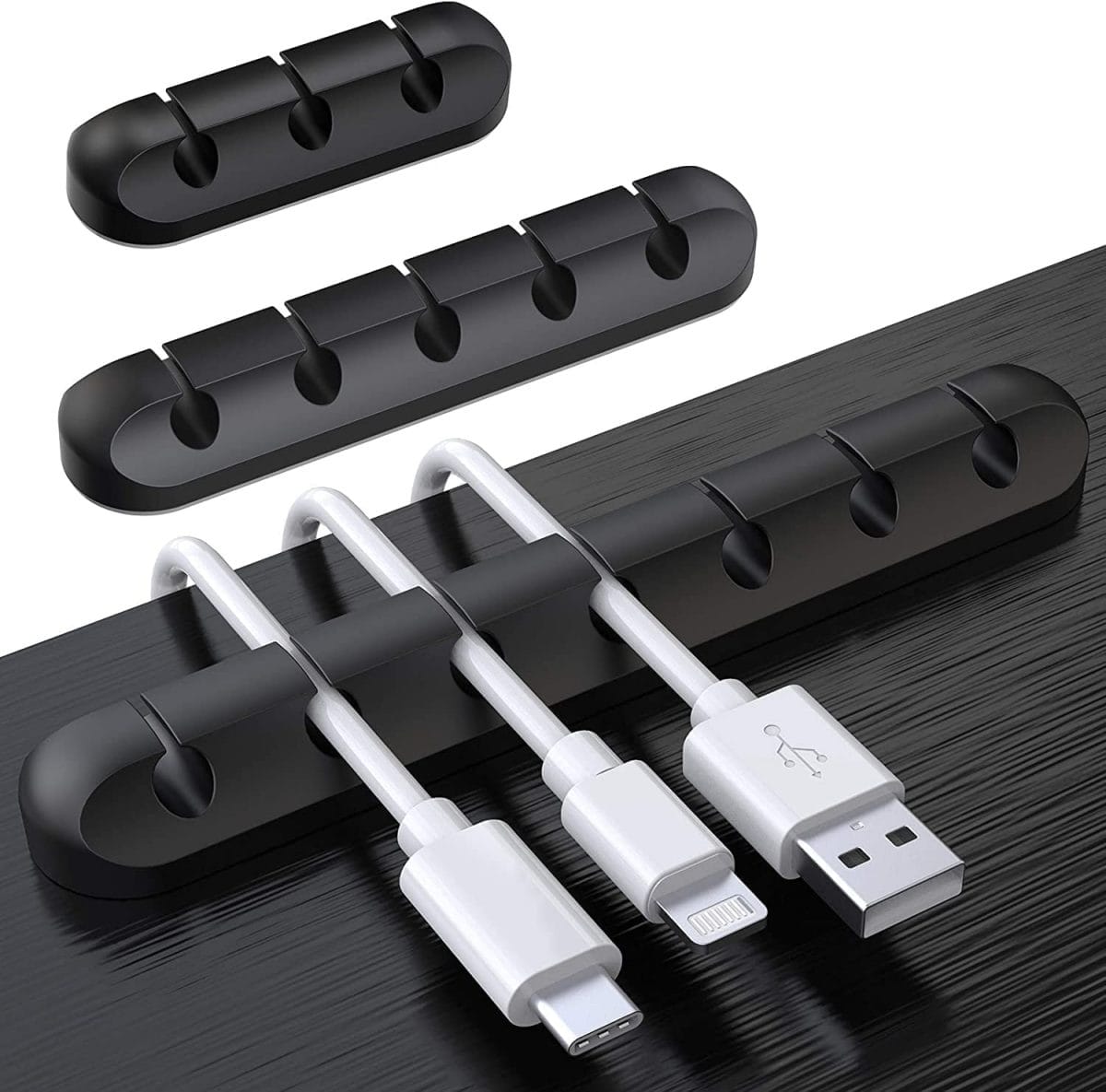 Electronic devices and cables are easy to tangle up, especially when you bring a lot of them. A cable organizer can help you keep your cords and chargers organized and easily accessible.
Our pick: Soulwit Cable Holder Clips
9. External Hard Drive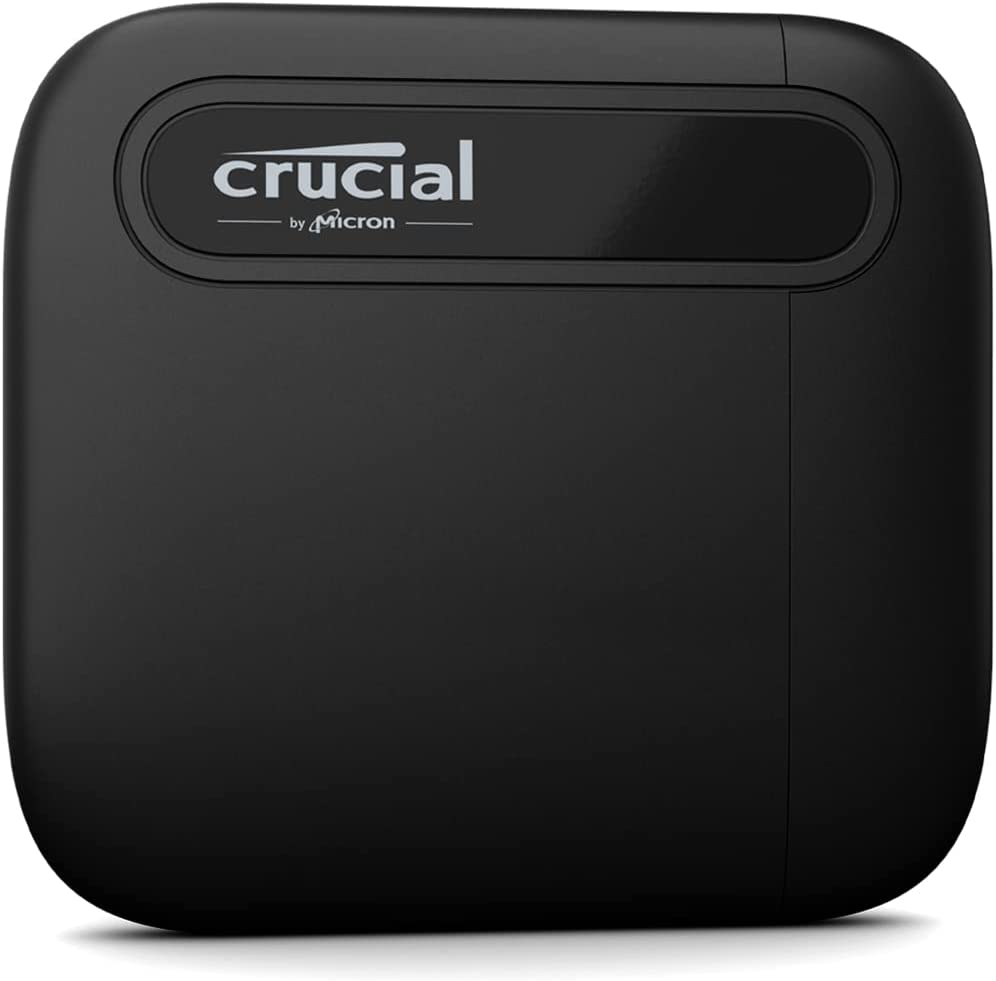 Backing up important data is crucial, so bring an external hard drive to store your files and documents. The importance of this increases if you are working with large files or require offline access to your data.
Our pick: Crucial X6 Portable SSD
10. Universal Travel Adapter
Different countries have different electrical outlets, so bring a universal travel adapter to ensure you can charge your devices wherever you go.
Our pick: Bonazza All-In-One World Travel Plug
The Workstation
11. Portable Laptop Stand
Use a portable laptop stand to elevate your screen to eye level to prevent neck and back pain. Besides promoting good posture, it will also help you work comfortably for longer periods of time.
Our pick: MOFT Invisible Slim Laptop Stand
12. Wireless Mouse and Keyboard
A wireless mouse and keyboard can help you work more efficiently and comfortably. These portable tools can also reduce strain on your hands and wrists, especially if you use your laptop for extended periods.
Our pick: Guiheng Wireless Keyboard and Mouse Combo
13. USB Hub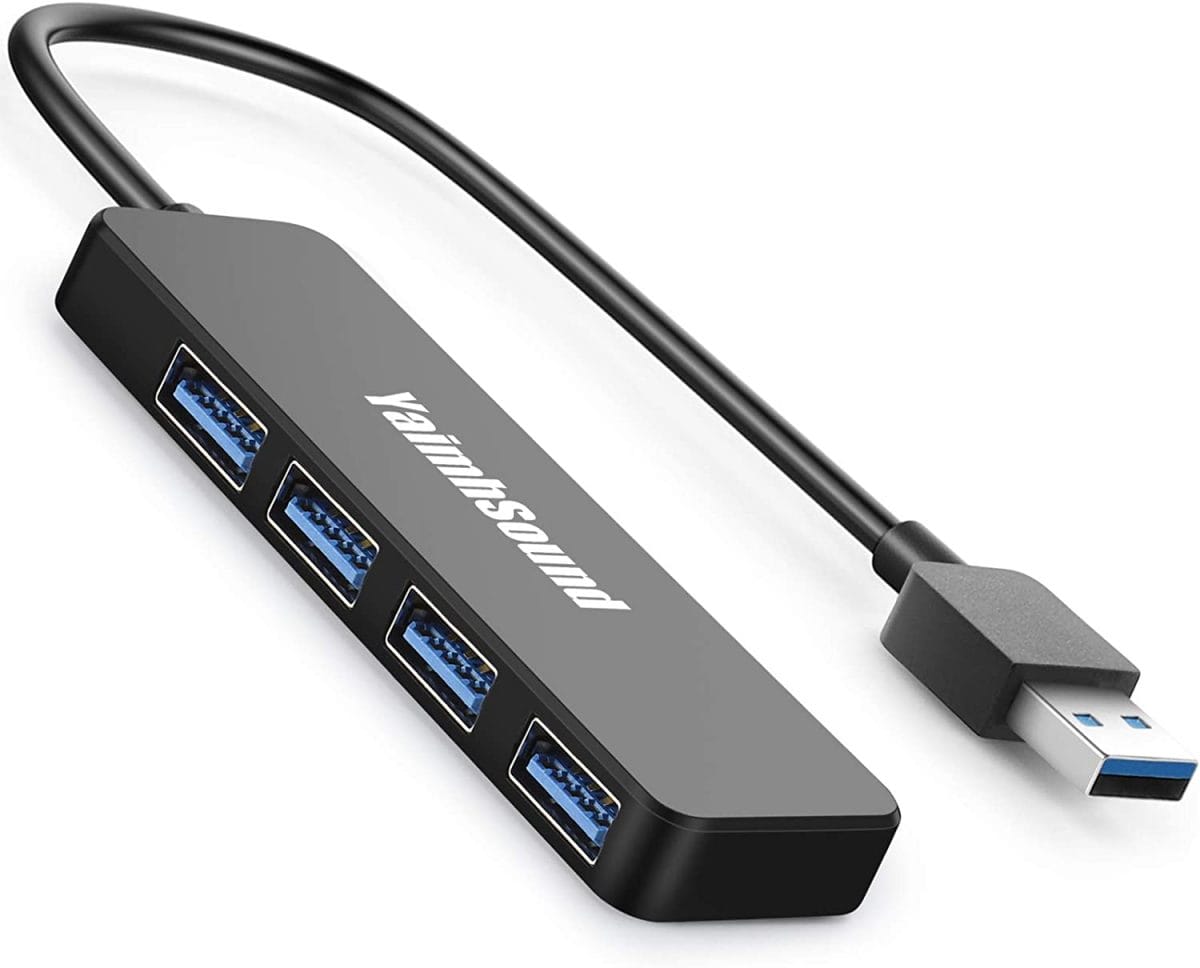 With a USB hub, you can expand the number of USB ports available on your laptop. It is particularly helpful if you are connecting several devices, such as printers and external drives.
Our pick: YaimhSound 4-Port USB Hub 3.0
Stay Healthy
Digital Nomad Packing List Female
14. Menstrual Supplies
You don't want to be caught without tampons or pads, especially far from home. While traveling, this will ensure that you are prepared and comfortable during your period.
Our pick: Saalt soft menstrual cup
15. Makeup and Skincare Bag
if you use makeup and have a skincare routine, you may want to pack a makeup and skincare bag with cleanser, toner, moisturizer, concealer, makeup brushes, etc. Remember to also pack any other items that are specific to your personal makeup and skincare routine.
Our pick: Nubily Makeup Bag
Digital Nomad Packing List Male
16. Shaving Kit
Add a razor or trimmer (whichever you use), shaving cream, lotion, aftershave, etc. to your kit, and you're ready to go!
Our pick: The Art of Shaving
17. Swiss Army Knife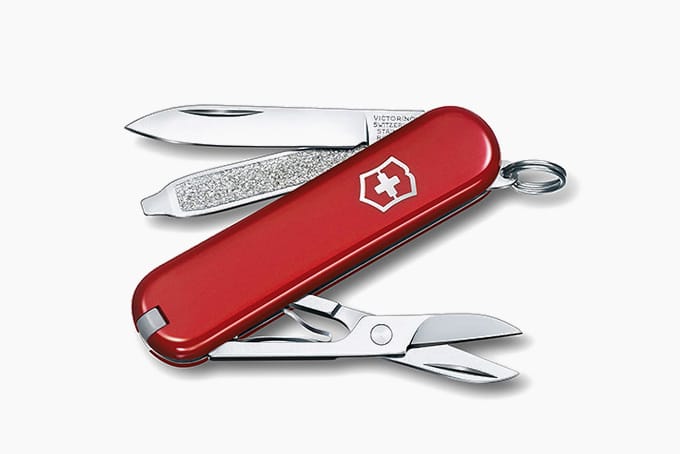 This amazing tool will not only pull you out of a pickle but will also file your fingernails and trim your hair.
Our pick: Victorinox Swiss Army Classic SD Pocket Knife
18. First-aid kit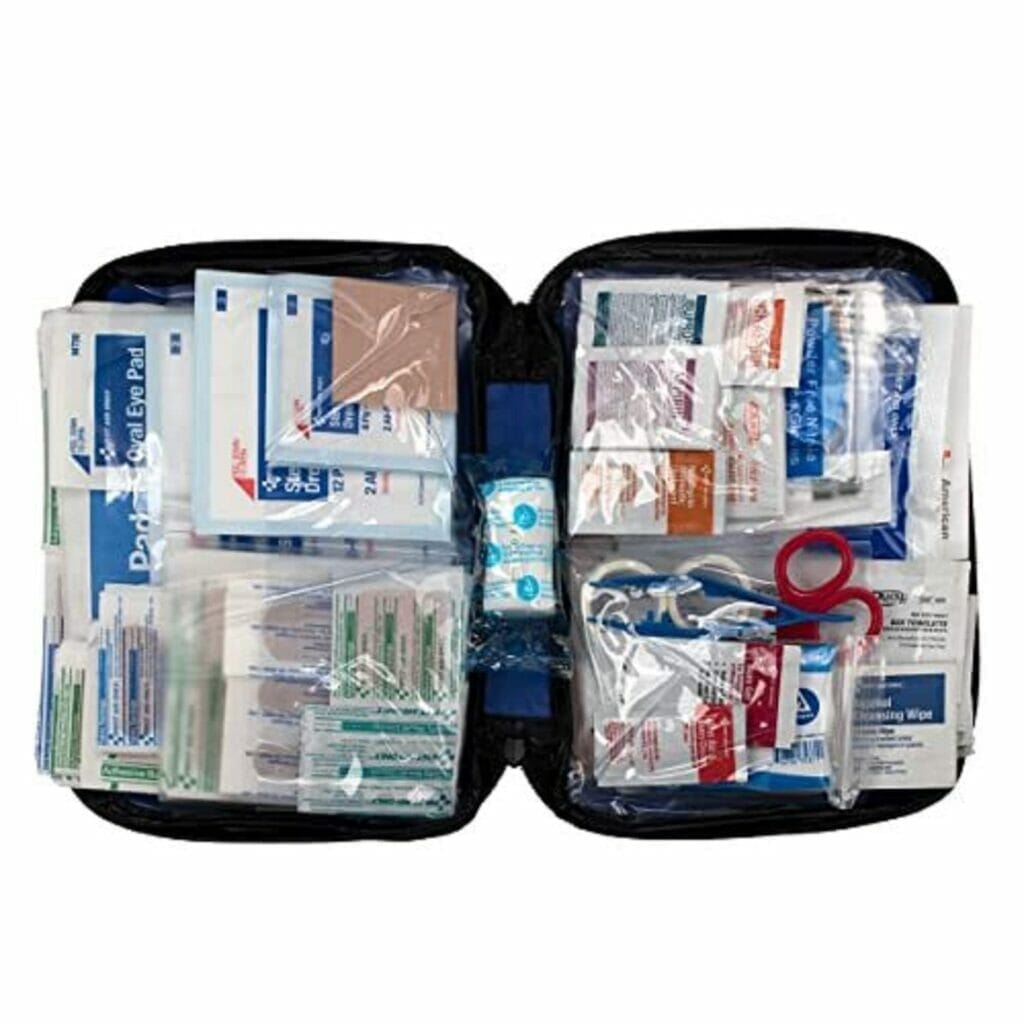 Packing a small first-aid kit with bandages, antiseptic cream, and painkillers can help you address minor injuries or illnesses while on the go.
Our pick: First Aid Only
19. Quick-Dry Towel
A quick dry towel is a type of travel towel designed to dry quickly and take up less space than a regular towel. It's a convenient and lightweight option for travelers who want to pack light.
Our pick: Rainleaf Microfiber Towel
20. Small Shampoo and Conditioners
Bringing small-sized shampoo and conditioners can save space in your luggage and ensure you have your preferred hair care products while traveling.
Our pick: TRESemme Moisture Rich Shampoo & Conditioner
21. Dental Set
Keep your teeth clean and healthy by packing a dental set, which includes a toothbrush, toothpaste, and dental floss.
Our pick: Dr. Fresh Travel Kit 3-in-1 Toothpaste/Scope
22. Hairbrush
A small hairbrush can help you maintain your hairstyle and keep your hair looking neat while traveling.
Our pick: Ancable Folding Hair Brush
23. Deodorant
Staying fresh and smelling good is crucial, so pack a deodorant that works well for you.
Our pick: Suave Deodorant Antiperspirant
24. Razor–Shaving Set
If you need to shave, pack a razor and shaving set to maintain your grooming routine while on the go.
Our pick: Gillette Sensor3 Sensitive Men's Disposable Razor and Gillette Venus ComfortGlide Disposable Razors for Women
25. Sunscreen
Protect your skin from harmful UV rays by packing a travel-sized sunscreen with a high SPF rating.
Our pick: Aveeno Protect + Hydrate Moisturizing Face Sunscreen Lotion With Broad Spectrum Spf 60
26. Nail Clippers
For hygiene's sake, keep your nails neat when traveling by packing a pair of nail clippers.
Our pick: 4 Pcs Nail Clippers For Fingernails and Tonenail by QLL
Eco-friendly Essentials
27. Reusable Water Bottle
A reusable bottle can help reduce plastic waste and save you money in the long run as you get access to tap water and it helps the environment. Look for one that is durable, leak-proof, and easy to clean.
Our pick: Hydracy Water Bottle
28. Reusable Shopping Bag
Bringing a reusable shopping bag can reduce the amount of plastic bags you use during your travels. A lightweight, foldable, and large-capacity one is ideal.
Our pick: Reusable Grocery Tote Bags-Hold
29. Solar-powered Charger
A solar-powered charger can help you charge your devices while reducing your carbon footprint. Look for one that is compact and has a high-capacity battery.
Our pick: BytePower Solar Power Bank
30. Portable Water Filter
A portable water filter can help you purify water from natural sources, reducing the need for bottled water and helping you save money. Look for one that is lightweight, durable, and easy to use.
Our pick: LifeStraw Personal Water Filter
Backpack and Luggage
31. Packing Cubes
Packing cubes can help you organize your clothes and save space in your bags. As a result, your belongings will stay wrinkle-free and will be easier to find.
Our pick: FiveRen Packing Cubes
32. Carry-On Backpack
Opting for a carry-on digital nomad backpack instead of a bulky suitcase can help you travel more efficiently and avoid baggage fees. Your nomadic backpack should have plenty of compartments and a comfortable, adjustable strap system.
Our pick: Travel Backpack for Men Women
33. Day Bag
A day bag is a smaller bag that you can use for sightseeing or running errands. Choose one that is easy to carry, lightweight, and has ample pockets for organizing your belongings.
Our pick: TOLOG Sling Bag
34. Waterproof Briefcase
If you need to carry a laptop or other electronic devices, a waterproof briefcase can help protect them from water damage. Keep this in mind if you are traveling to a humid or rainy location.
Our pick: Everest Carry-On Briefcase
Nomadic Wardrobe
35. Loose Sleeveless Tees
Comfortable and airy, loose sleeveless tees are perfect for warm weather and can look great with or without sleeves.
Our pick: Sunflower Vase Tank Top for Women Sleeveless
36. Shorts
Pack a couple of pairs of shorts in different lengths and materials, depending on your destination and activities.
Our pick: Goodthreads Inseam Shorts
37. Track Pants
These comfy pants are perfect for long travel days, lounging, or light exercise.
Our pick: Adidas Tiro Track Pants
38. Overcoat
An overcoat can keep you warm and dry in cooler weather or when it's raining. Look for one that is lightweight and packable.
Our pick: French Connection Teddy Faux Shearling Coat
39. Socks and Gloves
Keep your feet and hands warm and cozy with a pair of socks and gloves.
Our pick: Satinior Winter Combo
40. Sandals
A pair of comfortable sandals can be dressed up or down and are perfect for warm weather or beach destinations.
Our pick: Sandals by KEEN
41. Workout Shoes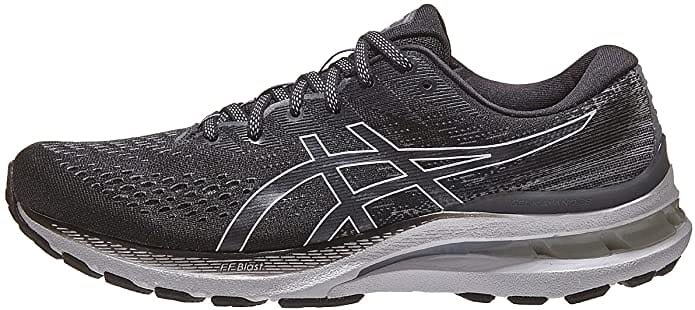 If you plan on staying active during your travels, remember to pack a pair of workout shoes that are comfortable and supportive.
Our pick: ASICS Gel Kayano
42. Sweaters and Hoodies
Layering is vital for travel, so bring a couple of light sweaters or hoodies that you can wear over tees or under jackets. These nomadic clothes keep you warm on chilly flights and look stylish with jeans or leggings.
Our pick: Gildan Adult Fleece Crewneck Sweatshirt
43. Sunglasses
Protect your eyes from the sun and look stylish with a good pair of sunglasses.
Our pick: Joopin Square Sunglasses
44. Rain Jacket
A lightweight rain jacket can be a lifesaver in rainy or unpredictable weather.
Our pick: Columbia Boys' Glennaker Rain Jacket
45. Bathing Suits
Remember to pack a bathing suit or two, even if you aren't going to a beach destination. You never know when you'll want to dip in a pool or hot spring!
Our pick: Speedo Women's Swimsuit and Amazon Essentials Men's Board Shorts
Travel Security
46. RFID-blocking Wallet or Passport Holder
Protecting your personal information when you're traveling is crucial, so consider packing an RFID-blocking wallet or passport holder to prevent identity theft.
Our pick: Travelambo Front Pocket Minimalist Leather Slim Wallet
47. Money Belt
A money belt is a great way to keep your cash and cards safe and hidden while you're on the go. Just keep it close to your body and out of sight.
Our pick: Money Belt Passport Holder
48. Padlock
Use a padlock to secure your luggage and prevent theft. Look for a sturdy, TSA-approved lock that can withstand rough handling.
Our pick: Forge Black 4 Pack TSA Approved Travel Luggage Locks
49. Portable Door Lock
A portable door lock can add an extra layer of security to your hotel room or Airbnb. It's easy to use and can give you peace of mind knowing you're safe and secure.
Our pick: TMIBC Portable Door Lock
50. Personal Safety Alarm
In an emergency, a personal safety alarm can help you attract attention and deter potential attackers. Look for a loud alarm that's easy to activate in a crisis.
Our pick: Fosmon Personal Alarm
Nice to Have
Other items to consider in your digital nomad gear include:
51. Premium VPN
You'll use a lot of public Wi-Fi, so paying for a premium VPN can provide an extra layer of security.
Our pick: Nord VPN
52. Kindle
An e-reader is a great way to save space and weight in your bags while still having access to various books to read on your travels.
Our pick: International Version – Kindle Paperwhite
53. Notebook
A notebook is handy for jotting down ideas, making to-do lists, or keeping a travel journal.
Our pick: Amazon Basics Classic Notebook
54. Pen
A pen is essential for filling out forms or jotting notes in your notebook.
Our pick: Cekaso Gel Pens
55. Sleep Mask
A sleep mask can help you rest better, especially if traveling across different time zones.
Our pick: Sleep Master Sleep Mask
56. Travel Neck Pillow
Enjoy added comfort and support during long flights or bus rides.
Our pick: napfun Neck Pillow for Traveling
57. Umbrella
During unexpected downpours, umbrellas can come in handy.
Our pick: Repel Umbrella Windproof Travel Umbrella
6 Things to Avoid Packing As A Digital Nomad
1. Big Shoes
Unless you're going to the beach, you don't need more than two pairs of shoes.
If you take comfortable shoes for walking and some flip-flops for the beach, you'll be fine. And you'll save tons of luggage space.
2. Books
If you love to read, consider buying a Kindle or downloading your favorite books on your laptop or iPad. It'll save you a lot of trouble when packing. If not, you can pick one or two books to carry while you travel, and when you finish with them, start buying some new ones.
3. Excessive Coats
Though it's nice to feel fashionable, it's tough for a digital nomad. When you pack, take one coat and one rain cover, only if you know it can get cold while you're there. These two will prevent you from any unpredictable weather.
4. Hairdryer
You won't need to worry about blowing a fuse if you don't have a converter in a foreign country if you tie your hair back or let it air dry.
In case you still insist on having a hairdryer, you can buy a cheap and small one in the destination – at least that way you know you're using the correct voltage.
5. Bulky toiletries
Toiletries can quickly add weight and take up space in your luggage. Opt for travel-sized toiletries or buy them at your destination.
6. Non-essential Gadgets
It's tempting to bring all your gadgets, but as a digital nomad, you should only take what you need. Leave behind non-essentials like gaming consoles and unnecessary chargers.
All Things Packed?
You know all the must-have items for a digital nomad now. So, are you ready to set up the luggage? While you do it, you can inspire yourself by watching this list of digital nomad movies (and learn more about the nomadic lifestyle and its highs and lows).
Preferences will always vary when you're packing, depending on the destination you're visiting and the digital nomad you want to become. But one thing is for sure; you have to travel comfortably.
Avoid those items you never use when you visit a foreign country and prioritize the essential ones.
FAQ
What should a digital nomad pack?
As a digital nomad, you want to pack as lightly as possible while still having all the essentials to work and live comfortably. Some must-haves include:
* A reliable laptop
* A good quality backpack or carry-on suitcase
* Comfortable clothing suitable for different weather conditions and environments
* A versatile pair of shoes
* A water bottle
* A portable charger
* Necessary travel documents such as passports, visas, and insurance
What work equipment do digital nomads need?
Digital nomads need a reliable laptop and a fast internet connection to work remotely.
In addition to a laptop, consider packing a portable monitor, a wireless mouse, noise-canceling headphones, and a backup hard drive. A virtual private network (VPN) is also helpful for secure internet browsing and accessing geo-restricted content.


How can I travel as a minimalist digital nomad?
To travel as a minimalist digital nomad, you should focus on packing only the essentials and avoiding unnecessary items. Invest in high-quality, durable gear that will last you for years, and choose versatile clothing that can adapt to different climates. Consider using packing cubes or compression bags to maximize space in your luggage, and be mindful of the weight and size of your items to avoid excess baggage fees.


How many belongings do you carry as a digital nomad?
The number of belongings a digital nomad carries can vary widely depending on personal preferences and travel style. Some digital nomads travel with just a backpack or carry-on suitcase, while others may also have a checked bag. In general, it's a good idea to pack light and focus on essentials, but also consider any additional items necessary for your work or personal life, such as camera gear, musical instruments, or sports equipment.