Have you been thinking about taking the leap and hitting the road for good? If you haven't yet gone on your adventure, you probably need the courage to push you in the right direction. This is where movies about nomads come in. 
Movies are the perfect way  to find the inspiration you have been looking for to finally make the big shift. After all, you can easily relate to the struggles and stories of other nomads and remind yourself that you are not alone. 
Below are some top movies about nomads that will inspire you to travel the world.
Movies About Nomads That You Cannot Miss
1. Nomadland (2020)
Nomadland is a story of a sixty-year-old woman who loses everything she owns due to the Great Recession. She mourns the death of her husband and decides to embark on a journey through the American West. 
All she has is a van as she makes her way through the roads. The coolest thing about this movie is that it features several real-life nomads who play a fictional version of themselves. This movie is the inspiration you need if you are looking for motivation to set foot outside your comfort zone. 
2. Into the Wild (2007)
Into The Wild is based on a true story of a college graduate, Chris McCandless, who abandons all his possessions and donates savings to charity to hitchhike across North America. The reason behind this drastic change is that the protagonist wants to build a home for himself in the Alaskan wilderness.
The movie is based on the book 'Into the Wild', authored by Jon Krakauer, which paints an inspiring yet tragic journey. The good news is that this is one of the best movies about nomads, with an awesome list of travel songs and a real story to back it up! 
3. Wild (2014)
The star of Wild, Reese Witherspoon, sets out for a solo hike and works on overcoming a tragedy. Things become interesting when she realizes that she has no experience living alone and spends the journey figuring out life on her own. 
The main character faces challenges such as learning to sleep in the wild and learning to search for her meals. In the end, you will be inspired and impressed to find your own calling. Wild is one of the best nomad movies because it covers the process of being independent and healing. 
3. Eat, Pray, Love (2010)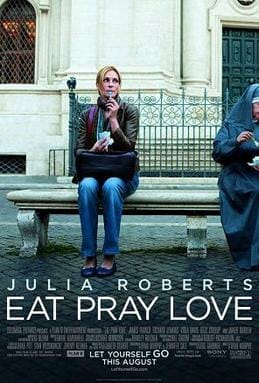 Eat, Pray, Love follows the story of a woman who wants to discover herself as she travels to various countries. Julia Roberts, as the main character, searches for peace in every corner of the world she visits.
On the screen, you will see her enjoying the delicious cuisine of Italy because that is the world capital for food. Then, she moves on to discover the power that prayers hold the capital of spirituality, India. Finally, it is in Bali, an exotic and beautiful location, that she finds the balance she has been looking for. 
If you have been searching for a sign to kickstart your journey of self-discovery, then this is it. Watch this movie to motivate yourself to find who you are and what matters most! It is also a wonderful way to admire the beautiful landscapes and learn all about them!
4. Expedition Happiness (2017)
Expedition Happiness is a digital nomads documentary that you absolutely cannot miss out on. It's an uplifting story of two free spirits who hit the road for a fun adventure with their dog. If you also yearn to leave your hometown behind, you will relate to their journey to discover new places. 
The film covers the exciting transformation of the pair's old school bus into a fully functional motorhome. Then, they take their pup along to travel across the country. But the couple also faces many challenges throughout their time on the road. They soon overcome these problems, making this an interesting nomad life documentary. 
5. The Way (2010)
The Way is definitely one of those movies about nomads that will have you reaching for tissues. It is a story that follows the story of a father who visits France to claim the body of his son, who died on the trek through the Pyrenees. 
Upon reaching the country, he makes the decision to hike up the El Camino de Santiago, which happens to be the location where his son died. The father takes his son's ashes up the trail to finish the journey on his behalf.
You will see that throughout the hike, the protagonist encounters several other hikers who are searching for something. One of the best things about this film is that it features various stunning landscapes of Europe!
6. Tracks (2013)
One of the top inspiring movies about nomads is Tracks, which follows the story of Robyn Davidson. Robyn is a 27-year-old woman who decided to hike across Australia on her own. She takes her dog and four camels to make her way through the desert. By the movie's end, the brave protagonist reaches the Indian Ocean, all the way from Alice Springs.
If you are searching for inspiration in your life, this movie is what you need. It is an impressive story about courage and self-discovery, based on a true story!
7. The Secret Life of Walter Mitty (2013)
You cannot have a list of movies about nomads and not find The Secret Life of Walter Mitty on it. A popular travel film, this movie will help you explore life outside of your comfort zone. It follows the life of Walter Mitty, who has been working at Life Magazine for the last 16 years.
Given that he is stuck in a rut, the protagonist often daydreams and concocts fantasies in which he is the hero. But he also goes on a real adventure when his boss asks him to find the perfect picture for the magazine's final issue!
Though this film is not about an actual nomad, it shows that anyone can be an adventurer.
Final Words on Movies About Nomads
If you think about it, your favorite movies are usually those you can connect to or relate to. What makes these movies even better is if they inspire you to live the life you have always wanted.
So, if you want to change your lifestyle or live a life of freedom, it is time to make some popcorn. Settle in for an early night on the weekend, and feel free to watch any of these movies about nomads!