The tech industry is always booming, and from 2020 onward, it started garnering attention from even the most unlikely consumers. From young children to elderly people in their eighties, everyone favors tech products and services. With the onset of the pandemic, more reliance on tech has become inevitable. This surge of new and recurring consumers and the expansion of the target group in the tech industry led to more vacancies in the tech support job market.
What is Tech Support?
Tech support is all about solving tech related problems ranging from software issues to computers, printers, mobile phones and all the other electronic and mechanical products. Anyone working as a Tech support professional provides services to help colleagues and clients solve common software and hardware related problems.
This job can easily be done over email or chat. As a tech support professional, one can easily communicate with colleagues and clients via some special software as well. This is why tech support jobs can be taken up by those who choose to work remotely too. Familiarity with technology, software and various devices helps tech support experts to solve all kinds of problems even when they're not physically present in the office.
How Can I Apply As Tech Support Without Any Experience
With remote work becoming a worldwide norm, there's no better time than now to get a tech job at home! If you're worried about not having a formal education in tech, you need to toss that aside. Approximately 66% of developers are self-taught! If that's the case with developers, then a tech support role is much easier to learn yourself. A formal degree in tech is always a plus, but tech is one such industry that needs more practical knowledge and implementation than theory on a regular basis. However, to land a tech support job at home, you do need to know what to do and how to do it. Fret not. You can learn while you're already working.
Your Responsibilities in a Tech Support Role
If you're wondering what will you be asked to do in a tech support role from home, here are some of the common tasks that you will be responsible for:
Maintain and monitor computer networks and systems.
Explain a series of actions to employees or clients over a virtual meeting to help set up their systems or to resolve issues.
Troubleshoot network and system problems.
Help remote teams with written and diagrammatic instructions to repair system or network faults.
Help employees and teams with installation of new applications on their devices.
Set up new user accounts and profiles.
Establish a good professional rapport with other employees, such as software developers.
Constantly be on the lookout for new technology that can help the organization.
The Top 5 Steps to Land a Tech Support Job at Home
If you're enthusiastic about all things tech, this job is for you. Also, since this will be a remote role, you must be good at communication and at providing prompt support whenever your colleagues need it. If all of this sounds like you, read on to know the 5 steps that will help you land a tech support position at home!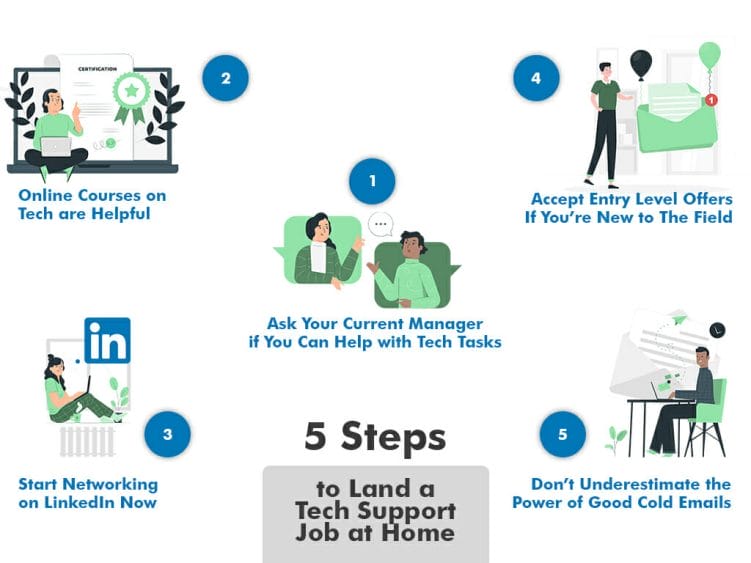 1. Ask Your Current Manager if You Can Help with Tech Tasks
Are you already working with a company? Even if you're an intern and working in a department other than IT, there's good news! You can ask your manager if you can take on some additional tech tasks. If you're allowed to then, there's a lot that you can do. From helping the web developer develop or design the company website to assist the current IT team in resolving software issues, you can contribute and learn a lot.
Not only do you get some hands-on experience in dealing with tech systems, apps, and networks, but you also get brownie points from your management for helping and supporting your colleagues! Get ready to see a good recommendation from your manager with a mention of your additional experience with "tech support.''
2. Online Courses on Tech are Helpful
If you're a complete newbie to tech support but are eager to learn and implement, there are many tech courses available online. These courses are not expensive and can help you go from amateur to pro in no time at all. If you're clueless about which course to take and where to look for it, these are some great courses you should consider:
HTML and CSS
Basics of programming languages like JavaScript, Python and Ruby
The programming languages and HTML are optional if you'd like to add more tech knowledge to your resume. The Help Desk Analyst course will help you with everything you need to know about a tech support role and how to execute the tasks.
Where to Look for the Courses
These are some of the popular sites that offer inexpensive online courses.
3. Start Networking on LinkedIn Now
Have you ever used LinkedIn? If you have, congratulations! You already have a network, whether it's small or big, it doesn't matter. If you have never used LinkedIn before, nothing to worry about. There's always a first time!
LinkedIn is a very powerful professional networking platform that allows you to reach out to relevant people who can provide you with tech support job opportunities! From recruitment staff to founders and CEOs, you can find many professionals to connect with.
Professional networking is very important. Networking via digital platforms is a great method to build powerful connections, especially because you're looking for a tech support job from home.
Here are some things you can do on LinkedIn.
Create a profile with a professional picture, summary, work experience, educational background and a lot more.
Connect with professionals from the tech community like developers, UI and UX designers, IT admin, network security, etc.
Ask your known connections like your reporting manager or colleagues from the same industry for testimonials and recommendations for tech related skills! This can add credibility to your profile.
Post content that revolves around your tech experience and expertise. Let recruiters know your talent and that you're looking for a tech support job at home!
Showcase the tech projects you've worked on or helped your team with on your profile in the form of a presentation or a document.
Apply for tech related jobs! LinkedIn's job feature is easy to understand and also has multiple filters like location, industry, etc to help you find your tech support job. You can also set up notifications for a particular kind of job and whenever there's a new job posting for that, you will be notified!
Learn via LinkedIn learning. If you take up premium membership which will cost you roughly 20 USD per month, you will have access to unlimited courses that will help you upgrade your skills from time to time.
These are just a few of the things that you can do on LinkedIn. Once you're on it, you'll be able to explore a lot more.
Professional networking can help you get a job way sooner than you expect, so take this point very seriously! If you're consistent in networking with the right people, you will land a tech support job in no time.
Learn more about professional networking here.
4. Accept Entry Level Offers If You're New to The Field
Is this your first time working in the tech field? If yes, then you must not shy away from accepting entry-level opportunities. However, you must check the advancement and scalability of the position you're applying for. If there is scope for growth, which most times there is in the tech industry, consider taking up the role.
We suggest that you run a thorough research about the companies you're applying to before hitting the "apply" or "send" button. Remember that factors such as whether or not they allow remote work will come into the picture. You're looking for a tech support job at home.
While you do all of this, it is important to understand that the salary range might not be the same as you were expecting if you're inexperienced in the position. If this is what you'd like to do in the future, you can go ahead and apply! As we said before, the tech industry is always booming so you have some level of professional security to lean on.
Not to forget, working from home cuts down a lot of expenditure that would otherwise come with commuting. so the pay cut you might take because you're shifting your work profile might just get compensated here!
With remote work, there are other perks like a better work-life balance and some more "me" time to do other things that you love.
5. Don't Underestimate the Power of Good Cold Emails
As someone who is looking out for a tech support job from home, wouldn't you want to work in a company you like? Maybe there's a company you always dreamt of working for but because of the geographical distance, you couldn't really apply.
Remote work has made the world smaller and distances shorter than we could ever imagine. Write out a fantastic email, attach a good cover letter with links to some of your tech support work or projects and send that out to the HR department of your dream company.
They might or might not have a tech support vacancy, you might or might not have the desired work experience but if you never take that chance, you'll never know.
Create a list of all the companies you'd like to work for and send out a good cold email to all of them. A piece of advice here would be to also look for the HR manager (the one you're sending an email to) on LinkedIn.
A few points to remember while writing a cold email for your job:
Be clear in your subject line. Don't beat around the bush and don't make it too long, else your email will end up in trash.
Keep your tone semi-formal. Don't make it very textbookish but don't talk about your favorite coffee either.
Keep the body very short and to the point. Let the company know that you're keen to work with them and most importantly why them? Also, remember to mention that you're looking for a "remote" position.
Don't forget to type out a little about your tech support experience in just one sentence and link it to your LinkedIn profile.
If you do have the email addresses of their IT staff, you can mark them CC in your email so that they can analyze your work and skills. This could shorten the process and maybe impress the IT team as well!
Don't forget to add your contact information in your email signature.
Your Tech Support Job is Waiting For You
It is always good to be confident and positive. That's half the battle won. The other half is all about your determination, planning and technical skills upgrading over time! This guide should help you start and keep at it so that you land your tech support job at your dream company soon.
If you forget which courses to take or feel less motivated to send out those cold emails, you can always return to this guide so don't forget to bookmark this page!
Break a leg!