Are you looking for home office ideas? We know how important it is that your working space supports you to do your best, whether you need a quiet space for focus or something that stimulates your creativity.
Thi is the perfect time to make or upgrade your home office space. That's why we've pulled together some of our favorite ideas for upgrading your space to give you decoration inspiration.
Home Office Ideas for All Spaces
We know that not everyone has the same amount of space to dedicate to their home office. So whether you're grabbing some space on the dining room table or you have the budget for a full-blown garden office, we've got you covered.
Packaway Office Ideas
If you can't make a dedicated space for work, you might find an 'office in a box' that helps you get into the mood for working. When you start your day, you can just unpack your box and have everything you need to hand.
Packaway Desk from Paperchase
Designed to look like a box file, this pack-away desk will store notepads, pens, and other home office essentials neatly, letting you keep everything neat and tidy for the next day.
Storage Cart
Another option is a pretty and functional storage cart that can be rolled out of a closet when its time to work and let you keep everything at hand.
Temporary Home Office Setup
The next step up from working at your dining room table is having a desk to work at, but what if you don't have the space to have a desk when it isn't in use? Here are some ideas for desks that can be folded up or otherwise hidden when you clock off.
Haefner MC Secretary Desk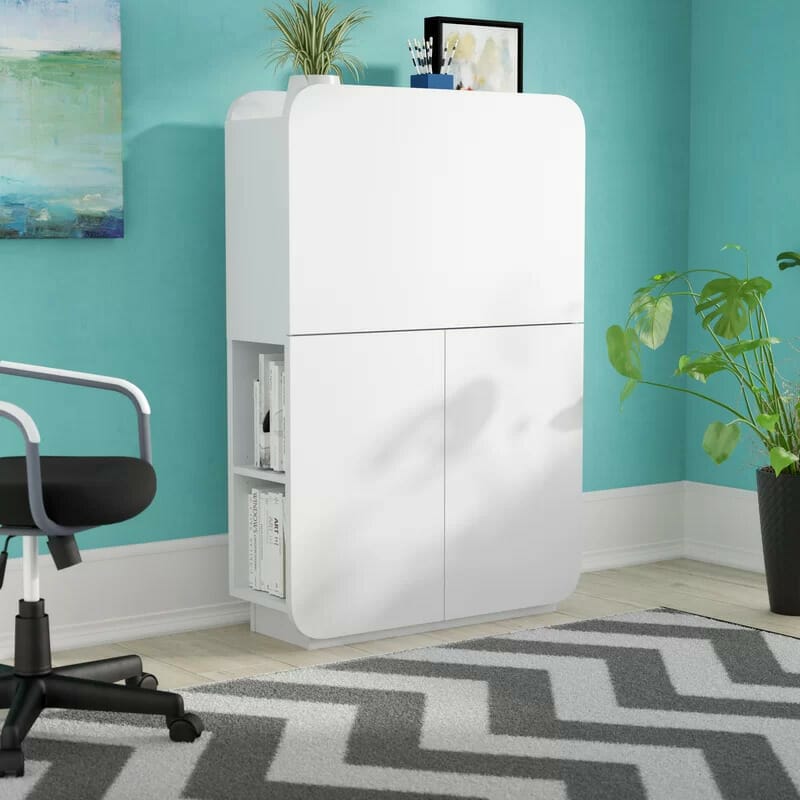 With a desk space of 49 x 76cm, this unit folds away to just 16.5cm deep, meaning you could even place it in a corridor to give you a working space. It's an attractive design that packs in lots of storage for your small home office.
Chalkboard Desk
When is a chalkboard not a chalkboard? When it's a desk! This compact unit is 36 x 24" and just 5" deep, but when it folds down, it gives you a good amount of desk space and storage for your office essentials. Turn any wall into a home office wall!
Minimal Space Home Office Setup Ideas
Floating Desk
The desk part of this unit folds down when not in use, letting you quickly and easily transform a set of shelves into a usable workspace. It's available in a range of shades to suit your look.
Ladder Desk
Perfect for a loft-style design, ladder desks provide you with a permanent desk that doesn't take up too much space. With built-in storage, you can design a home office layout in even the smallest of rooms.
Read our guide to: Which is the best ladder desk for your home office?
Window Desk
Do you have a great view to take advantage of? Then consider this window desk that attaches to glass with suction pads. You can use it as a standing desk or put it at a seated height if you prefer to partner it with a chair.
A Dedicated Room
If you're fortunate enough to give over a whole room to your office, you might be wondering what is the best room for a home office?
The answer will, of course, depend on what space you have available in your home. Many people use their smallest bedroom as an office, giving them a space they can close the door on at the end of the day, but the dining room is another popular choice as it isn't in use during the day at all. Here are some of our favorite home office setup ideas when you have a whole room to play with.