Imagine visiting the colorful cities in Colombia, admiring Iceland´s natural landscape, or immersing in the chaotic and vibrant Bangkok. They all sound like a great option until you realize your bank account doesn´t match your trip´s prices. You start looking for closer and cheaper locations, and in a matter of minutes, you lose all motivation. Traveling is expensive, especially when you don´t know more applications besides Booking or Airbnb.
Couchsurfing apps have been a great ally for those travelers and backpackers looking to travel the world in the cheapest way possible. Instead of visiting just one or two countries, they can go to 5 or 6 and still spend half the regular accommodation prices.
How? We´ll tell you everything about couchsurfing in this post.
What is Couchsurfing?

The term "couchsurfing" refers to staying at someone else´s home while they travel or when they have extra space.
Think about when you crashed at your friend´s house after a night out. Or when you had a movie marathon, and you were too tired to go to your house, so you slept on their couch or extra room. Couchsurfing refers to exactly the same, although with strangers.
The term came to life when traveler Casey Fenton was looking for an inexpensive way to visit Iceland. He launched the Couchsurfing website to connect travelers with locals and provide a cheap accommodation alternative.
8 Best Couchsurfing Apps
1. Couchsurfing
Couchsurfing.com is the pioneer of all couchsurfing websites.
The concept behind the app is simple: Create a network and hospitality service where travelers can request homestays.
Users pay a monthly membership, and when traveling, they get in touch with locals who want to welcome them into their houses. And hosts won´t charge you anything for letting you stay at their home.
Nowadays, the website has a massive community of over 15 million travelers and 400,000 hosts! Think about the endless possibilities of visiting countries and having a fully authentic experience by staying with locals.
Cost: $3 monthly fee
2. HomeStays
Among the best surfing apps, you´ll find HomeStays at the top of the list. The app connects you with locals who allow you to stay at their homes at a fraction of the cost of a regular Airbnb or hotel.
The application is part of Booking but is more in the low-cost category. Unlike Couchsurfing, you don´t need to pay a monthly or yearly fee, but you do need to pay a small fee at the host´s discretion. The good news is that you get an entire room for yourself instead of a couch.
The application has over 33,000 homes in 176 countries!
Cost: Depends on the host
3. Servas
Servas is one of the safest couch apps due to its rigorous process to become a verified traveler or host.
The application consists of a cultural exchange program that allows hosts to open their homes to guests traveling or studying abroad.
When you apply, you´ll first have an interview with a Servas representative; you´ll also need references and pay a small application fee. Once accepted, guests receive a certification that qualifies them as Servas guests.
The only difference between this and other applications is that you´re only allowed to stay for three days. Accommodations are complementary, so you won´t pay anything else besides the membership fee.
Cost: $33 annual fee
4. TrustedHouseSitters
As the name suggests, TrustedHouseSitters is used by people with pets or homes that need maintenance and are looking for someone to take care of them while letting them stay for free!
One of the best things about this couchsurfing alternative is that you´ll get to stay at luxurious homes. Breathtaking villas in Italy, outstanding beach houses in Brazil, or cozy cottages in England!
However, the downside is that you won´t have much time to explore as you´ll need to spend more time taking care of the pets or fulfilling the tasks the host demand.
Cost: $129/year (Basic sitter), $169/year (Standard sitter), or $259 (Premium sitter)
5. HouseCarers

HouseCarers has the same concept as TrustedHouseSitters. You contact homeowners who will let you stay in their house in exchange for you taking care of it. Whether it's pets or plants, your tasks are simple.
Getting free accommodation with HouseCarers is as simple as creating a profile, searching for potential housesitting options, and waiting for the notification that says you have a match.
Cost: $50/year fee
6. WarmShowers
WarmShowers is the perfect surfing app for cyclists. It´s perfect for those who share a love for traveling and cycling in a single experience. The platform is a non-profit hospitability exchange service, which means hosts are not supposed to charge for lodging.
How does it work? You become a member, find a host in the location you´re interested in visiting, and that´s pretty much it! The concept is that someday you return the favor to another cyclist.
The application gathers 85,000 cyclists who are happy to open their homes to other cyclists. It´s the perfect way to meet locals, learn more about the place you´re visiting, and how avoid tourist traps.
Cost: Free (you can donate to support the platform)
7. BeWelcome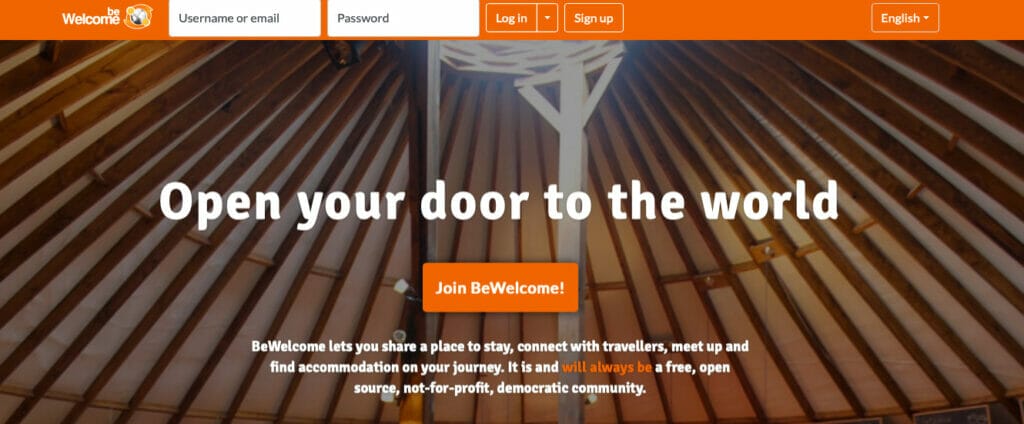 BeWelcome is a nonprofit hospitality exchange platform where guests can find hosts ready to welcome them worldwide.
This app differs from others because hospitality is not exclusively in terms of accommodation. While some offer a place to sleep, other hosts focus on showing travelers the local sights or meeting up for a drink. 
Cost: Free
8. TrustRoots
TrustRoots is a hosting network of travelers and nomads that allows those to connect with each other and, besides accommodation, exchange tips and experiences.
The app differentiates itself from other couchsurfing platforms because of its size. It's relatively smaller than the others, with only 70,000 members, it may be difficult to find several accommodation offers.
TrustRoots is mostly related to the niche of those who travel more fluidly, such as hitchhikers or digital nomads.
Cost: Free
FAQs – Using Couchsurfing Apps
1. Is Couchsurfing App Worth It?

It depends.

Couchsurfing apps might not be the best option if you're seeking comfort when traveling.
In some cases, if you're lucky, you might have a room for yourself or a comfortable bed, but the concept of most of these applications is having a spot to sleep – usually a couch. 

It's a great alternative for those who want to travel the cheapest way possible, and it has collateral advantages such as getting to know locals and having a better experience in your destinations. 
2. Is Couchsurfing Safe?

When deciding which Couchsurfing app you want to use, check out the reviews and the features. Now, most of them allow you to rate previous hosts and give reviews, so you can consider these things when choosing a host. 

Couchsurfing.com, for example, has a Trust and Safety team to ensure that users are always safe or to help them in cases of an incident. 

Some basic safety tips are:
* For female travelers, it´s advised to look for other female hosts.
* Know the local police number and emergency contact.
* Always keep your phone with you. 
* Review profiles and references carefully (even the positive ones).
3. Couchsurfing Pros and Cons

Pros:
* Meeting locals and their culture first-hand.
* Cheap accommodation.
* Increase your network.
* Opportunity to taste real, local food.
* Cultural exchange.

Cons:
* Works mostly for short-term trips.
* Uncomfortable sleeping conditions in most cases.
* No privacy.
* Difficulty in finding hosts.
* You'll need to adapt to your host´s schedule.
Save Money While Traveling the World
Traveling the world consumes a lot of money when you think of experiences, accommodations, transportation, and food. And while the "You Only Live Once" mindset can be the perfect excuse to forget about your bank account and responsibilities and book that trip once and for all, it can also lead to regret or experiencing high peaks of stress when returning.
It´s not about not traveling at all, but it´s about traveling smart. In this case, couchsurfing apps are a great alternative to expensive accommodations. You can get to travel the world while still saving money!