Is There Such a Thing as Remote Jobs for Women?
Honestly, no. There are no jobs that are better for women than men. As women, we are capable of doing everything we set our minds to. The key is to look for opportunities that make us passionate in healthy environments where we can grow while learning.
Unfortunately, since the beginning of days, professional development has been way harder for women than men. This is why some businesses have toxic environments while other female-friendly companies focus on gender equality.
In this article, we'll target those companies that are currently offering online jobs for women at home or for those who want to travel the world and take work with them. And we will also share inspiring stories of women thriving with remote work!
11 Best Companies Offering Jobs for Women at Home
These are the 11 best companies for women working from home with their remote job offerings, according to a study conducted by FlexJobs. The rankings were calculated by reviewing the employees' perception of the company when supporting women in the workplace and showing a positive work environment.
1. Hubspot
Hubspot is an inbound marketing and sales platform that provides companies with solutions to attract visitors and convert leads. It provides software, support, and different services in more than 90 countries. The company focuses on helping companies successfully attract and sell their products and services.
Available remote jobs:
Senior Partner Marketing Manager
Senior Product Designer
Recruiter
Program Manager
2. Adobe
Adobe Inc (Adobe Systems Incorporated) is a multinational computer software company known for its creative and multimedia software products. Among its products, you'll find Photoshop, Acrobat Reader, Illustrator, among others. The company focuses on providing customer-focused solutions for web-based applications and content development.
Available remote jobs:
Talent Partner
Senior Writer
Senior Product Marketing Manager
Marketing Analyst
3. CVS Health
CVS Health is a leading health solutions company and the largest provider of health care services and prescriptions in the United States. The company offers affordable, high-quality care, wellness, and preventative services.
Available remote jobs:
Work Force Planning Coordinator
Senior Enterprise Integration Architect
Director Medicare Advantage Member Materials
Product Strategy and Operations Manager
4. LHC Group
Louisiana Health Care Group (LHC Group) is a national provider of in-home healthcare services and innovations for communities around the United States. It focuses on providing quality, value-based healthcare to patients from their homes or places of residence.
Available remote jobs:
Healthcare Recruiter
Telemonitoring Coordinator
Talent Management Contract Consultant
Payroll Systems Analyst
Check out all their current open positions here!
5. RingCentral
RingCentral offers cloud-based communication and collaboration products and services for businesses. It provides communication solutions such as messaging, video, phone, and contact center services.
Available remote jobs:
Technical Writer
Senior Product Counsel
Training Specialist
People Partner
6. Facebook
Facebook is one of the biggest and most popular social media and social networking services. The social network connects billions of people around the world. Currently, it has over 2.9 billion mostly active users (Statista).
Available remote jobs:
Technical Recruiter
Data Scientist, Machine Learning – Product Analytics
Quantitative Market Researcher
Product Designer
7. Microsoft
Microsoft is a multinational tech corporation that focuses on producing computer software, consumer electronics, computers, among other services. The company's vision is to "empower every person and every organization on the planet to achieve more."
Available remote jobs:
Senior content developer
Senior Paralegal, Trademarks
Senior SEM Marketing Manager
Senior Marketing Manager
8. Farmers Insurance
Farmers Insurance is an insurer group of automobiles, homes, and small businesses. The company also provides other insurance and financial services products. It currently has more than 48,000 exclusive agents and 21,000 employees.
Available remote jobs:
Bilingual Customer Service Associate
Customer Service Representative
Electronic Document Procesor
Marketing Manager
9. PRA Health Sciences
PRA Health Sciences is a global contract research organization that focuses on helping companies develop life-improving and life-saving drugs and diagnostic tools.
Available remote jobs:
Clinical Trial Assistant 2
Principal Statistical Programmer
Recruitment Manager
Outsourcing Coordination
10. Concentrix
Concentrix is an American company that specializes in customer engagement and business performance. It offers knowledge-based sales and support services to help businesses measure customer satisfaction.
Available remote jobs:
Associate Director, Digital Advertising
Technical Support and Customer Care Specialist
Sales Recruiter
Customer Service Representative
11. Thomson Reuters
Thomson Reuters is a provider of business information services. It operates through services such as Legal Professionals, Corporates, Tax & Accounting Professionals, Reuters News, and Global Print. In 2018, the company was named one of America's Best Employers for Women by Forbes.
Available remote jobs:
Global Capital Markets Senior Legal Editor
Senior Associate Editor – Trusts and Estates
Content Strategist
State Tax Attorney Editor
Concerned you won't have time for yourself? Check out these remote jobs for night owl women.
How Does Work From Home Work for Women
Two years and a few months into the pandemic, women have gained more representation, especially regarding leadership positions. And overall, women prefer remote work more than men.
According to a FlexJobs survey, 68% of women preferred to work remotely post-pandemic, while 57% said the same. Additionally, 80% of women ranked remote work as a top benefit, while only 69% felt the same way.
Despite the preference and the increase in their representation, according to Women in the Workplace 2021 study by McKinsey & Company, women are now significantly more burned out – even more than men. 79% of men stated they'd had a positive work-from-home experience during the pandemic, compared to 37% of women.
There are different reasons why they are more burned out. In some cases, women of color have struggled more to gain visibility and equal benefits than white women and overall men. In other cases, the report shows how women still take care of most of the household duties. They are likely to spend more hours of the day on housework than fathers.
Additionally, for many years, women's work has been unrecognized. In most cases, they've earned significantly less money than male colleagues with the same tasks. Or they've not been considered for promotions or leadership positions. But with remote work, there has been a heightened focus on equity, diversity, and inclusion, as well as new well-paid opportunities
Many companies are making changes to promote employee well-being. There are more women than before in leadership positions, which is causing an impact in the workplace. According to the same Mckinsey report, women leaders are doing more than men in similar positions. They support the people on their teams, helping them navigate work-life challenges.
Women are also spending more time working on DEI work, such as supporting employee resource groups and recruiting employees from underrepresented groups. Senior women are twice as likely as senior-level men to dedicate these tasks at least weekly. And finally, women leaders are active allies to women of color, speaking out against discrimination and providing more opportunities.
5 Women Who Succeeded Working Remotely
1. Paula Soto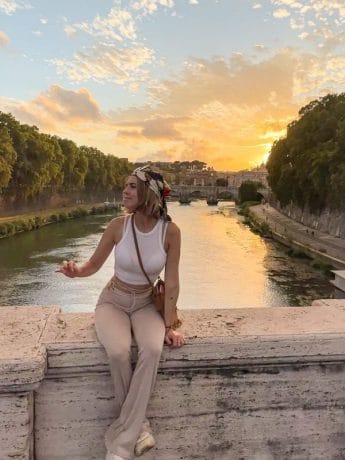 Paula is from Barcelona, Spain. She is a journalist and has a background in hotel management. Paula has worked in the marketing area for the past years, and she currently started her journey as a digital nomad. However, as an avid traveler, she has been to 43 countries.
I have been working remotely for several years, but due to the pandemic, I spent a long time working only from home and honestly felt like I was wasting my time. I constantly wondered what I was doing there. For me, being a digital nomad was born out of necessity and as an act of rebellion. I think we live in a society where everything is planned for us. I was overwhelmed by having to follow what society says all the time when it's not what I wanted.
I´m currently 25 years old, but when I was 20, I went to live in China alone. It was one of the best experiences I had in my life. From there, I decided that I always wanted to travel.
Paula´s advice: "I think that many women do not dare to travel alone out of fear, because of the fear that society always put in us that something bad is going to happen to us. That as women were always in danger. If it had been for the people around me telling me how dangerous it is to travel alone, I wouldn't be here. In the end, we can't stop doing things for fear that something might happen to us. Something might happen to me here or in Barcelona. I love the phrase, "You go where you have to go, and you will die where you have to die." We can't stay home for fear of what might happen to us."
If you're afraid of rejection or failure in a new remote job, check out these strategies to overcome your fears!
2. Lesly Vargas
Lesly is from Lima, Peru. She is 23 years old and started traveling and working remotely because of the pandemic. She studied business administration and finances and currently works in the transfer pricing area.
Traveling and working was a dream that seemed impossible for me because my work was onsite. And I love my job, so I didn't want to quit or look for another one either. But as a result of the pandemic, in the company, we spent two whole years working remotely, and there I took the opportunity to travel. I started traveling in Peru, spent 3 to 4 months in a city, and made short trips to towns.
Later in 2021, I went on vacation to Mexico, and I loved it. I returned to Peru for two weeks and decided to go back to Cancun as a digital nomad for two months. I really enjoy balancing work and being able to do fun things. This experience made me realize how you can travel without spending an excessive amount of money. When I came back, I continued doing a lot of internal tourism, and this year I want to visit Brasil and Colombia.
Lesly's advice: "Things always happen on trips that you don't plan for. It is normal, and the important thing is to be prepared. Have a little extra money just in case. On the other hand, prioritize the most important. If you're going to work, contact the place and make sure they have good wifi before you even book."
3. Zainab Ghadiyali
Zainab Ghadiyali has been a product and engineering leader at Airbnb and Facebook with a strong background in identifying and driving opportunities in consumer tech. She is currently working with consumer tech startups and wiring on product and leadership.
I started fully working remotely because of the pandemic. And last year, when traveling became easier, I started working from different cities in the U.S. I worked as a freelancer advising a couple of companies and managing remote teams. For me being a remote worker meant there are no boundaries in terms of the people I chose to work with, the companies, and the places I chose to visit. You have the opportunity to work with freedom. I met and worked with amazing companies that had great missions and founders. I wouldn't have been able to do so if I had to work from an office.
Zainab´s advice: "If you want to get a remote job, there are two ways. There's the traditional path where you could apply on job boards. But there's also a non-traditional way. Many startups that started during the pandemic have a good cadence understanding of how remote work works and work fully remote. They are always looking for people, so you can look into a directory of startups and apply. In the U.S., we have Crunchbase, among other platforms where you can contact these companies in the directory, see which companies started in the pandemic, and message the company sharing your interest to start working for them. You'll get surprised by how many companies appreciate you reaching out to them."
4. Kendra Okereke
Kendra is a 29-year-old solo traveler from Los Angeles, California. She is a talent producer, the podcast host of The Rom-Com Room, and a travel tik toker. Kendra has been solo traveling for 5 years and has visited 20 countries.
I decided to become a digital nomad when I felt my life was passing me by. When covid took over the world, I felt all I did was work from my couch, and it was frustrating. Then at my previous job, they implemented a hybrid structure where we went to the office and also work from home. But for me, that meant that my opportunity to work and travel ended, so that's when I decided I needed something different.
I started applying for remote jobs and got my current job which is fully remote. Since then, I've been able to travel and work. At the end of 2021, I worked in 6 countries in two months; it was amazing. Remote work has made me understand that my creativity transcends borders. I´m not just creative in an office. I can be creative anywhere!
Additionally, I believe that traveling alone is the most empowering thing a woman can do; it helps you build up confidence.
Kendra´s advice: "If you want to work and travel, time management is key. Always keep a schedule. You need to know how to organize your tasks and meetings and prioritize. When you do this, you'll realize how productive you can be and how you can have time to do fun activities."
5. Amparo Malerba
Amparo Malerba is a 22-year-old freelance graphic designer. She was born in Argentina but since she was 16 years old she has been traveling the world and built her career 100% remotely.
Honestly, I had no idea what I wanted to do when I finished high school. I wasn't born knowing I wanted to be a graphic designer. I finished high school, and all I just knew was that I wanted to travel. And what would allow me to travel was to be a freelancer. I searched on YouTube for "50 Best Careers to Be a Freelancer" found a couple that caught my eye, but I ended up sticking with graphic design.
I bought a $9 online course, Adobe programs, and that was literally all I needed. At that time, I was working in a restaurant in Berlin, and I was learning German, so in my free time, I started to practice graphic design. I read articles, saw youtube videos, etc., and little by little, I picked up more skills. It was not easy to get my first clients, especially as I didn't have a university degree and no experience in the field, but eventually, I started having projects. And now, being a freelance graphic designer allows me to take my career wherever I want.
Amparo´s advice: "Find what works for you. In my case, I highly recommend coworking spaces. Through them, I had my first clients and I made many friends with the same lifestyle as me. Yes, they are expensive, but they are worth it. For me, they are an investment."
Empower Yourself Through Remote Work
Working from home for women still continues to be challenging. Getting burned out is easier because of unequal salaries, job promotions, or taking care of house duties. However, there are many female-friendly companies offering women remote jobs, while focusing on building a healthy and empowering environment.
Whether you want to work from home or travel the world, there are always great opportunities out there!