Collaborating with your remote workers has become easier than ever. With the ever-growing number of telecommuters, today's new software and collaboration tools make teaming up online even easier than in-person communication sometimes. One of these real-time collaboration features is an online whiteboard. These online whiteboards help foster a new level of understanding and collaboration during presentations and agile meetings.
After checking out numerous different online whiteboards, we've found the best ones for you and your virtual team to achieve the most productivity and cohesion.
Best Online Whiteboards for Your Remote Team
1. Mural
Mural is one of the best online whiteboards for remote businesses. It was created in 2011, and its co-founders had the vision of building this collaboration platform suited for the virtual office environment.
10 years later after its creation, Mural contains many features that make collaboration and brainstorming easy. Teams can collect ideas, notes, thoughts, tasks on sticky notes that can be turned into chats, flowcharts, and more.
Also, another great characteristic of Mural is that it's a perfect tool to give virtual conferences. With over more than 100 templates, speakers can use dashboards, idea sketch pads, and design canvas.
Why choose Mural?
It offers multiple board layout options: Mind maps, flowcharts, sticky notes, storyboards, diagrams, lists, a library with templates.
File storage
Searchable boards
Unlimited workspaces
Multi-user editing capabilities
Video, audio and chat messaging
Polling tool
Team member activity insights
Pricing: There's no free plan. The Start Plan costs $12/month per user and the Plus plan $20/month. For the Enterprise plan companies need to contact Mural. 
2. Whiteboard Fox
If you're looking for an online free whiteboard tool, Whiteboard Fox is your option.
To start using this tool, all you need to do is visit their website, and that's it! No need to install any application or software.
Whiteboard Fox offers a simple virtual board to collaborate with your team. Its blank canva is a grid where you and your team can start drawing right away. However, this collaborating tool isn't as rich as others when it comes to features. If you're looking for something simple just to brainstorm, with Whiteboard Fox, you can. You have options to draw, erase, move, and add images and text to the board.
Why choose Whiteboard Fox?
It's a simple tool and easy to use
You can get synced in real-time with your remote team
Zoom in/out
Freehand drawing
Ruler tool
Pricing: Free!
3. Limnu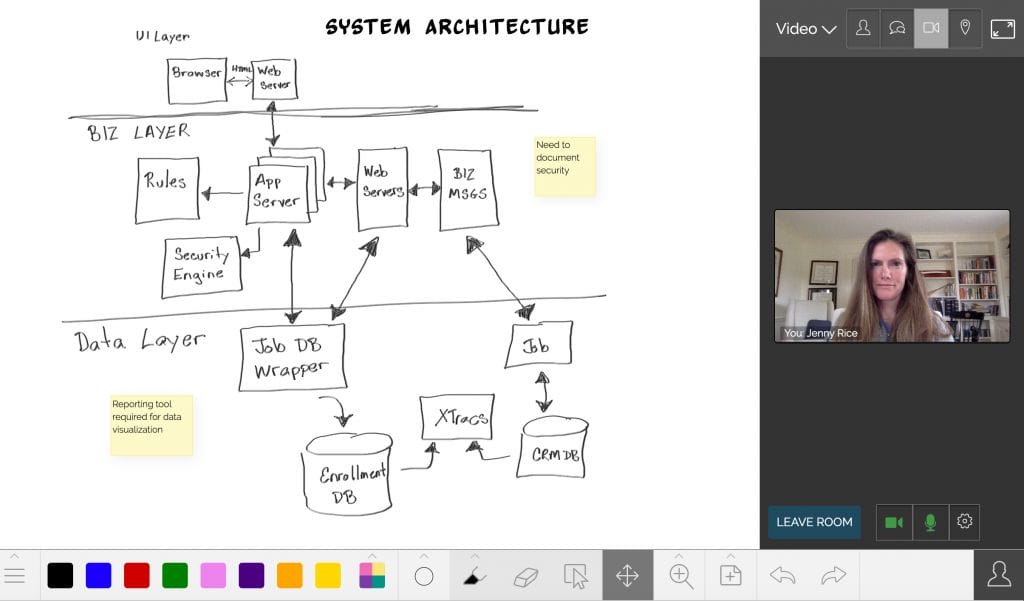 Limnu is an online whiteboard software created in 2015 that is the perfect tool for teams used to having a physical whiteboard in the office. If you're looking for that same similar experience to do your presentations or brainstorming sessions with your remote team, or even to give classes or lectures, Limnu should be your weapon of choice.
This platform gives you realistic marker drawings, and its canvas has no edges or boundaries. This means you can make your board as big as your team needs, which is perfect for those steaming brainstorming sessions where ideas come out every second. For virtual teams, you have the option to create groups, share boards via Slack integration and other 3rd parties.
Why choose Limnu?
Real-time collaboration
It's perfect for project planning
It can hosts up to 350 simultaneous board viewers
It offers chat, video, and audio web conferencing
Survey feature
Native calendar tool
File uploading to boards
iOs mobile app
Pricing: From the Pro Plan that costs $5/month per user to the Team plan that costs $8/month per user.
4. Microsoft Whiteboard
Microsoft Whiteboard is a cloud-based virtual whiteboard app that is perfect for remote teams. In comparison to the other tools, this one has a more extensive color range. It also has intelligent object recognition, which means that if you're not good at drawing, this feature automatically improves or replaces your drawing with a clearer version.
Whiteboard integrates with Microsoft Teams making it easier to share live (or pre-made) whiteboards to start drawing in video meetings. An since everything takes place in the cloud, it gets autosaved.
You can use this digital whiteboard with a Microsoft account on your iPhone, iPad, Android device, desktop, or web.
Why choose Microsoft Whiteboard?
It has stackable images and objects
Sticky notes
Customizable pen
Object resize
Written notes to text and table conversion
Pricing: It's free!
5. Stormboard
Stormboard is a sticky note-style ideation tool. However, unlike other online whiteboards, in this case, each sticky note contains its own whiteboard! As soon as you create a new 'storm' (brainstorming board), you and your team can start adding more ideas. And each sticky note can turn into a real-time collaborative whiteboard.
Stormboard facilities the way you organize whiteboard notes. Team members can comment on past notes and even turn them into assignments for others, taking whiteboard collaboration to a whole new level. And when each brainstorming session is finished, and the board is polished, you can export it as a PDF, PowerPoint presentation, or document.
Why choose Stormboard?
Integrates with Slack (and other tools)
Android and iOS mobile app
It contains more than 100 templates
Infinite canvas
Poll feature
Chat messaging tools
Live editing
Pricing: The Personal account is free and includes five open Storms and 5 collaborators per storm. The Business plan starts at $10/month per user and includes unlimited open storms. 
6. Miro
Miro is an endless online whiteboard that hosts many more features than a physical one ever could. Everything is backed up to the cloud, and your team can communicate in real-time.
Unlike some other options, though, Miro lets you choose from more than 50 different templates to load, for things like the product development process, Lean and Agile methodology, or building a roadmap. Many of these templates help to make the board highly interactive, encouraging the participation of everyone involved. Plus, it includes a set of different features that allow managers to guide the process from ideation to implementation.
Why choose Miro?
Post-it notes that contributors can add without disrupting the original idea
Online drawing options
Simple navigation through an 'infinite' canvas
Messaging among certain or all participants
Real-time commenting options
Pricing: There are four different plans that Miro offers. The free plan, the Team plan costs $8/month per user (annually) or $10/month (monthly), the Business solution costs $16/month per user, and finally, the Enterprise plan where you need to contact Miro.
Which Online Whiteboard Tool Should I Use?
You shouldn't have to lose any amount of participation by working with your distributed team, and with the right online whiteboard tool, you won't.
Whiteboards are one of the best strategies to foster effective collaboration, and they also are a great tool to boost new ideas. Many on-site offices have tons of whiteboards to encourage this collaboration, and you might think that in a virtual environment, this is almost impossible. However, as you've seen above, many tools adapt to remote work and enable teams to get creative and productive.
Choosing the right online whiteboard tool depends on how central whiteboarding is to your process and on the features you feel as necessary. If you are just looking for a simple whiteboarding tool to use now and then, maybe Whiteboard Fox is the best option for you. If you need something more complex and with more rich features, then you have Limnu or Stormboard (among others).
The decision relies on your team's needs and on analyzing which tools will help you fill up those needs the best way possible.