Work feels like an impossible mission when you have a never-ending to-do list and zero willingness to do anything. Staring at the wall in front of you is more interesting than working on that pending report. Suddenly you remember that hilarious joke someone told you years ago, and a few minutes later, you realize it's the perfect moment to plan a trip to Bali. For this type of day, where any excuse is good enough to procrastinate, music can be your ally. From video game playlists to binaural beats, music has proven to keep you energized and focused. Let's go over the best 18 Spotify playlists for work!
Best WFH Spotify Playlists to Improve Your Productivity
Some people swear that music is the best tool for focusing at work. Others feel it's impossible to concentrate with any background noise. So, what´s the deal? Is music helpful or not?
Healthline highlights that music doesn´t affect everyone the same way. However, certain music has proven to boost concentration. While some people get deeply focused on classical music, others prefer nature sounds. This depends on each individual.
Classical Music
Classical music is one of the most popular productivity-inducing options. Researchers have claimed that listening to classical music helps people perform better and stay focused for prolonged periods. This theory, known as "the Mozart Effect," indicates that classical music enhances brain activity.
These are 3 work appropriate Spotify playlists to get you focused:
1. Mozart: Classical Music for Studying by HalidonMusic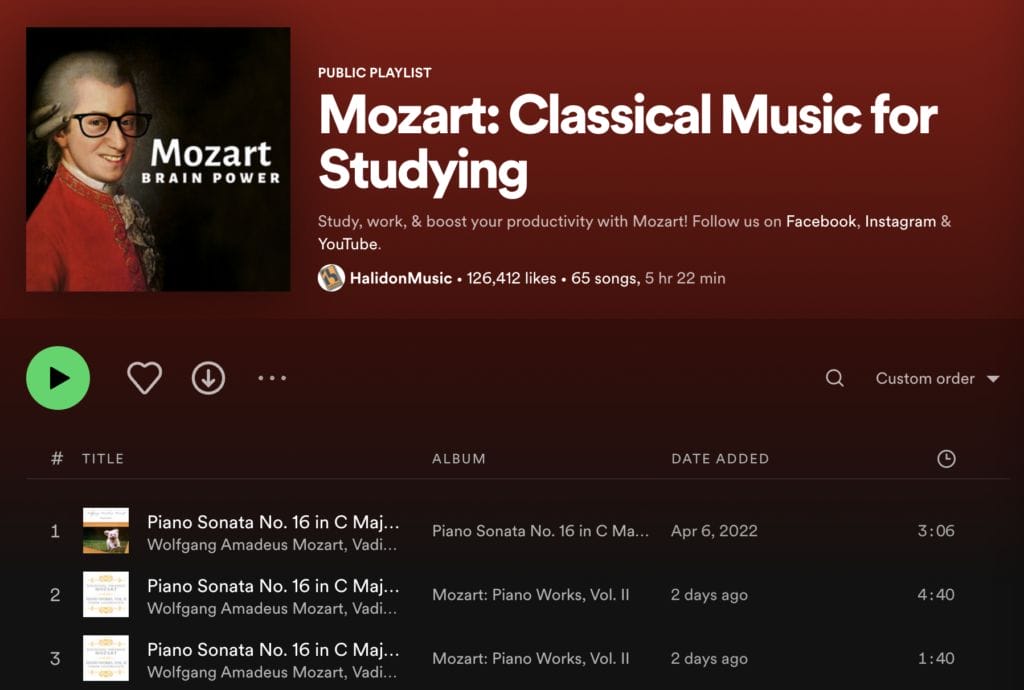 With 65 songs and a duration of 5 hr and 22 min, this playlist has a great selection of Mozart pieces to help you get focused.
2. Focus Piano by Peaceful Classics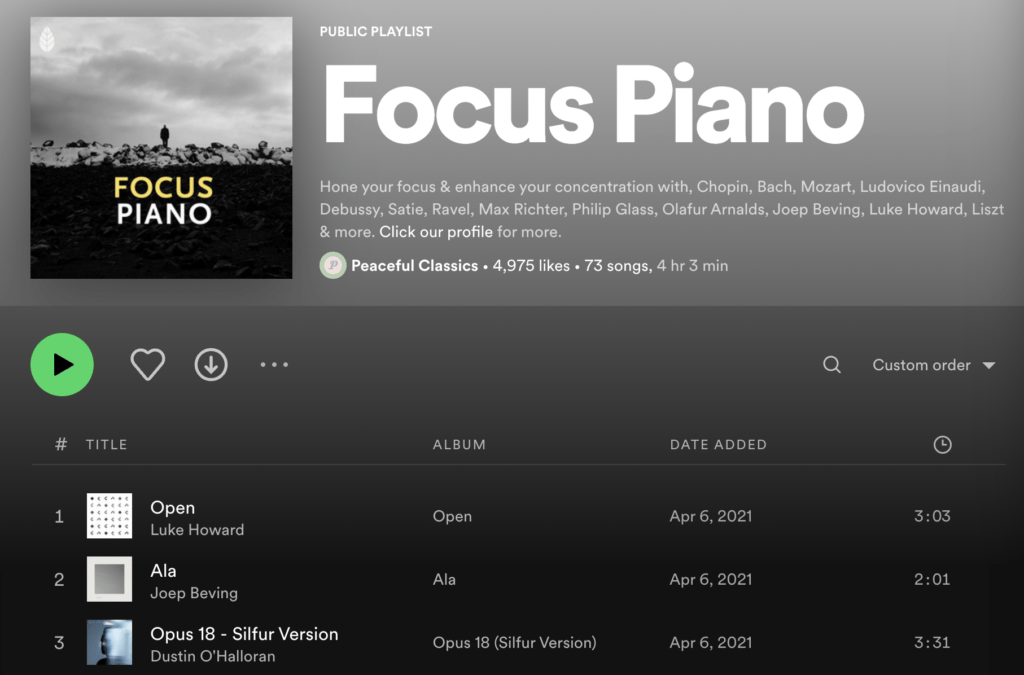 Focus Piano is a classical-influenced playlist with 73 songs and a duration of 4 hr 3 min.
3. The 50 Greatest Pieces of Classical Music by the London Philharmonic Orchestra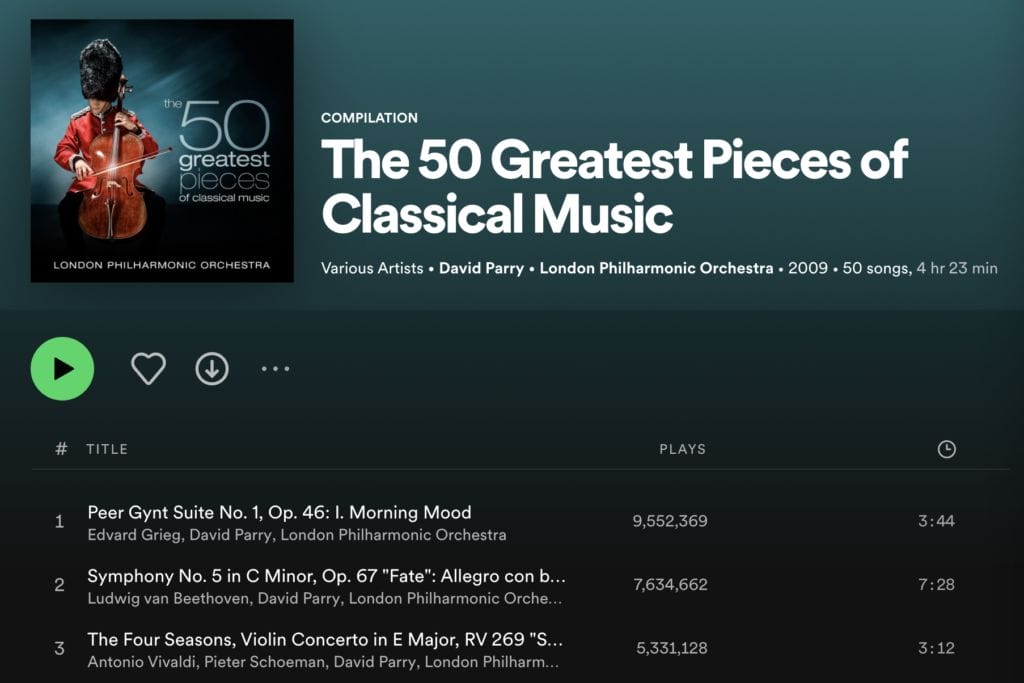 This is one of the best playlists for work for those who concentrate while listening to classical music. It has 50 songs and a duration of 4 hr 23 min, performed by the London Philarmonic Orchestra.
Binaural Beats
Binaural beats come from the word for two (bi) and aural (ear), which means a different frequency of the music. It's measured in hertz and is played into each year, 114 Hz in your right year and 124 Hz in your left year. This is because your brain interprets those two frequencies as a beat of its own, which can align with your brain waves.
According to Psychology Today, binaural beats help you improve memory and strengthen your brain´s neurological connections. They also help you increase focus, attention to detail, divergent thinking, and more. 
4. Binaural Beats: Focus
With 140 songs and almost 7 hours, this playlist can help you get fully concentrated on your tasks.
5. Binaural Beats (Deel Relaxation) by Ary El
When listening to combined sounds, your brain is less likely to get distracted. This binaural beats playlist is perfect for deep focus and relaxation. It has 63 sounds and 13 hr 27 min!
6. Binaural Beats: Stress Relief by Spotify
A great perk of binaural beats besides helping you focus is in terms of stress relief. If your stress and anxiety don´t let you give your best, this Spotify playlist might be exactly what you need. It has 115 songs and lasts for 6 hr and 10 min.
Nature Sounds
Nature sounds, such as rain, the beach, or flowing water, are a great tool to boost your mood and focus. According to a study by the Rensselaer Polytechnic Institute, nature sounds are perfect for making employees feel relaxed and productive. The study tested employees who were more productive and had a more positive attitude when nature sounds played in the background while they worked.
However, something to keep in mind is that not all natural sounds work. Birds chipping or animal noises, in general, can be distracting. While soothing sounds have a better impact on productivity.
These are great Spotify nature playlists to play while working from home:
7. Nature Sounds for Focus by Little Symphony
This could be the best Spotify playlist for work for two reasons: It blends instrumental background music with nature sounds. This results in helping you feel relaxed and concentrated enough to get your work done. It has 222 songs, and it lasts for 7hr 43 min.
8. Nature Ambient by Human Is Alive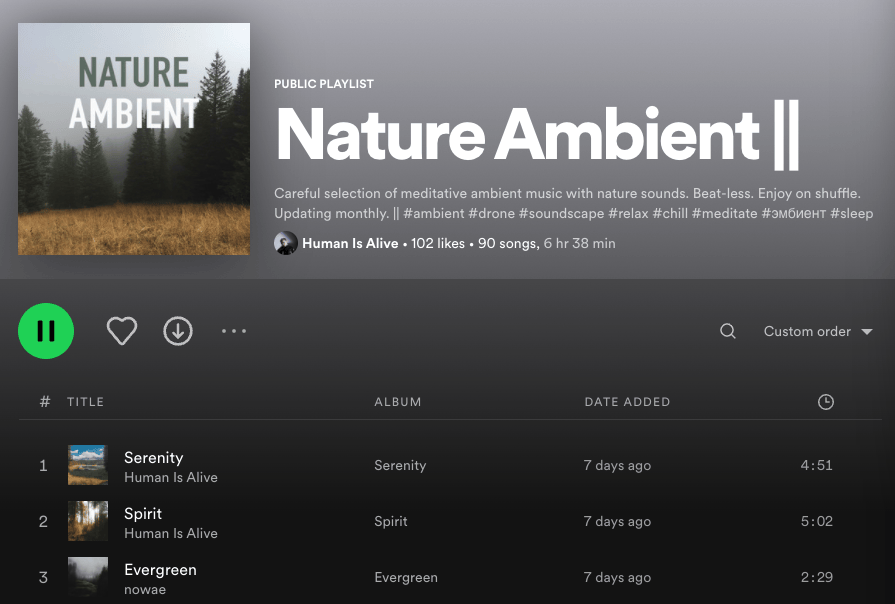 This playlist blends meditative music with soothing nature sounds such as rain, waterfalls, and bonfire, among others. It has 90 songs and lasts 6 hr 38 min.
9. Calming Music + Nature Sounds by Signal Alchemy
One of the biggest benefits of listening to nature sounds is the calm effect they produce. If you need to concentrate for extended periods of time, this calming music and nature sound mix is great as it helps you to get in a relaxing state as well. It has 198 songs and a duration of 10 hr 38 min.
Starbucks Playlists
Working from home is great. But sometimes, looking for coworking spaces and coffee shops is the best option when we´re feeling frustrated and need to breathe a different type of air. And Starbucks usually tends to be the safest option for two main reasons: 1) Great wifi, and 2) the environment.
The magic of Starbucks is that you go inside the shop and automatically feel a bit more productive. But besides the coffee that energizes you, their secret is also their music. They create great playlists with jazz and ambient music that allows people to comfortably talk or simply get to work.
These are some of its best work playlists:
10. Starbucks Jazz
Jazz is one of Starbucks' top choices when creating playlists. And this one, in particular, has great jazz songs that help you make work more enjoyable and fun. With 220 songs, the playlist last 20 hr 23 min.
11. Starbucks Chill by Starbucks
12. Starbucks Reserve Roastery by Starbucks
Has it ever happened to you that classical music or nature sounds don´t help you get focused? If it's your case, this playlist might be the perfect solution. It has an interesting combination of songs and genres ranging from Tame Impala to Noah Kahan and Ellie Goulding, among others. It has 257 songs and lasts 16 hr 27 min.
Indie Folk Music
Indie Folk is a great alternative to listen to when working from home. It provides great background noise to relax, and according to Indie Band Guru, it also helps you improve your memorization.
Most of the songs in this genre usually help build a soothing and relaxing atmosphere. If you love indie songs, then listening to these playlists might not be the best idea as you could end up singing along. But if you are not so familiar with it, then try experimenting with some of these great playlists:
13. Indie Folk 2022 by Indie & Folk Radio
This is one of the best Indie-Folk playlists on Spotify, perfect for creating a calm work environment. With 100 songs, it lasts 5 hr 47 min.
14. Indie Folk Chill by Caffeinated Fox
This playlist can be a mouth of fresh air when you´re feeling overwhelmed with work. It has a mix of instrumental and happy songs with chill and relaxing melodies. It has 267 songs and lasts a total of 26 hr 31 min.
15. Indie Folk for Focus by Spotify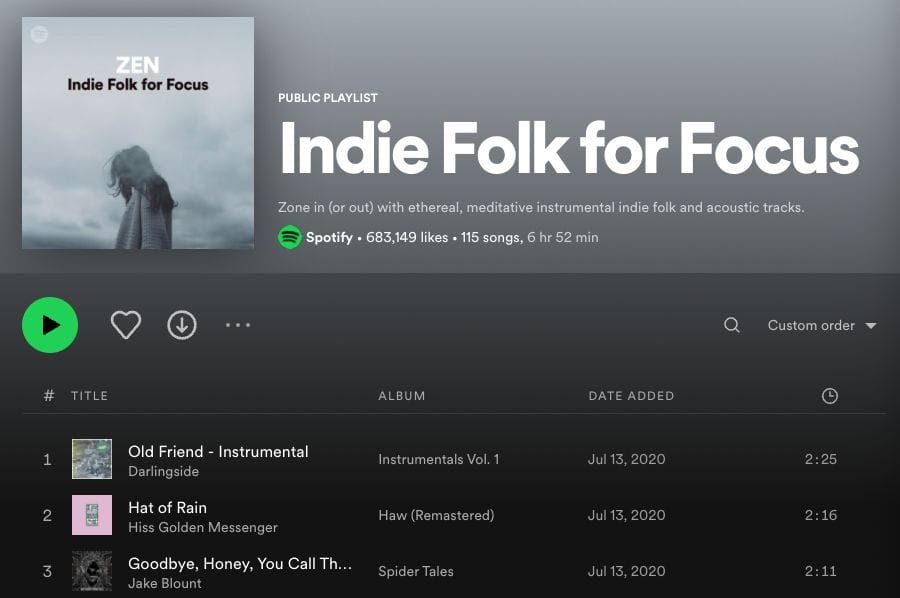 Spotify created this awesome Indie folk playlist with ethereal, meditative, and acoustic tracks to help you get focused. With 115 songs, it lasts 6 hr 52 minutes.
Video Game Music
Believe it or not, video game music is perfect for concentration. Just think about it; playing video games requires a lot of focus. You need to be fully concentrated to survive and make it to the next level while avoiding traps and so on. Therefore, the selection of music for video games is not random but is strategic.
Studies have mixed results in terms of whether video game music increases productivity or not. Although, there´s evidence to support that games can experience improved performance by playing a game with the volume on. In a study, participants who played without music and sound effects performed worse than those who played with it. 
16. Video Game Music for Studying/Work by LucasTheBeard
From Zelda to Pokemon, this Spotify playlist has many classic video game soundtracks. It has 492 songs and a duration of 25 hr 37 min.
17. Video Game Music for Studying/Focusing by Mary Jabagchourian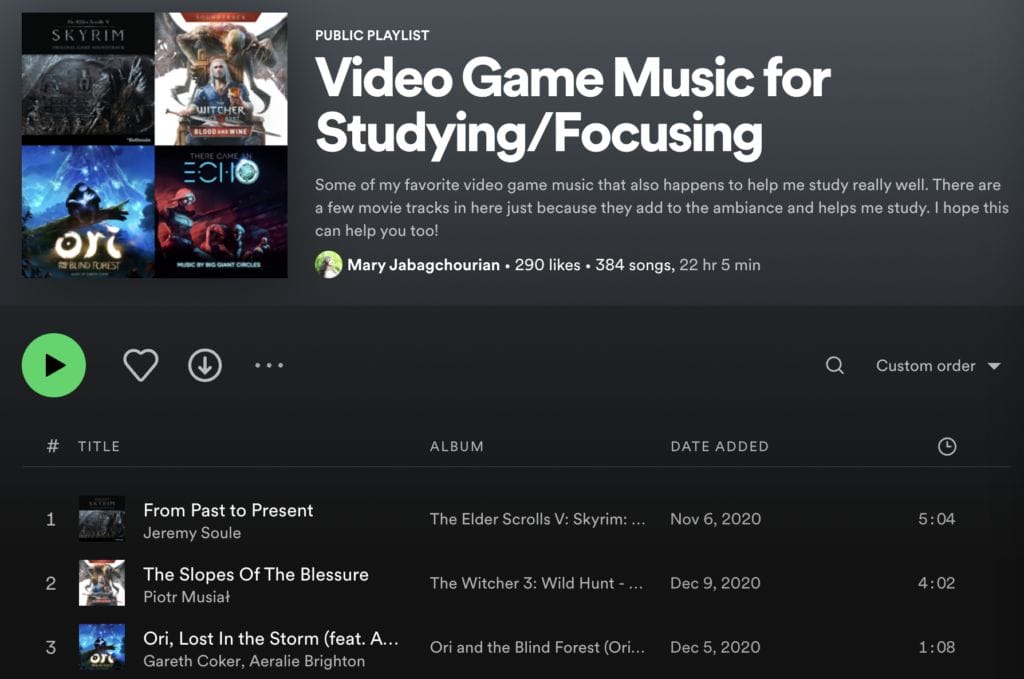 This playlist also has a wide selection of video game soundtracks and movies that provide the perfect ambiance to spend hours working non-stop. It has 384 songs, and it lasts 22 hr 5 min.
18. Total Dedication by surkelly7988
And lastly, this playlist is also a great option if you want to give video game music a try. It has a wide diversity of songs, and while it doesn't have as many songs as other playlists, it's still a great option. It has 28 songs and a duration of 1 hr 32 min.
Increase Your Productivity with Just One Click
Spotify has playlists for all tastes. If you need an extra boost to help you concentrate while working, coffee is not the only option. With these Spotify playlists that range from classical music to Indie folk, you have many alternatives to try and get focused and relaxed. Hit play and experience it by yourself!
Meta: From classical music to the best video game soundtracks, these are some of the best Spotify playlists for work that will keep you focused for hours.