Look no further than this curated collection of travel quotes, specifically chosen to resonate with the wanderlust of those living a location-independent lifestyle.
Whether you're planning your next trip, feeling homesick for the road, or simply need a reminder of why you choose this path, these travel quotes for digital nomads will light up your soul and reignite your passion for the journey.
Digital Nomad Quotes To Light Up Your Soul
1. "The world is a book, and those who do not travel read only one page." – St. Augustine
2. "To travel is to live." – Hans Christian Andersen
3. "Travel and change of place impart new vigor to the mind." – Seneca
4. "The journey not the arrival matters." – T.S. Eliot
5. "Travel is fatal to prejudice, bigotry, and narrow-mindedness." – Mark Twain
6. "Travel is more than the seeing of sights; it is a change that goes on, deep and permanent, in the ideas of living." – Miriam Beard
7. "We live in a wonderful world that is full of beauty, charm and adventure. There is no end to the adventures we can have if only we seek them with our eyes open." – Jawaharlal Nehru
8. "The use of traveling is to regulate imagination by reality, and instead of thinking how things may be, to see them as they are." – Samuel Johnson
9. "Life is either a daring adventure or nothing." – Helen Keller
10. "A journey is best measured in friends, rather than miles." – Tim Cahill
11. "One's destination is never a place, but a new way of seeing things." – Henry Miller
12. "Travel is the only thing you can buy that makes you richer." – Anonymous
13. "Traveling, you realize that differences are lost: each city resembles all cities, places exchange their form, order, distances, a shapeless dust cloud invades the continents." – Italo Calvino
14. "I travel not to go anywhere, but to go. I travel for travel's sake. The great thing is to move." – Robert Louis Stevenson
15. "The greatest thing in the world is to know how to belong to oneself." – Michel de Montaigne
16. "The man who goes alone can start today; but he who travels with another must wait till that other is ready." – Henry David Thoreau
17. "Travel and tell no one, live a true love story and tell no one, live happily and tell no one, people ruin beautiful things." – Khalil Gibran
18. "Travel is not a reward for working, it's education for living." – Anthony Bourdain
19. "Traveling is a brutality. It forces you to trust strangers and to lose sight of all that familiar comfort of home and friends. You are constantly off balance. Nothing is yours except the essential things – air, sleep, dreams, the sea, the sky – all things tending towards the eternal or what we imagine of it." – Cesare Pavese
20. "To travel is to discover that everyone is wrong about other countries." – Aldous Huxley
21. "Life is short and the world is wide." – Simon Raven
22. "The most beautiful in the world is, of course, the world itself." – Wallace Stevens
23. "Travel is like love, mostly because it's a heightened state of awareness, in which we are mindful, receptive, undimmed by familiarity and ready to be transformed. That is why the best trips, like the best love affairs, never really end." – Pico Iyer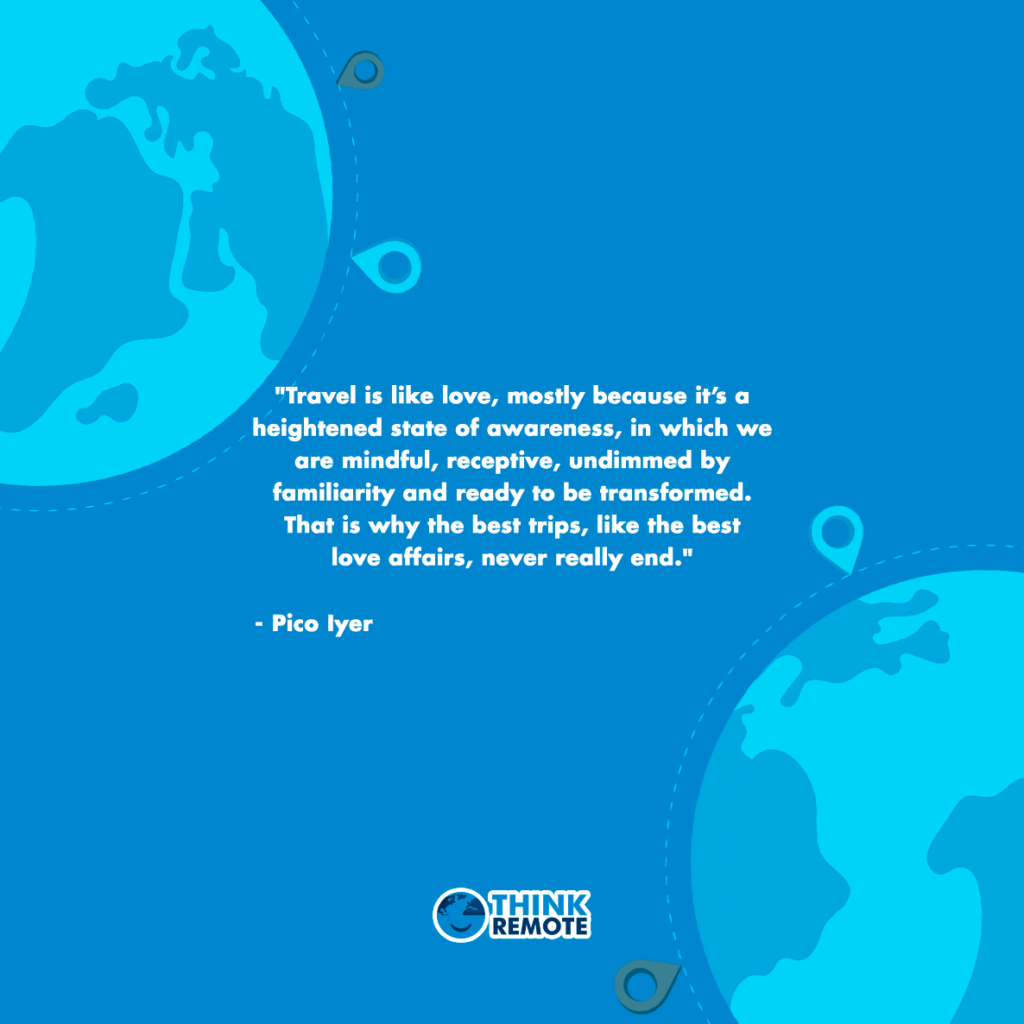 24. "The traveler sees what he sees, the tourist sees what he has come to see." – G.K. Chesterton
25. "The journey of a thousand miles begins with a single step." – Lao Tzu
26. "Traveling is a fool's paradise. Our first journeys discover to us the indifference of places." – Ralph Waldo Emerson
27. "The journey is the destination." – Dan Eldon
28. "Travel is the only thing you can invest in that will give you memories that last a lifetime." – Unknown
29. "Travel is the only thing you can do that makes you feel young again." – Unknown
30. "Work and travel, don't travel and work." – Unknown
31. "Wherever you go becomes a part of you somehow." – Anita Desai
32. "I haven't been everywhere, but it's on my list." – Susan Sontag
33. "Traveling is like flirting with life. It's like saying, 'I would stay and love you, but I have to go; this is my station." – Lisa See
34. "A digital nomad is someone who can live and work anywhere in the world, as long as there is an internet connection." – Unknown
35. "The digital nomad lifestyle allows you to live your dream, not just dream about living." – Unknown
36. "You don't have to be a millionaire to travel the world, you just have to be resourceful." – Unknown
37. "Being a digital nomad is the ultimate form of freedom." – Unknown
38. "Traveling and working remotely allows you to live a life of adventure and purpose." – Unknown
39. "The ability to work from anywhere is the ultimate luxury." – Unknown
40. "Digital nomads are the pioneers of the 21st century workforce." – Unknown
41. "A laptop and wifi are all you need to work and see the world." – Unknown
42. "Traveling while working is the perfect balance between adventure and responsibility." – Unknown
43. "Digital nomads are the new age of entrepreneurs, building businesses while exploring the world." – Unknown
44. "Work hard, travel harder." – Unknown
45. "The digital nomad lifestyle is not a trend, it's a revolution." – Unknown
46. "A digital nomad's office is the world." – Unknown
47. "The beauty of the digital nomad lifestyle is the ability to create your own schedule and work from anywhere." – Unknown
48. "Traveling and working remotely allows you to experience different cultures and perspectives, making you a more well-rounded individual." – Unknown
49. "The digital nomad lifestyle is not about running away from your problems, it's about running towards your freedom." – Unknown
Pack Your Bags And Hit The Road!
We've shared a list of travel quotes that are sure to light up the soul of any digital nomad. These quotes remind us of the beauty and power of travel. It allows us to break free from the constraints of a traditional 9-5 work life, to explore new places and cultures, and to gain a new perspective on the world and on ourselves.
And for those who haven't had the opportunity to travel yet, we hope these quotes will motivate you to start planning your next trip and make it happen. Because as we all know, traveling is not a luxury, it's a necessity for a fulfilled life.
So don't wait any longer, pack your bags and hit the road, the world is waiting for you to discover it. Happy travels!