Is There Any Use in Building Your Portfolio Website?
Are you an artist, entrepreneur, or freelancer looking to showcase your work online? A portfolio website is a great way to do that. According to research, 76% of customers look at an online presence before visiting a physical business — which emphasizes the importance of having a solid online presence. With a well-crafted portfolio, you can show potential clients that you are a qualified professional. 
Many portfolio website builders available today make it easy for anyone to create a professional-looking and highly functional website.
Here we'll discuss the best portfolio website builders for those who want to ensure their work stands out. With these tools, you can create a stunning and informative online portfolio in no time!
5 Specialist Portfolio Website Builders For Creatives
These sites are portfolio specialists; they've been specifically designed to build up an online showcase of your design or artwork online.
| | | |
| --- | --- | --- |
| Builder | Free Trial Available? | Cost per month |
| Adobe Portfolio | One month | $10 |
| Behance | 7 days | $19.99 |
| Carbon Made | One month | $9.99 |
| Crevado | Free plan | $6 |
| Fabrik | 14 days | $8.50 |
1. Adobe Portfolio
Many creatives use programs from the Adobe Creative Cloud to design and develop their work, so it makes sense that Adobe also provides software that helps you to create a portfolio website.
Portfolio is included in the cost of Creative Cloud and is just under $10 a month, which includes hosting and an unlimited number of pages. The advantage of using Portfolio is that it integrates with all the other Creative Cloud programs, making it simple to pull your website together.
Portfolio allows you to import projects easily and create a site that displays beautifully on any device. You can also use your own domain name to give your site a professional feel.
Key Features
Behance integration: You can import your projects from Portfolio to Behance easily.
Optimized for any device: Themes resize your images and content to fit any device or screen size.
Domain names: Your portfolio site will have a more professional feel if you use your own domain name.
Photo grids: Showcase your images in beautiful and responsive grids, including Lightroom photos.
2. Behance
If you're looking for a way to showcase your portfolio, then Behance is definitely worth a look. Unlike other sites which let you make a dedicated portfolio, Behance lets you create them on their site – and talent scouts often browse Behance looking for new talent. If you're looking for a way to be seen, then Behance may be right for you.
The site is now an Adobe property and is included in their Creative Cloud Photography plan for $19.99 per month.
Key Features
Activity/News feed: Users can follow the latest work and activities of people they follow
Job listings: It provides job listings and an easy way to find job opportunities in the creative industry.
Adobe Integration: Behance is owned by Adobe, so it seamlessly integrates with other Adobe products like Adobe Creative Cloud, allowing you to easily update your portfolio and showcase your work.
Mobile App: Users can access and update their portfolios via Behance's mobile app.
3. Carbonmade
Carbonmade claims to be the easiest and fastest way to showcase your work, and reviews rank it as one of the best website builders for portfolio sites.
You get a free trial to experiment and see how you like it, with pricing starting from $9 a month. There are plenty of video tutorials to help orient you and let you get started creating your site.
Themes are tailored by profession, allowing you to easily find something to suit your style and there are pre-made blocks enabling you to drag and drop to create the site you want, including 4k videos.
Key Features
User-Friendly Interface: Carbonmade offers a user-friendly interface that is easy to use and customize without any coding knowledge.
Unlimited Layouts: You can customize everything with just a few clicks, including your portfolio grid, navigation, colors, and fonts.
Unlimited Media Uploads: Upload images, videos, and text descriptions of their projects, and organize them into galleries and collections.
Password Protection: Users can protect their work with passwords to keep it private or share it with select collaborators and clients.
Custom Domains: Users can customize their portfolio website's domain name to reflect their personal brand or business.
4. Crevado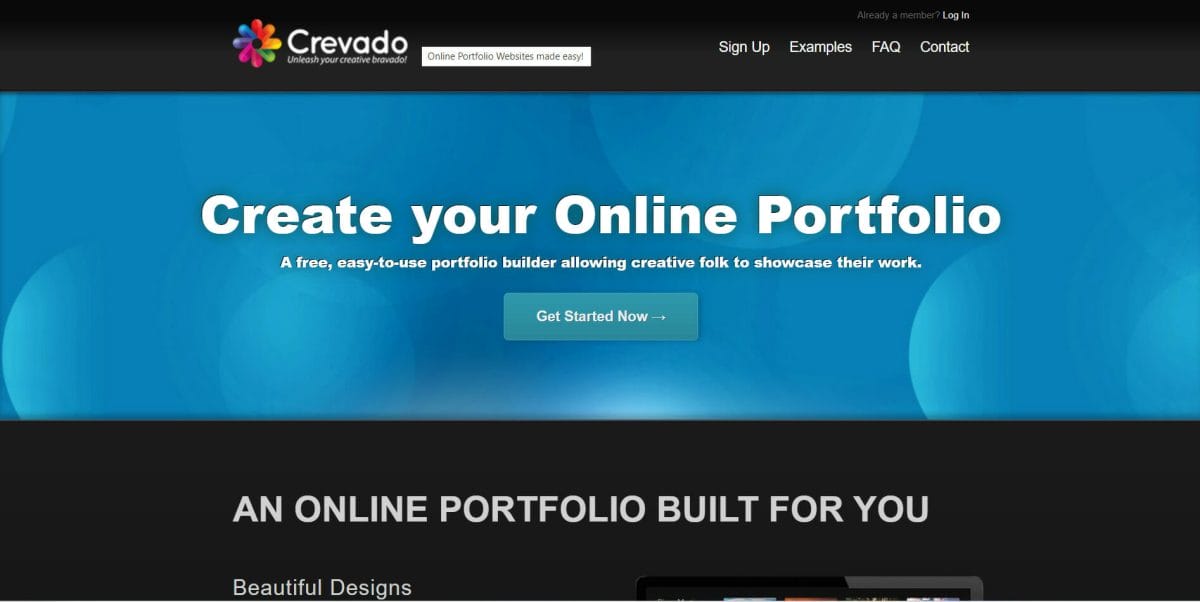 You can start setting up your portfolio with Crevado for free, but if you want to include more than 30 images or 5 galleries, you will need to pay between $6 and $9 per month.
Crevado makes creating a digital portfolio simple, with a drag-and-drop interface and lots of templates. If you want to see what some of the other 900,000+ users have done with Crevado, browse the portfolio website examples on their site.
One difference with Crevado is that it doesn't use Flash, which can impact on SEO results. It also integrates with Facebook and has built-in technical barriers to stop image theft.
Key Features
Upload, Drag, and Drop: You can upload photos, videos, audio files, animated GIFs, PDF files, and Shockwave Flash files in seconds. It's as simple as dragging and dropping to rearrange anything!
Quick Set Up: You can have your portfolio ready in no time.
Responsive Design: Access your portfolio via a desktop computer, tablet or smartphone!
Password Protection: Crevado offers password protection for users to keep their work private or to share it with select clients or collaborators.
5. Fabrik
You can take advantage of a 14-day free trial before committing to hosting your portfolio with Fabrik, with monthly charges starting from £8.50 per month.
You can choose pre-set themes, and change that without having to start again from scratch and the site you develop is fully customizable. No wonder it's popular with agencies and freelancers alike.
Key Features
Intelligent Themes: Easily change the theme of your site without having to edit any media or content.
Custom Domain: Make your Fabrik portfolio truly professional with your own custom domain.
Flexible Layouts: Choose the perfect layout for your project to really stand out.
Media Integration: Easily integrate audio and video from your favorite services into your portfolio.
Customer Support: Get assistance every step of the way.
5 Website Builders with Portfolios
The other choice you have when looking at portfolio website builders is to choose a site builder that gives you the option to add a portfolio.
This is useful if you want to add in things like an online store, blog, or other functionality to your website.
| | | |
| --- | --- | --- |
| Builder | Free Trial Available? | Cost Per Month |
| Duda | 14 days | From $14 per month |
| GoDaddy | Yes | Varies |
| Squarespace | Yes | From $12 per month |
| Wix | 14 days | From $7.50 per month |
| WordPress | Yes | Varies |
1. Duda
Duda offers a very polished style for your portfolio, though it is less customisable than other options. One of the best technically and with lightning-fast speeds, it is also higher in price than the other sites but does offer you a free trial option so you can see how you like it before you pay. After that it will cost between $14 and $60 a month.
Winning G2s High Performer and Easiest to Do Business With categories in Spring 2022, Duda gives you the flexibility to drag-and-drop using pre-made blocks or to get into the nitty gritty and code if you want to.
Key Features
Templates: With Duda's portfolio website templates, creatives can create a professional website without any coding expertise.
Drag-and-Drop Editor: Use Duda's drag-and-drop editor, creatives can easily add and rearrange elements on their portfolio website, including images, videos, and text.
Gallery Pages: Creatives can present their work visually, with captions and descriptions available.
Customizable Design: Its design customization options allow creatives to personalize their portfolio website to match their branding and aesthetic.
Mobile Optimization: Portfolio websites on the platform look great on mobile devices.
2. GoDaddy
Like most of these website builders, you can start with a free account to give GoDaddy a try before you commit. In addition to a simple user interface, GoDaddy also provides you with How To videos to make getting started easy, and they have plenty of portfolio options to choose from.
Pricing is more complex with GoDaddy as there are various options available including hosting, domain names, and email forwarding. It would definitely pay to have a good understanding of what features you need prior to signing up but they have online agents available to help with your queries at all times.
Key Features
Domain Registration: Register a custom domain name for your portfolio website.
Customizable Design: Customize the design of your portfolio website, including fonts, colors, and layouts, to match your branding and aesthetic.
Mobile Optimization: Portfolio websites look great on all devices, including smartphones and tablets.
SEO Optimization: SEO tools are available to help you optimize your portfolio website for search engines.
Social Media Integration: Integrate your social media accounts into your portfolio website, making it easier to share your work and attract potential clients.
3. Squarespace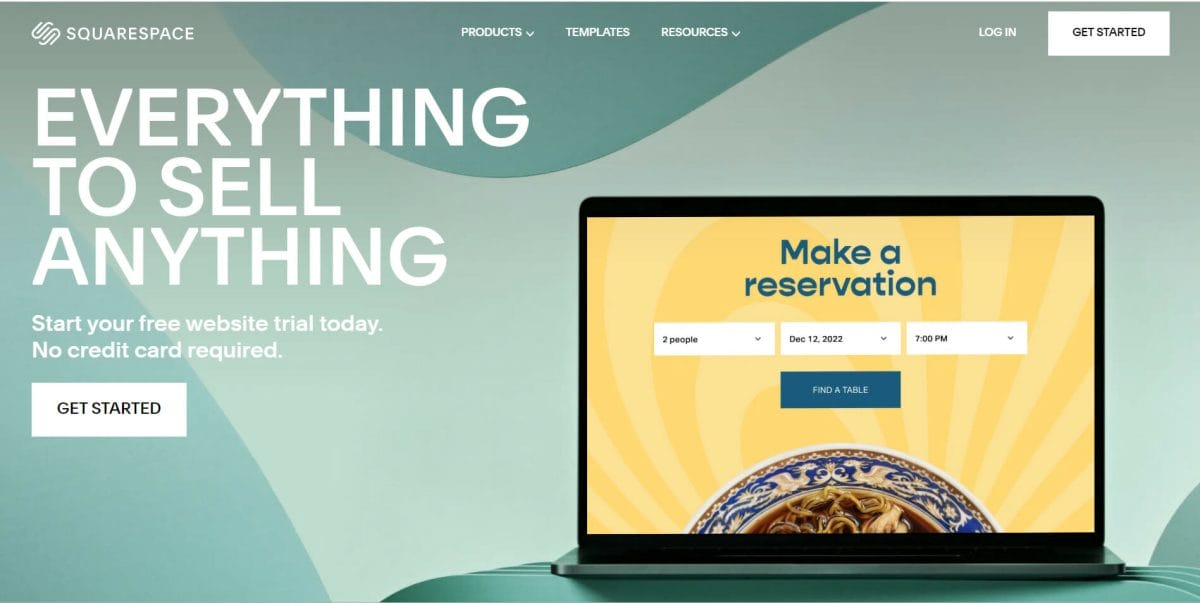 To get started with Squarespace you just answer a few simple questions and then select the portfolio 'type' to see a wide range of pre-designed templates to choose from. Pick one that you like the look of, and you can customize colors, fonts, and more to make it your own. Pricing starts at $12 a month and there's a discount if you can pay for the year upfront.
Squarespace includes e-commerce support allowing you to sell your artwork online if you want to. You can also capture visitor's email addresses with GDPR-compliant forms for follow-up and sales promotions.
Key Features
Templates: Squarespace offers a range of customizable templates designed to showcase creative work, including photography, art, and design.
Drag-and-Drop Editor: Drag-and-drop editor allows users to easily customize their portfolio website without any coding knowledge.
Mobile Optimization: Templates are optimized for mobile devices, ensuring that portfolio websites look great on all devices.
Customer Support: This platform offers comprehensive customer support, including 24/7 live chat and email support, as well as a knowledge base and community forum.
4. Wix
If you've watched a YouTube video in the last year, you'll probably have heard about Wix. They offer free websites that are easy to set up using their builder wizard, which is why some consider them the best website builder for portfolio sites.
While the builder is free, if you want to add a domain or any advanced features, there are costs involved but Wix can definitely help you make a high-quality portfolio website easily.
The plan you choose will depend on the features that you want. If you are looking for analytics, then plans start at £11 per month. Storage and the amount of bandwidth available for video also depend on the plan chosen.
Key Features
Custom Domain: Make your brand stand out online with a unique domain.
Social Media Integration: Sync projects directly from Twitter, Facebook, Dribbble, DeviantArt, and Instagram.
Add Contact Forms: Create customizable contact forms to grow your network.
Mobile App: The Wix Owner app lets you update and manage your portfolio website from anywhere.
Web Hosting: Build your portfolio with peace of mind knowing your site is hosted securely.
5. WordPress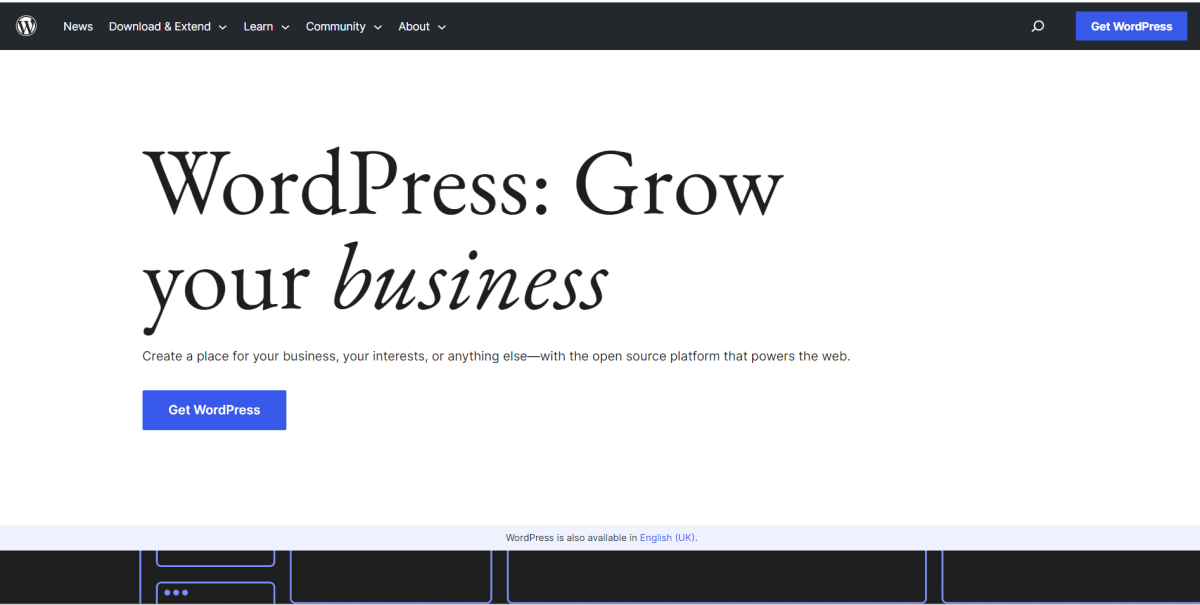 No list of website builders is complete without mentioning WordPress. What started as a blogging site has become one of the biggest names in web development with a wide range of themes letting you set up a great-looking website quickly – and that includes portfolio themes.
You can choose whether to use a free account or paid, and if you want to have your site hosted by WordPress or yourself.
There can be a steeper learning curve with WordPress as you have to understand WordPress itself, and themes and plug-ins that allow you to customise your site can also be quite complex. There are many web developers who work in WordPress if you prefer to call in help to get it finished.
Key Features
Easy Content Management: WordPress offers easy content management, so you can easily create and update portfolios and blogs.
Plugins: Plugins are available to extend the functionality of your portfolio website, including plugins for galleries, portfolios, contact forms, and more.
Community and Support: It has a large and active community of users and developers who create resources and provide support, making it easy for creatives to find help and advice.
SEO Optimization: SEO tools to help professionals optimize their portfolio website for search engines, making it easier for potential clients to find their work.
Easily Customizable Templates: Library of customizable templates that can be used to create a unique and personalized portfolio website.
How to Choose the Right Porfotlio Website Builder? 5 Considerations
1. Design and Customization
Look for a portfolio website builder that offers a range of customizable templates and design options that align with your brand and style.
2. Functionality
Consider the features and functionality that are most important to you, such as social media integration, mobile responsiveness, and SEO optimization.
3. Ease of Use
The best portfolio website builder should be user-friendly and easy to use, with intuitive editing tools for creating and updating your portfolio website.
4. Price and Value
Take into account the overall value of the platform in terms of features, customer support, and reliability when searching for a tool to create a portfolio website.
5. Reputation and Reviews
Do your research and read reviews from other users to get a sense of the platform's reputation and overall performance.
Make sure the website builder you choose has a track record of success and has been recommended by creatives who have built their own portfolios using it.
Things to Avoid When Creating Your Portfolio
While there are many tips and best practices for creating an outstanding portfolio, it's equally important to be aware of the common mistakes that can undermine your efforts.
Here are some don'ts of creating a portfolio:
Avoid including everything you've ever worked on: It can be tempting to add all your work to show your experience. But clients will hardly view them all. Plus, it can be counterproductive in the sense that, the client may view what isn't your best work — which could hurt your chances.
Don't share your life story: Many clients won't care where you went to school, for example, or where you go on vacation. If you give too much info, you may come across as unprofessional and incoherent.
Avoid an overly elaborate design: Always keep it simple. Overcomplication or showboating can turn clients off.
Don't limit your portfolio to one type of work: Unless you specialize in a particular niche or have clients who have specific preferences, your clients will likely want a variety of products and styles. You run the risk of turning them off by showing only one type of work or product.
Avoid a static presentation: Movement is crucial in digital design and user interfaces. You don't want your users to have to scroll through numerous screenshots to understand your user flow. Show animated flows instead with videos or GIFs. Static images cannot display design thinking or attention to detail.
Are you ready to Stand Out in The Digital Crowd?
Now you have a selection of different portfolio website builders to choose from, it's time to pick the one that best suits your ability and style and create that killer site that will help you showcase your work to a wider audience. Good luck with finding your audience!