Given that you sit in a chair for eight or more work hours a day, you need ample support and comfort to keep your body relaxed. Did you know that your office chair plays an important role in your overall wellness? It is especially helpful for your back.
In fact, the best kind of office chair ensures that you never suffer from back pain in the first place. But if you are already suffering, then what you need is to replace your current one. This is where ergonomic chairs for back pain come in. 
The Top Ergonomic Chairs For Back Pain
1. Mimoglad Ergonomic Desk Chair
You cannot talk about chairs for back pain sufferers without mentioning the Mimoglad Ergonomic Desk Chair. It will provide adjustable lumbar support and complete 360-degree rotation. With its chair lifting function and a high mesh chair back, Mimoglad strives to provide maximum comfort.
This back pain relief chair comes with flip-up armrests, allowing you to push it into the desk whenever you are not using it. You can also lay back on its padded and thick seat cushion during breaks to keep yourself relaxed.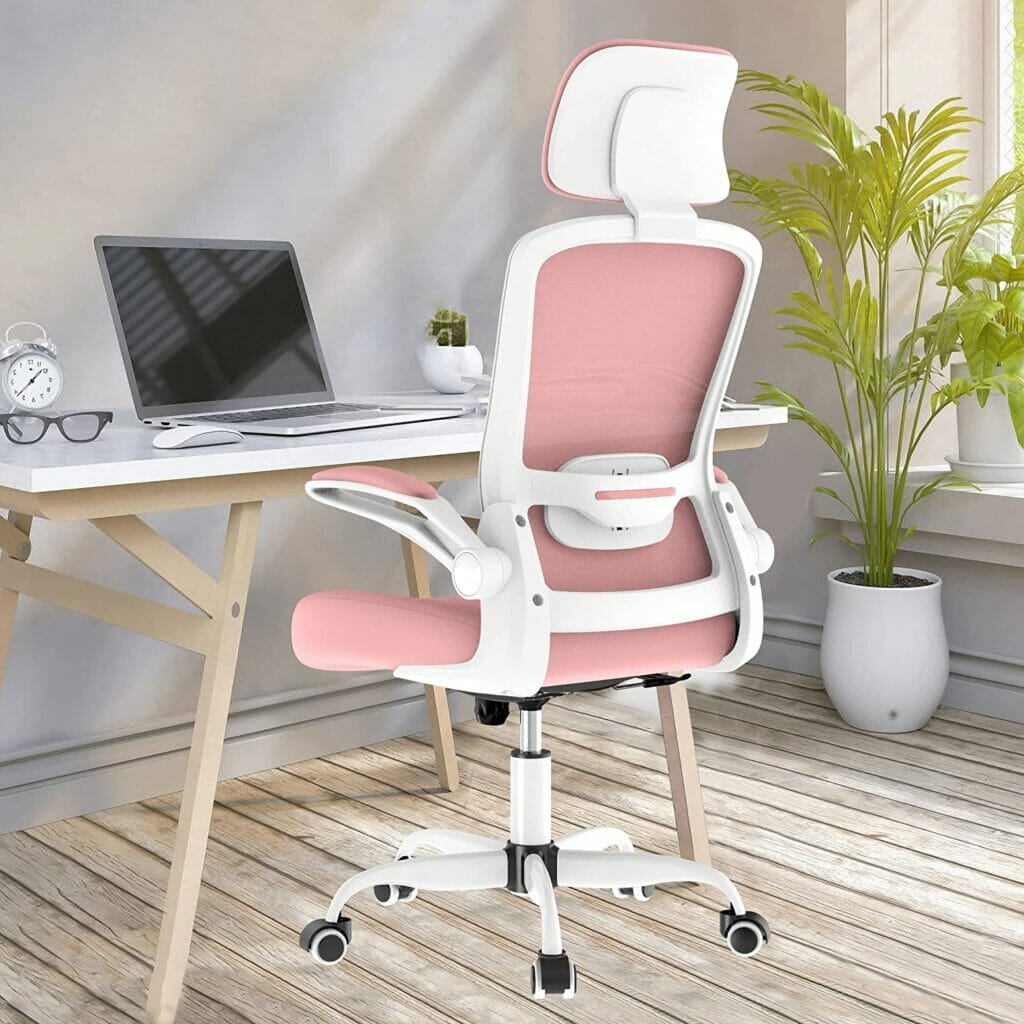 Key Features:
Breathable padding
Adjustable headrest
Can support weight up to 400 lbs
2. Flash Furniture High-Back Ergonomic Executive Office Chair
The Flash Furniture High-Back Ergonomic Executive Office Chair can provide you with everything you need to have comfortable workdays from your home. It can be purchased for a reasonable price and provide you with ease of assembly, as well as some much-needed back support.
One of the best features of this upper back support office chair is that it comes in a number of colors. So, you can now buy one in the color that best goes with your home office!
Key Features:
360-degree swivel seat
Ventilated curved back
3. SIHOO Ergonomic Office Chair
If you are searching for a back pain relief chair with several adjustable features, then you have hit the jackpot with the SIHOO Ergonomic Office Chair. Not only does it have an adjustable headrest, but a maximum tilt angle and vertical adjusting armrests.
Its unique W-shaped seat design has been made out of high-density sponge materials, which minimize the pressure on your legs. 
Key Features:
Headrest adjustment
Height adjustable arms
Mesh fabric backrest
4. Duramont Ergonomic Office Chair
The Duramont Ergonomic Office Chair can give you a personalized fit. You do not need to worry even if you are taller than average because the headrest on this back pain relief chair can rise around 4 inches.
Its armrest height, backrest angle, and lumbar support can all be adjusted to suit your individual needs. You will also find that it is easy to assemble and perfect for people of all sizes. The high quality of the Duramont Ergonomic Office Chair will give you comfort like never before. 
Key Features:
Adjustable lumbar support
Recline feature
5. NOUHAS Ergo3D Ergonomic Office Chair
The NOUHAUS Ergo3D Ergonomic Office Chair is available in a number of basic colors, and it is nothing short of extraordinary. You can purchase it in red, blue, gray, or black and ease yourself into one of the best chairs for back pain sufferers. 
The unique 3D design of this ergonomic chair conforms to the shape of your body, allowing you to be fully comfortable while you work. Its adjustable lumbar system and armrest also make the NOUHAUS ergonomic chair a steal.
Another brilliant feature of this office chair is that the back of the chair can tilt backward, forwards, as well as sideways. If you have hardwood floors in your office or home, this chair will suit you the most. 
Key Features:
Can support weight up to 275 lbs
Comes with a set of blade wheels
6. Steelcase Gesture Office Chair
According to many, this chair is the Cadillac of all ergonomic chairs. The Steelcase Gesture Office Chair comes with a leather-shell back and can be bought in a number of colors. It also has an adjustable seat depth and arms to help you relax your body and mind.
If you are short and have trouble adjusting to the height of the table, then you are bound to love this chair. Not only does it have a height adjustment system, but a recline tension system to give your back a break. 
Key Features:
Quickly adjustable
Can accommodate all body types
7. Gabrylly Ergonomic Office Chair
The Gabrylly office chair will make you fall in love at first sight, especially if you are comfortable in mesh chairs. It is sleek and strong, which means that it will not take up much room in your home office and provide you with support.
 With mesh support, you will feel cool and comfortable all day long.
Key Features:
Breathable mesh
Has only a small number of screws
8. Modway Articulate Black Mesh Office Chair
Modway is known for its supportive mesh and can be adjusted according to your height. It is a reasonably priced option and can save you from receiving any stress injuries. Just sit back in this comfortable chair, adjust the armrests, and work in comfort.  
Key Features:
Adjustable armrests and seat height
Cool and breathable mesh
9. Ticova Ergonomic Office Chair
Did you know that sitting in an uncomfortable chair can cause musculoskeletal dysfunction? This is why you need this office chair, which has a customizable headrest for ease. It can support your upper back, head, and neck, and make sure that you have excellent posture!
Key Features:
Adjustable seat pans
Solid lumbar support
10. Gaiam Ultimate Balance Ball Chair 
This ergonomic chair can add more motion to your daily routine. It is comfortable to sit on and promotes excellent posture. Also, getting an ergonomic ball chair will give you some much-needed exercise, all without leaving your work desk!
Key Features:
Ball shape improves posture and increases core strength
Can fit many standard height desks
11. DRAGONN Ergonomic Kneeling Chair
A kneeling chair is different from any other office chair you may have seen. It can put you in an upright position and lengthen hip flexors. This reduces the tension in your back and allows you to work comfortably.
Key Features:
Three-inch thick cushion
Strong metal base
Can support up to 250 lbs
FAQs
Should You Get An Ergonomic Chair For Back Pain?
You spend a large chunk of your day sitting down. But it is up to you to decide whether you spend all that time sitting in a comfortable chair or not.
If you suffer from lower or upper back pain, the right ergonomic chair for your office can be a godsend. It can help you manage your pain and relieve the tension built up in your body. 
So, feel free to purchase any of the wonderful options of ergonomic chairs for back pain above and do right by your back.
What Do Ergonomic Chairs For Back Pain Do?
The Centers for Disease Control and Prevention carried out a study on ergonomics and found that it is the complete scientific study of people who work. They prevent you from any musculoskeletal disorders and soft tissue injuries, which you may experience if you sit in a chair for eight or more hours a day. 
Find the Perfect Ergonomic Chair!
If you are tired of sitting in uncomfortable chairs while you let your creative juices flow, then you can buy yourself a nice back pain relief chair any time. To help you on this hunt, below is a detailed list of some of the best ergonomic chairs for back pain.